Pakistani celebrities are continuously seen in bridal makeovers while doing photo shoots, walking on the ramp and even in dramas. Therefore, unlike other girls, they have more exposure since they are in touch with all the latest trends. They also have to try extra hard to find a dress which truly will be something special, something they have not worn before or perhaps something they wore for a fashion show and thought that this was going to be their wedding dress. Most girls prefer wearing heavy dresses on their wedding day therefore it does not come as a surprise that there are many beautiful Pakistani celebrities who went all out and wore wedding dresses which were heavily embroidered. In the subcontinent there is a general trend of wearing the color red on the nikkah and barat function in particular since this color is the sign of love and happiness. Many of the celebrities chose to wear red on the big day and what made these stunning red bridal dresses stand out was that they either experimented with colors or chose a dress which was majestic and strikingly beautiful.
There are other celebrities who decided to break the norm and wear a dress which girls most often are seen wearing in weddings when they are invited as guests. There were others who chose heavy dresses but light colors. Those celebrities who chose to wear relatively simpler outfits set new precedents. Many people praised them for their simple dresses since there are so many girls out there who cannot afford to buy expensive designer dresses.
This list contains the most beautiful bridal dresses worn by Pakistani celebrities on their special day. This list will surely give some great ideas to brides-to-be since it has all the options from the fanciest designer bridal dresses to the minimal bridal dresses. The great thing is that all these celebrities looked gorgeous on their wedding day. They chose the most appealing dresses and carried them so well.
Here is the list of the most beautiful bridal dresses worn by Pakistani celebrities.
Mahenur Haider's Perfect Bridal Dress
Gorgeous model Mahenur Haider looked absolutely stunning on her wedding day. Mahenur Haider's bridal dress had the most attractive color combination. Mahenur wore this dress on her mehndi/nikkah function but it could easily be worn on barat day too. This wedding dress was not heavily embroidered but it also wasn't too simple either. The traditional gota work on the duppata paired with dull gold dabka work on the lehnga made this dress an ultimate masterpiece. The blouse was plain which Mahenur covered with her dupatta. The shade of blue and maroon gelled perfectly together to give Mahenur a look which many brides-to-be can get inspiration from.
Gorgeous Barat Bridal Dress
Mahenur Haider's dress on her barat was just as remarkable as the one she wore on her nikkah. Mahenur is one of those few celebrities who wore heavily embroidered dresses on both days which were designed with perfection. Mahenur's valima dress was a combination of peach, gold and pink. The attention to detail showed in each pattern. The designing too was detailed with different patterns on the shirt and even the duppata.
Saniya Shamshad's Red Bridal Dress
The grand heavily embroidered extremely beautiful bridal dress worn by Saniya Shamshad on her barat was every bride's dream wedding dress. This bridal dress was in the perfect shade of red and gold with the most amazing dabka work. The duppata too was intricately embroidered at the borders. The net duppata completed a look which was perfect in every way.
Sanam Jung's Pink Barat Dress
Sanam Jung chose to wear pink on her big day and she chose the best outfit for the occasion. Sanam Jung's dress was beautifully embroidered and the designer played with different shades of pink. These different shades of pink paired with the most fine gold embroidery made this dress one of the best which Pakistani celebrities wore on their wedding day. Sanam's bridal dress was a long elegant traditional shirt with a lot of flair and a tail to give it the formal look which was essential for the bride.
Aiman Khan's Grand Valima Dress
Aiman Khan wore a beautiful and grand dress on her valima. She decided to go for a look which was the perfect mix of modern style combined with traditional one. Aiman Khan's dress was a pretty shade of pastel peach and it had a long tail which was also heavily embroidered. Aiman Khan's valima dress had a beautifully designed blouse. Her dress also had a hint of net which made the look complete.
Sarwat Gillani's Bridal Dress
The color combination of Sarwat Gillani's bridal dress was different from any other we have seen celebrities wearing. Sarwat Gillani's designer took a risk by using colors which are not traditionally used in Pakistani bridal dresses a lot and he succeeded in making a design which was appealing in every way. The style of the dress is simple but the embroidery and embellishments on it make it stand out.
Naimal Khawar's Graceful Barat Dress
Naimal Khawar didn't spend a lot of money on her wedding dress but she wore something which she had great emotional attachment with. Naimal used her mother's wedding dress and after making a few changes she wore it in an old fashioned and classy manner. Naimal Khawar's dress will remind a lot of people of those fancy  dresses which they might have seen in their mother's wardrobe. Well, here is a brilliant idea for all such girls who think they can pull off this look. Naimal's bridal dress was beautiful and the colors looked lovely on her.
Aisha Khan's Nikkah Dress
Aisha Khan's nikkah dress is a major inspiration for all those girls who would much rather wear something light and not too gaudy on their wedding day. Aisha Khan paired a short straight shirt with a gharara. She chose pastel colors for the occasion and kept her entire look as simple as possible. Aisha Khan proved that simple too can be beautiful.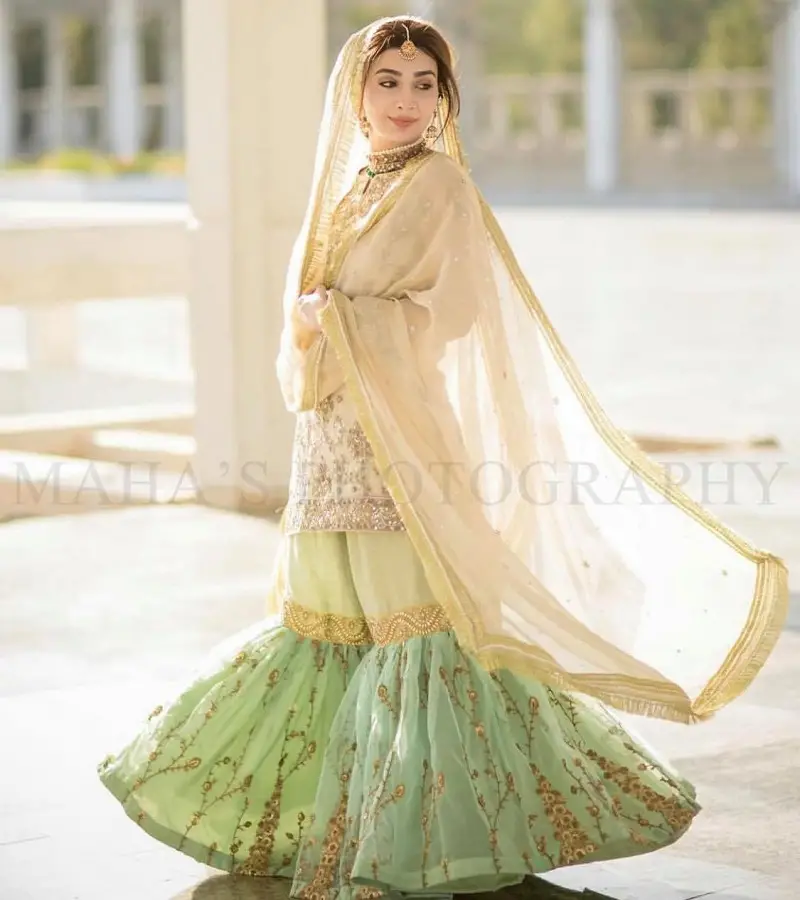 Sharmila Farooqui Eastern Bridal Dress
Sharmila Farooqui wore a dress which was closest to the eastern bridal dresses which girls prefer wearing in this part of the region. The red color Sharmila chose for her bridal dress is one which most girls most often shy away from wearing. This dress was filled with brilliant dabka work and the fall of the lehnga too was traditional since Sharmila did not add any net to it.
Urwa Hocane's Exquisite Bridal Dress
Urwa Hocane's barat dress was beautifully designed while keeping the traditional element of the look alive. The color itself is a beautiful combination of silver with a shade of very light peach. The designer used different techniques to make the embroidery different. While the color is light, the dress is definitely grand and it looks fantastic.
All of these dresses are an example of just how talented our designers are. Each one of them is a true masterpiece. Which celebrities' bridal dress did you like the best? Share your views in the comments section.