These two episodes of Mujhe Jeenay Du made it quite clear that the makers of the drama want to focus on the issues they want to highlight and they are going to do so without adding any "commercial" elements in the drama. I am impressed by the writer's focused approach; every single scene in this episode contributed something tangible to the story without beating around the bush. The director has also kept the scenes short, to the point and realistic.
The relationship between the characters became clearer in this episode and the characters were introduced impressively in these two episodes. So far, the different personality traits of the characters, their underlying motives, their thought processes and most importantly their relationship with each other have been laid down perfectly. This episode was upsetting because it showed how normal it was for Saira's father to propose something so horrendous. It is however good to see that not everyone thinks that getting Saira married to Naseeb is a good idea. There are a lot of people including Naseeb who think it is not the right thing to do. Unlike Baaghi, Mujhe Jeenay Du has at least one man who (at least for now) does not see women as commodities. Naseeb's love for Bushra and his reaction when Saira's father suggested that he should get married to Saira showed that he was not like all the other men in his family. He will however ultimately succumb to the pressure.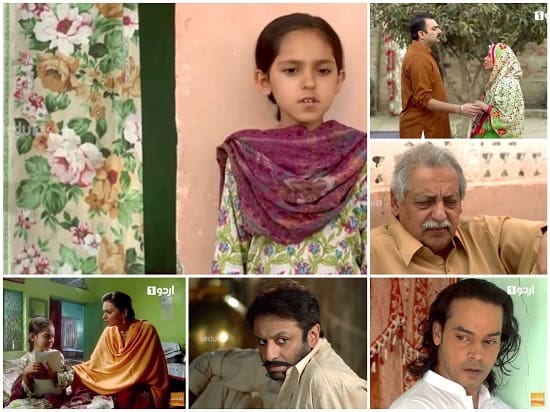 Shaheena decided to go back to her husband with the good news that she was carrying his son. Mehreen Raheal's performance is beyond impressive, it is good to see her doing something entirely different from what she has done so far and excelling in it. I am certain a lot of hard work went into translating Shaheena's character on screen in such a realistic manner. Goher Rasheed has also portrayed his character brilliantly but there were times when his clean shaven look proved to be a distraction because it didn't go well with Naseeb's state of mind. Salman Shahid, Ali Tahir, Sarmad Sultan Khoosat, Nadia Jamil, the actress playing Saira's bhabhi and the child star playing Saira herself have also given impressive performances. The person responsible for casting all these actors for their respective roles deserves tons of appreciation for casting some of these actors in the kind of roles they haven't played before. I absolutely love the way each one of these actors fit so perfectly in their respective roles and the way the story flows smoothly right from the start till the end.
Saira's state of mind was shown beautifully in this episode. I felt for her every step of the way. The only thing she was worried about was that she would have to leave her house when she got married. The viewers are being introduced to Bushra's character now through flashback scenes which I think is a brilliant idea of keeping her in the picture.
Mujhe Jeenay Du manages to transport you to a world which is very different from the one we live in but the sad reality that these people do not live very far from us in reality also hits home. The locations are perfect for the situations that are being shown and the director has paid attention to every tiny detail. These two episodes couldn't have been better. Also, it is good to see some new talented actors in this drama. The actress playing the role of Bushra is beautiful and acts really well and the child stars in the play are also giving superb performances. Nowadays, when most drama makers are bent on playing it safe, it is good to see dramas like Mujhe Jeenay Du which serve a bigger purpose.
The preview of the next episode showed that Yasmin will do whatever she can in order to make sure that Saira does not get married to Naseeb. I am looking forward to watching how this development is used to educate the masses.
How many of you watched this second episode of Mujhe Jeenay Du? Do share your thoughts about it.