This latest episode of Mujhe Jeenay Du was heart-wrenching. The manner in which Saira was forced and blackmailed into giving her consent for the nikkah was particularly disturbing especially because her father was the one who pressurized her the most. Naseeb's reaction to Saira's refusal clearly showed that although he was going along with the nikkah but this wasn't what he really wanted; he looked relieved and not angry unlike all the other men there. The most ironic part of this entire scenario was that men who were directly related to Saira were being more heartless than the man who didn't have blood ties with her. The fact that Naseeb did not do anything tangible to stop this nikkah from happening and "readily accepted" Saira as his wife once the nikkah took place showed that at the end of the day, he too was part of the same system in which violating human rights was a norm. Although child marriage is a clear violation of basic human rights but even then it is truly upsetting that children are put through this torture on regular basis in many parts of the world.
Saira is the perfect protagonist for telling this story; her character and her story has been written brilliantly and translated on screen impeccably. She is an intelligent little girl who could have achieved so much in life had her guardians not made this decision on her behalf. Saira will be assigned the duty of looking after her husband and more importantly his child at an age in which most children cannot even look after themselves which is why she is bound to make mistakes and get into trouble. Although Naseeb seems like a kind man and is much better than the other men in this drama but the preview of the next episode showed that he is just as capable of turning into a monster as anyone else if something happens to Tipu. Saira's love for Tipu and the way this love was exploited to get her to marry Naseeb had to be the most upsetting aspect of tonight's episode.
It was great watching the maulvi sahab giving so much importance to Saira's consent yet again in this episode. We have watched a lot of dramas in which maulvis go ahead with the nikkah even when they can clearly see that the girl is being forced into giving consent. After Sammi, this is the second drama in which the writer is repeatedly stressing upon the importance of a girl's consent – a positive message which needs to be reinforced over and over again.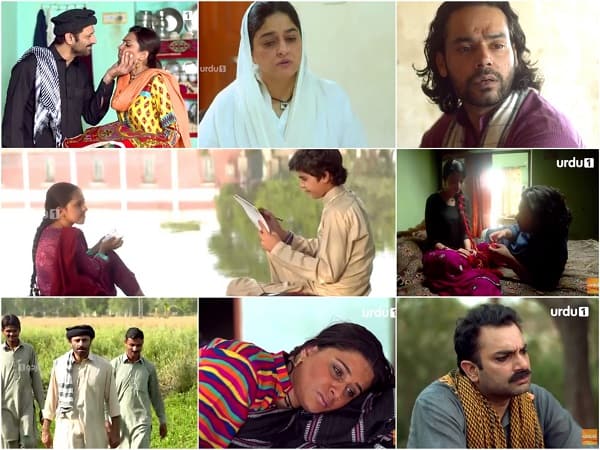 In this episode the viewers got to see a glimpse of Yasmin's personal life. Although Yasmin is educated and is an independent woman and she has earned so much respect by helping the people in the village but she does not get an ounce of respect or acknowledgment by her own husband. Yasmin would never allow her man to beat her up like Shaheen does but she definitely does not have the support of her husband. On the contrary, her husband's views about her are similar to that of men like Murad. Saira and Shaboo's scenes have to be my favorite part of every episode since Saira is her real self and is carefree only when she is with Shaboo.
This was another impactful and well executed episode of Mujhe Jeenay Du which had some exceptional performances to its credit. It is turning out to be one of those few dramas in which all the actors give exceptional performances. The overall feel of the play and screenplay is faultless. The writer and the director's focused approach makes this drama even more poignant.