Muneeb Butt wished Naimal Khawar, Hamza Abbasi on instagram. He said I am happy to see the nikkah culture trending, he also tagged Hassan Ali and Imad Waseem because all these three big couples have been the talk of the town for about a week and took internet by storm but it seems that Muneeb Butt whenever speaks something positive about Nikkah and Dowry, invites the trolls just because of his extravagant wedding events, which is bad and it was his choice and by all means right thing to do.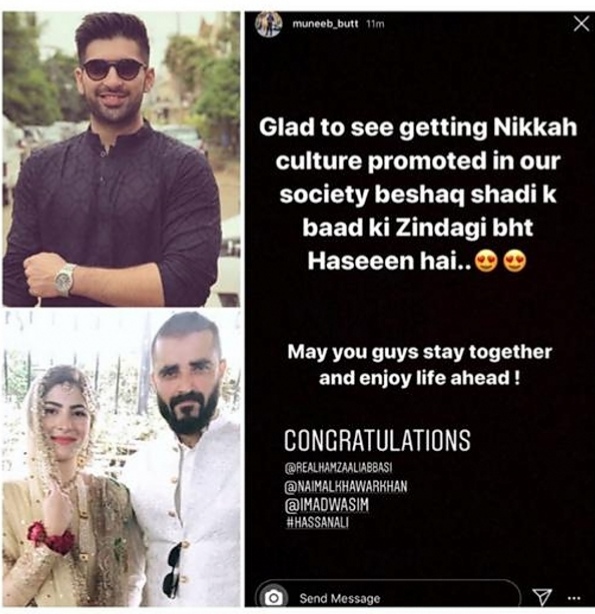 After his wish and statement about nikkah, the trolls just attacked the post in which people said you could've learnt this simplicity in marriage from this couple. Some are saying he did a big fat wedding and talking about Nikkah culture. People are saying that he should also have opted simplicity, they are trolling him they are ridiculing him. People are laughing at his approach.
Well it seems so sad that social media has become an obnoxious troll station where no one is safe, even a single positive message or deed of an individual, especially if he/she is an actor is interpreted so bad like when Hamza wrote a note about his Wedding, people called it Novel. People also compared Iqra and Yasir with Naimal and Hamza tagging with Halal and Haram Captions, when will the sense prevail?
Isn't it the time to suppress Jealousy and envy from the mindsets and lifestyles .
Muneeb Butt 's single positive wish doesn't deserve trolls, please look around you with an open and positive mind and yes we wish the couples luck and yes it is a positive sign that nikkah culture is being promoted.