This episode of Muqabil focused entirely on Arman and Pareesa's track. The new OST of the drama compliments the new direction which the story has taken. This new start however is not free from complications and these tricky situations have been handled brilliantly by the writer, director and both the actors involved. The friendship between Arman and Pareesa coupled with their beautiful personalities makes their relationship one of a kind. For the first time we are watching a rape survivor trying her best to have a healthy relationship based on mutual trust and respect with a man not because she does not have a choice but due to the connection and love she feels for that man. Arman's character is just plain adorable! He is the kind of man who believes in loving unconditionally and only such a man could have played the role he is playing in Pareesa's life. I absolutely love the fact that Arman has been shown as a practical person who gradually ended up falling in love with Pareesa and not someone who fell in love with her the second he laid his eyes on her. There was a time when Arman's career came before everything else and he did not even want to get married but tonight the viewers saw him focusing on his marriage alone because especially ever since he found out what happened with Pareesa his sole concern is his wife's well being. He wants to make sure that he dedicates all his energy into making this marriage work even though right now Pareesa and Arman have a long way to go.
Pareesa's character is also etched-out brilliantly. It has been a long time since she had a "normal" relationship with anyone around her. She was always closer to her plants than she was with people. Even though Pareesa and Arman have a long way to go but Pareesa has never been shown making this much effort to make a relationship work. Pareesa and Arman's scenes together were very well put together in this episode; they were practical hence relatable. There weren't a lot of cheesy dialogues which conveyed their feelings for each other but their actions showed that both of them wanted to make this relationship last. Pareesa wants Mahmood sahab out of her life for good although it is impossible. I am certain that I am not the only one who is wondering if Arman will ever find out who violated Pareesa. Mohsin Abbas Haider and Kubra Khan's exceptional performances and their sizzling on screen chemistry has definitely taken this drama to the next level.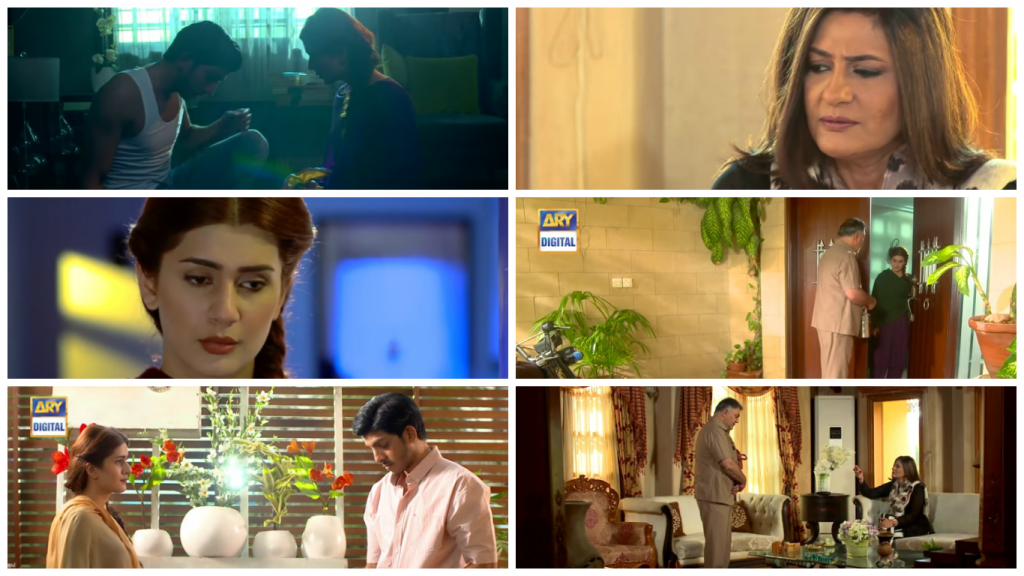 This episode just like this drama as a whole so far was exceptional and it ended too soon! My favorite scene from tonight's episode was the one in which Arman tried to reason out with his mother and sister! The dialogues were right on point, the camera angles and everyone's acting made this scene impactful. For the first time it seemed like Zubeida understood his son. The director Ali Hassan deserves special credit and appreciation for paying attention to every minute detail because of which not only are all the scenes convincing but also a treat to watch. Muqabil continues to be one of those very few dramas I look forward to watching all week and it always delivers.
The preview of the next episode was quite confusing. Personally, I like such previews which leave a lot to the viewer's imagination and keep us guessing.
How many of you watched this latest episode? Don't forget to share your thoughts about it.