Tonight's episode of Mushk was thrilling for the most part. However, some of the scenes were extended unnecessarily. The best thing about Mushk is that every single episode so far had at least one important development to its credit. In this episode as well there was a great deal of development in the story and for once the romantic tracks took a backseat. The gradual character development is one of the biggest strengths of Mushk. Guddi did everything in her power to do damage control and once again Adam tried his best to be the savior. Guddi and Roshni interacted for the first time ever since Roshni returned. Chota chaudhry let his father in on the secret so he could easily go ahead with his revenge plan. The most important development tonight was Shayyan and Adam's meeting. Hassan Ahmed's performance has been phenomenal, he is actually quite scary and you know anything can be expected from this man. Imran Ashraf's strong grip on the screenplay and attention to detail yet again stood out in this episode.
Guddi and Adam In Action
Guddi realized tonight more than ever that she had unleashed a monster. Even though she wanted to see Zulekha suffer, she does not want blood on her hands. That was the reason why she tried her best to 'save' Zulekha. This scene however was stretched perhaps because the writer wanted us to wait before letting us know whether Zulekha was alive or not. Guddi has some really strong positive traits. She refused to tell Roshni the truth and even with all the hatred she feels for Zulekha, she couldn't just sit back and watch her die. She turned to Adam for help and he complied as usual. Dr. Rana however was more than willing to accept whatever was coming his way. I am waiting to find out why he is so comfortable with this face-off with chota Chaudhry. Like every other character in this drama, Dr. Rana also has an element of intrigue about him since right now it is rather difficult to figure out what he is thinking.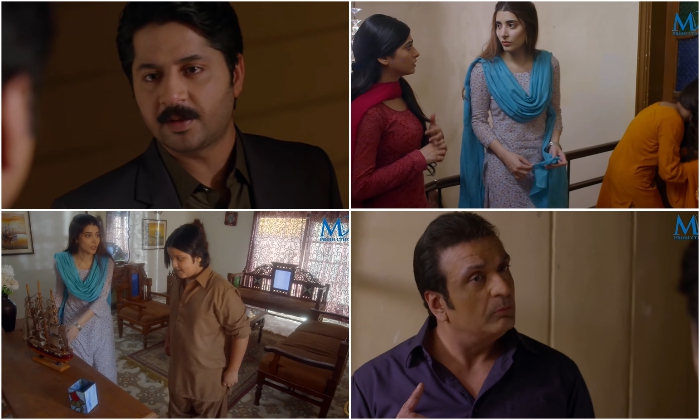 Adam also finally met Shayyan in this episode and already found out about his wedding to her little cousin. This meeting was intelligently shortened so that the viewers have yet another reason to look forward to the upcoming episode.
Chota Chaudhry Wants Revenge
Chota Chaudhry went on a revenge spree tonight after letting his father know what Zulekha was planning to do. His plan to kill Zulekha completely failed since she managed to run away. Guddi was the one who provided him with all the information and helped him get on his feet and tonight she was the one who could have been the biggest hurdle in his way. He is in love with Guddi and hearing that she is in love with someone else did not make him angry at all. He was willing to do whatever it would take to 'fix' the situation. There are times when you feel that Zulekha was perhaps doing everyone a favor by killing him! He kept on blaming his wife but never thought he was also cheating on his wife and made her life hell. He is a really twisted character, perhaps the only character with a dark side and hardly any positive traits. The fact that his wife cheated on him and tried to kill him does not justify his actions.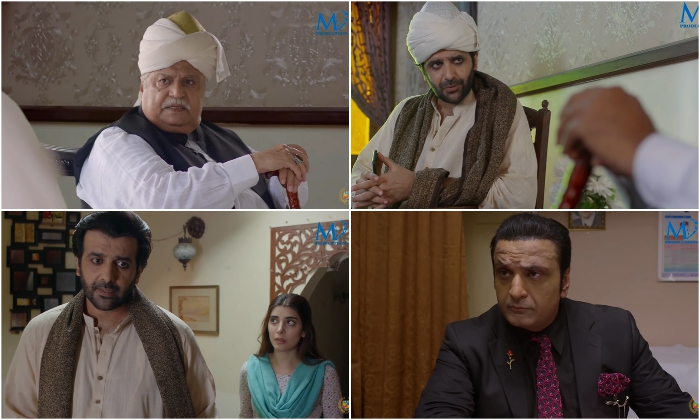 I am waiting to find out how his 'meeting' with the doctor ends since Chaudhry can also be unpredictable at times. Why would he sit down and have tea with the person who tried to kill him? Perhaps because he is the same person who ended up saving his life! This was an interesting situation that was quite a lot like Khalil-ur-Rehman's style of writing.
Muqaddar Khan's Guilt & Regret 
The change in Muqaddar Khan's character and the focus on the effect this wedding had on him because his daughter was constantly suffering has been covered in such a manner that the viewers have a reason to expect the unexpected from him. Just when I thought that he was getting weak, he took control when he found out that someone had come to visit Shayyan. The reason why he married Masooma to Shayyan was revealed in detail tonight. We were also shown that the fake peer gave him this advice and since he trusts him so much, he went ahead with it. He did not expect Shayyan to act the way he is acting and somehow he never even realized how it would affect his daughter. Aehsun Talish is such a remarkable actor; he performed exceptionally well tonight in all the scenes. The way he 'threatened' Adam by telling him about his mehman nawazi was brilliant! In such a subtle manner he made sure Adam knew that he was the one in control. I wonder why we were shown that Muqaddar Khan's closest employee was listening to his conversation with Shayyan's brother-in-law.
Final Remarks
Tonight's episode belonged to Hassan Ahmed, Imran Ashraf, and Raja Haider. Their performances and the situations they were in were outstanding throughout. Mushk is headed towards an unpredictable and exciting finale! I am waiting to find out how the writer wraps up the story.
Did you watch tonight's episode of Mushk? Do share your thoughts about it.