Mushk is turning out to be an entertaining drama that has a little bit of everything; mystery, romance, and even comedy. Mushk gives you old PTV dramas' feel because some of the tracks in it and even the treatment given to it is somewhat the same. The story is being revealed gradually, there are multiple tracks, and watching every episode is like reading one chapter of a novel and waiting an entire week to read the next one! One of the main reasons why I waited 3 weeks to review this drama was that the mystery was too much to handle and I needed a little more information in order to be more 'comfortable' with the story.
Tonight's episode had to be the most thrilling and exciting one so far since there was a major development in the story. This was the kind of episode that keeps you on the edge and leaves you looking forward to more. Imran Ashraf's overall look for this drama is different and even though he has written the script, Adam, his character, has not been the center of attention. He however leaves his mark every time he makes an appearance. Guddi and Adam's characters have been the most appealing ones so far. Urwa Hocane played her role in Punjab Nahi Jaungi so well, Guddi's character reminds me of Durdana. I loved Urwa Hocane in the role therefore it is definitely pleasing watching her play such a character in a drama as well. Surely there is more to Guddi than what meets the eyes, I am waiting to find out more about her backstory and the reason why she was willing to strike this deal with Mehak.
Latest Developments
Tonight's episode opened with revealing how Shayan (Osama Tahir) ended up being his mamu's prisoner. Muqaddar Khan's (Aehsun Talish) ruthless nature was established through that one scene in the previous episode which pretty much summed up what this man was capable of doing if things did not go his way. This opening scene was quite meaningful and it gave a lot of information about the characters involved. Tonight, it almost seemed like Muqaddar Khan knew that Shayan was already married but he did not want to hear about it. Shayan's shocking reaction clearly showed that he was completely unaware of the fact that his mamu was capable of doing something like this. The fact that Shayan stood his ground back then and did not give up even when he was imprisoned shows that he has a strong personality. Osama Tahir and Aehsun Talish both performed exceptionally well in this opening scene. I am actually glad that after Dar Si Jati Hei Sila we are getting to watch Osama Tahir in a meaty role.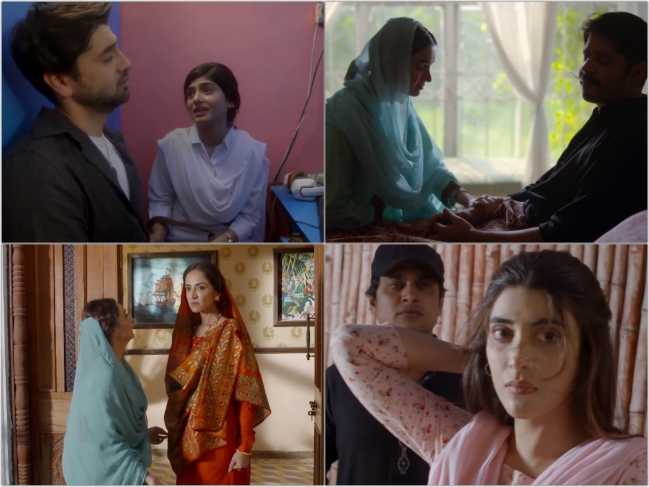 Adam and his sister's scenes have been the lighter side of the drama. Adam seems to be living a rather simple life. He is a hopeless romantic who is head over heels in love with Mehak and he has a friend in his sister, someone who understands his feelings and looks out for him. This hero is quite similar to the romantic male leads penned down by Khalil-ur-Rehman Qamar. You feel an instant connection to this character even though he doesn't get a lot of screen time, his scenes are meaningful.
Hassan Ahmed's character's backstory was revealed tonight as well. His wife Zulekha (Zara Tareen) is a fierce woman but we found out today that she wasn't always like this. Zara Tareen's performed impressively in this episode. Right from the beginning, the taye had a definite screen presence and now we know why! She ended up being the reason why Guddi was thrown out of the house. Guddi and taye's scene was the highlight of this episode, well written and executed. I must say that I was rooting for Guddi but whatever happened made perfect sense! I am glad Imran Ashraf has not held back while showing what such powerful people are capable of doing and that they leave no stone unturned while letting others know where they stand. Mehak has been shown as a rather meek character right from the beginning therefore it made perfect sense that she did not go after Guddi.
The fact that Guddi actually left with the baby and there was nothing Mehak could do about it showed that we will continue watching more unexpected twists and turns in the upcoming weeks. The preview of the next episode was seriously disturbing, will Mehak's baby be kidnapped? I am sure I am not the only one who wants to find out more about the Sehar Khan and Raza Talish's track.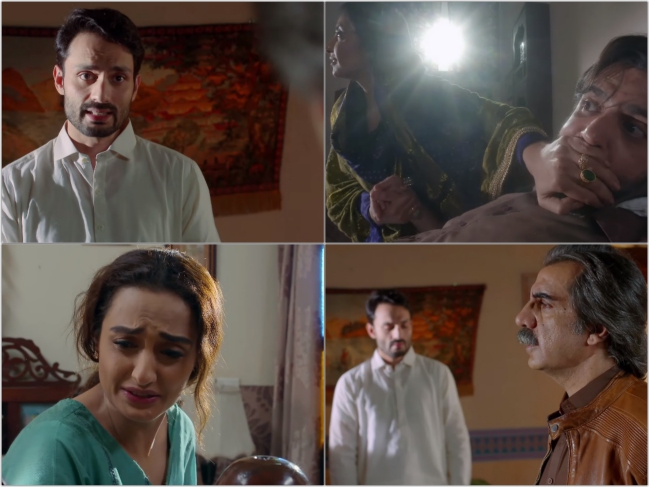 I absolutely love Sami Khan's energy and his confidence, he never goes overboard and is superb in every single scene. After watching the first episode, I did get 'DJ' vibes from his character but as the story is progressing it is also turning out to be another interesting character.
Final Remarks
This is the first time that I am watching a drama written by Imran Ashraf and there are times when I feel that his writing style is somewhat like Khalil-ur-Rehman Qamar's. The dialogues have often been detailed and verbose, he also seems to have his own 'philosophy' regarding romance, which he wants to share with his viewers. He is also not afraid to experiment which is always a good sign!
As far as the basic storyline and characterizations are concerned, I feel that Imran Ashraf as a writer has added a lot of meaning and detailing which makes Mushk a drama that promises to be a journey worth looking forward to. He seems to be enjoying playing Adam's character, who would understand it better than the person who wrote it! I am waiting to see how Adam reacts when he finds out Mehak's secret if he finds it out! I must say that the promos of the upcoming episodes have been put together well since they are often misleading and you don't know what to expect.
Did you watch tonight's episode of Mushk? Did you find it intriguing? Share your views.