Writer: Kashif Anwar
Director: Shahzad Kashmiri
Producer: Momina Duraid
Schedule: Every Monday at 8 pm on HUM
This first episode of Neem was actually much more promising than I was expecting it to be. The main female lead Zimal (Mawra Hocane) stood out more than any other character in this first episode. Zimal reminded me of Rohi from Mor Maharan. We need to see progressive female leads in dramas therefore I will be tuning into the next episode for Zimal more than any other character. The promos of the drama suggested that Neem was going to be another love story but after watching this episode, I am certain that the writer had a definite purpose in mind while penning this script. I just hope that he will be able to do justice to all the issues which he is aiming to raise in the drama.
I have been desperately waiting for a meaningful drama that is also entertaining. Most of dramas nowadays are either completely meaningless or are overdramatic. Some of the dramas such as Kuch Ankahi and Mere Ban Jao which started off strong turned into drag fests! There isn't much worth watching on television at the moment therefore I have decided to watch every new drama that airs and review episodes that I feel are worth talking about.
The Characters and Main Theme
The story of the drama is based in a remote area of Kashmir where there is a huge class divide. Zimal represents hope as she actively wants to be an agent of change whereas Karamat Khan (Syed Jibran) is clearly shown as someone who wants things to stay as they are. These two characters in this first episode came across as black and white. However, this difference in thinking and their personalities was shown convincingly. I hope that we will get to see different layers of these characters as the story moves forward. There were several scenes in this episode that suggested that this would be a story of good vs. evil. It was pretty evident who is on which side after watching this first episode.
Zimal is engaged to Shazil (Arsalan Naseer) that is all the information that was given in this episode regarding these two. Their interaction however was cute; it also showed that Zimal's relationships were quite different from the suffocating environment in Karamat's house. Even though Zimal is an orphan, she has a brother who loves her, and baba jaan (Yousuf Bashir Qureshi) has a positive and progressive influence on her. Given the circumstances, it was rather odd that Ashhad (Ameer Gillani) even considered getting married to Zimal.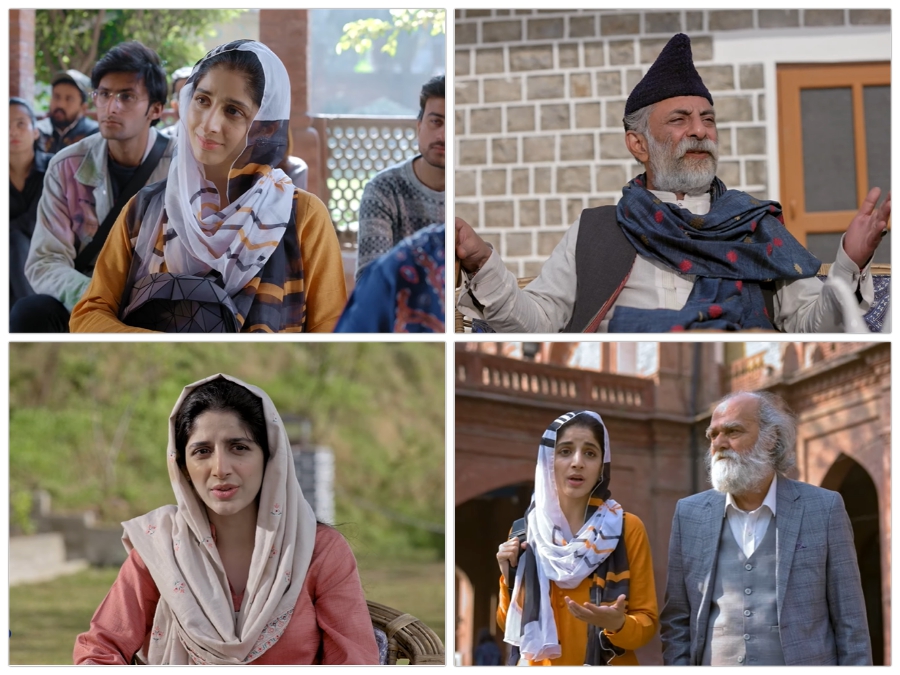 Teachers as Mentors
The opening scene of this first episode set the tone for what was coming ahead. I loved the parting lecture by Sir Mairaj (Manzar Sehbai). The interaction between Zimal and her teacher went to show how her life and vision changed because of the influence of this one teacher who set out to make a change. In a conversation with baba jaan later on, she also talked about why people should actually be opting for the teaching profession.
Dialogues and Screenplay
The dialogues and screenplay in this first episode were right on point. Right after Zimal uttered "agr kisi ki zindagi ki gaari ko ruka hua dekho tu thora dhaka lga du, shayad start ho jaie aur chal pare" dialogue, the viewers saw Asad (Shamil Khan) helping people out by giving them a ride in his jeep. The positive and negative nature of the characters was depicted intelligently through different scenes. After watching this episode there was no ambiguity regarding the thought process of all these characters. I just hope that the drama does not get too preachy because most of the conversations in this first episode had some meaning or the other. To be honest, after watching so many pointless dramas, I don't mind the dialogues being preachy either as long as they are engaging. I also liked the use of the local dialectic in some of the scenes.
Final Remarks
I could relate to some of the scenes and scenarios in this episode on a personal level. I absolutely loved the way Kashif Anwar highlighted the true importance of educators in this episode. Those of us who are lucky enough have been blessed with teachers who acted as mentors and opened new avenues for us. Sometimes these teachers underestimate their own powers as an agent of change. This is especially relevant nowadays when education is fast turning into a business.
There were some scenes in which I felt there were continuity issues and the transition from one scene to the other was not too smooth. Overall, however, just like always Shahzad Kashmiri's amazing direction did not fail to impress. He captured the beauty of the locations in the best manner possible. The television scene was well shot but it was rather strange to see that tiny television in such an affluent household. Zimal's outfit when she was leaving for Lahore and her overall look was slightly outdated considering her background and overall personality. Also, I couldn't help but wonder why
Mawra Hocane owned her character in this first episode. Her performance was both effortless and engaging. She made Zimal's character extremely likable. Syed Jibran nails every character he plays and this is the kind of character he has played before as well. However, he has a definite screen presence and I liked his overall look for the role. He was convincing as the uncouth and entitled man who thinks he owns the world. It is also good to see Ameer Gillani experimenting even though he could easily have settled down for another typical role but he chose to do something different. His performance and outlook both were impressive for the most part. The actor playing Jamil's role also played his part well. Yousuf Bashir Qureshi is such a pleasant addition to the drama industry. He is well-suited for the role he is playing in Neem. Shamil Khan's character and his performance both were another likable aspect.
This first episode definitely had a lot going for it. The casting, writing, and direction for the most part were impressive. Did you watch it? Do share your views.