These two episodes of Neem yet again managed to focus on all the main characters and did justice to them. Their stories were taken forward at a fast pace. Some of the changes in these tracks were so rapid that I still have a difficult time absorbing them. Like I said in my earlier review, while one can disagree with a few of the things being shown in the drama because they are not relatable, most of these have been shown logically. It is interesting how all these drastic changes occurred at the same time but not without a background. I feel whenever I term a drama one of my favorites; the writers decide to introduce twists and turns which are difficult for me to digest. Neem however continues to be a meaningful drama that shows so many different aspects of the Pakistani society but from a different angle. It emphasizes educating children, shows the importance of educated people as an agent of change, the plight of Pakistanis who go abroad as an escape and make rash decisions, and gives voice to all those women who are unduly punished in marriages. This drama also shows that life is so much more than getting married and starting a family or losing in love!
Zimal's Decision
Zimal continues to be an outstanding character and her track never ceases to impress. Behind all those bold decisions is a really scared, sensitive, and hurt young lady who has always put others before her. It is quite clear that the writer and the director do not want the viewers to see Zimal as a 'victim' even though her circumstances are not ideal. They want us to see Zimal as a strong individual who always had her priorities set right. If we consider this character as a whole, everything Zimal has done in these two episodes makes perfect sense. For her, social work and her aspirations to help others came before everything else. She did not even want to get married until she had no other choice. And let's not forget the terms and conditions under which this marriage took place. Zimal never hid from Shazil what her actual purpose in life was. In fact, the way the beginning of this relationship was actually overshadowed by Zimal's ambitions to educate the children was a shock for many!
Right from the beginning getting married was one of Zimal's plans and not the center of her existence. I actually found this particular aspect of Zimal's track interesting and refreshing. While getting married was not her number 1 priority, she genuinely loved her husband and never took his support for granted. I still remember the conversation she had with Maryam about how she values Shazil's support. Shazil's character, on the other hand, is poles apart from Zimal. Maryam was always shown as a rather 'weak' character therefore it does not come as a surprise that she finally 'warmed up' to the idea. However, I hope that Zimal walks out of this relationship after getting these two married because Shazil is not worthy of her. Zimal's decision is more of an outcome of Shazil's toxic behavior towards her than anything else.
Shazil Continues to Disappoint
Shazil has been the shallowest character in a drama that has some really well-written dramas. Right from the beginning, I always felt as if this character does not have an identity of its own and he never really figured out what he wanted from life. His entire existence revolved around Zimal before and after they got married. And now all of a sudden his happiness depends entirely and solely on his future children. While Shazil has never been my favorite character from this drama, he was always supportive of Zimal therefore a likable extension of her – someone who helped her achieve what she wanted. However, now that his goal is shifted, I am left with tons of questions! Was Shazil's love for Zimal dependent on her childbearing 'potential'? Who is the real Shazil? Is he the man who questioned Karamat's wrongdoing and was more than willing to stand with Zimal's cause or is he this new twisted character who does not think twice before belittling his wife? This perhaps would have been easier to accept had he taken a little more time to turn into this mean and selfish individual who agreed to marry Maryam. I honestly feel Maryam or any other girl deserves better! I hope this track will also take a pleasant turn and this strange shift in the story will have some purpose.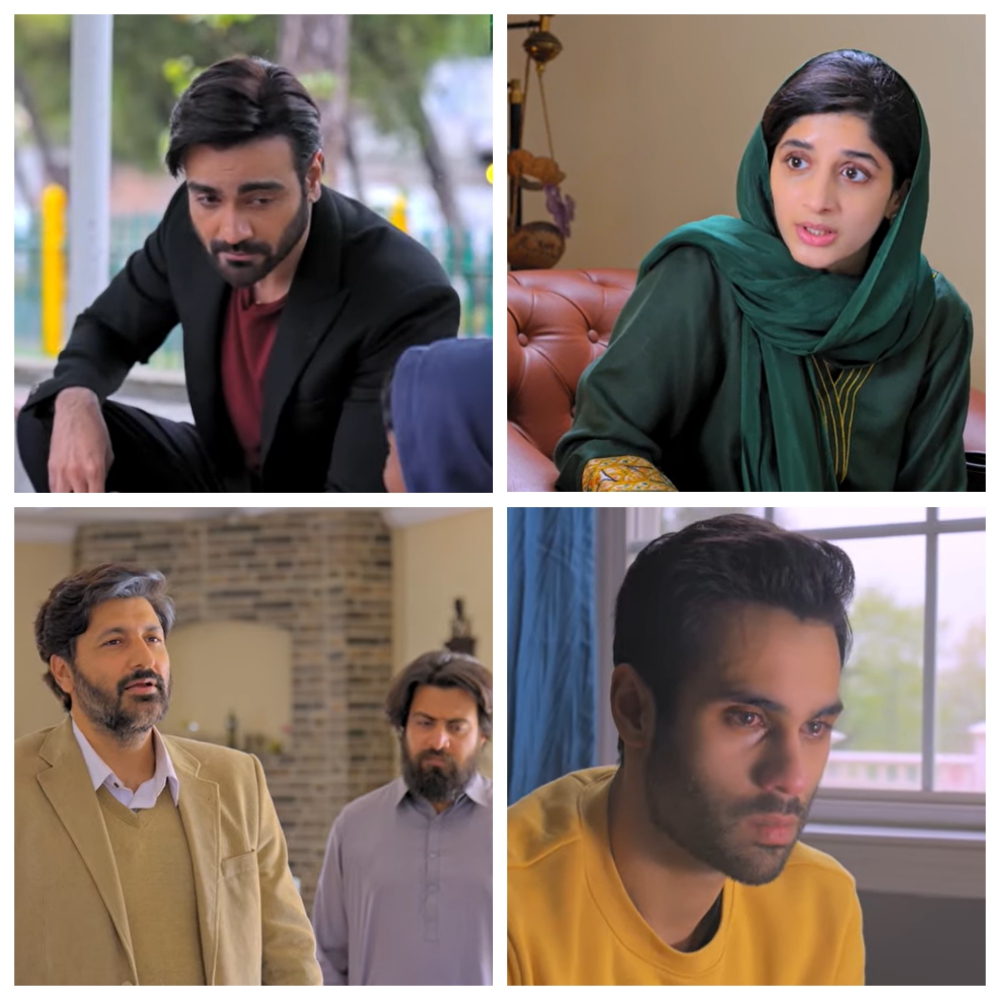 Yes, there is nothing 'wrong' with this entire situation but there is nothing right about it either when seen from a 'human' perspective. A man is allowed to get married but a good man who is so madly and deeply in love with his wife should not be falling out of love so soon. I found the way Shazil and Maryam looked at each other in this episode disgusting! And Maryam's smile when Zimal asked her, even more so. Although Zimal's decision is understandable, these two are giving me some serious creeps. Right now, Shazil seems to be more twisted than Karamat because at least we know Karamat is the bad guy!
Ashhad's Track
Ashhad finding that bag filled with money and using it for his advantage was the first scenario shown in Neem that did not work for me at all. I was actually looking forward to watching his journey and struggles in pardes but it seems as if the writer did not intend to focus on that. I am also wondering if someone who gets rich overnight can purchase a house and car and change his status entirely without being questioned or noticed. Ashhad's mother's passing away, on the other hand, was meaningful. It showed the importance of valuing your parents and standing by their side in their old age. Ashhad left his village and came so far only because he wanted to forget Zimal. He did not think about the price he might have to pay for this decision. For now, his lost love is the least of his worries. It seems as if Ashhad might donate the money he found to Zimal's charity. I am waiting to see when and how their paths meet in future episodes.
Final Remarks
Neem continues to be interesting and intriguing even though I strongly disagree with some of the things that were shown lately but I am hoping it is all leading to something worthwhile. The content of the drama is meaningful and it touches upon subjects, not talked about often. Mawra Hocane's performance continues to be the highlight of every episode. I am rooting for Zimal deciding to leave this toxic marriage and focusing on her life. Also, it would be great to see Zimal and Ashhad teaming up.
Are you watching Neem? Share your views.