All of those readers who have been following my reviews know only too well how optimistic I have been about this drama. Even with all the ups and downs in the story, I have always praised the logical manner in which the journeys of all the characters were being covered. However, ever since Neem hit the 10th episode mark, the drastic changes in the story are not just hard to digest but for now, it is difficult to tell where they are leading. I hate to say this but right now Neem is a classic case of a writer's imagination gone haywire in an attempt to extend the duration of the drama and add shock value.
Why Is No one questioning Shazil?
Before I actually review anything else about these two episodes, I would like to get this one off my chest! Shazil's character was always the weakest link in the drama, he kept me guessing and except for a couple of episodes, he was not a likable character even though he was shown as the perfect husband. The writer has completely failed to do justice to Shazil's character which I am assuming is supposed to be a grey character but he is coming across as seriously twisted and lost. Shazil is one of the main characters in the drama yet the treatment this character has been getting, writing and acting-wise, is anything but central. In the beginning, he was introduced as an extension of Zimal's character; his sole purpose in life was getting married to her and there was nothing more to this character. After showing his extreme love and fondness for Zimal for all those weeks, his character underwent a change that was not just unexpected but also shocking. I accepted this change in the story because that is where the writer wanted this track to go but common sense really left the chat when Zimal decided she wanted to marry her husband off.
While Zimal's character is such that this madness was expected from her, Shazil's attitude in particular has been the most toxic part of the track. This entire development has been covered in such a 'sick' manner that I actually have a difficult time sharing my frustration here! So far, no one is questioning Shazil's toxicity and the absurdity of the living arrangements after this awful second marriage. It is almost as if the writer is trying to show that Shazil deserved all this. Also, there was nothing before that indicated that Shazil's zindagi ka maqsad was becoming a father and everything else was secondary. He fell out of love with Zimal the second he found out that she could not conceive and warmed up to the idea of marrying Mariam soon after Zimal put that idea in his small head.
Zimal calling herself toxic in the latest episode and Sir Ayaz asking her to reevaluate her actions and thoughts had to be the final nail in the coffin. I was expecting sir to question Shazil's actions as well and give Zimal an opportunity to see things from another perspective but that did not happen at all! Shazil has fallen from grace over and over again. Sadly, his actions are being portrayed as 'normal' which is my biggest issue with this track right now.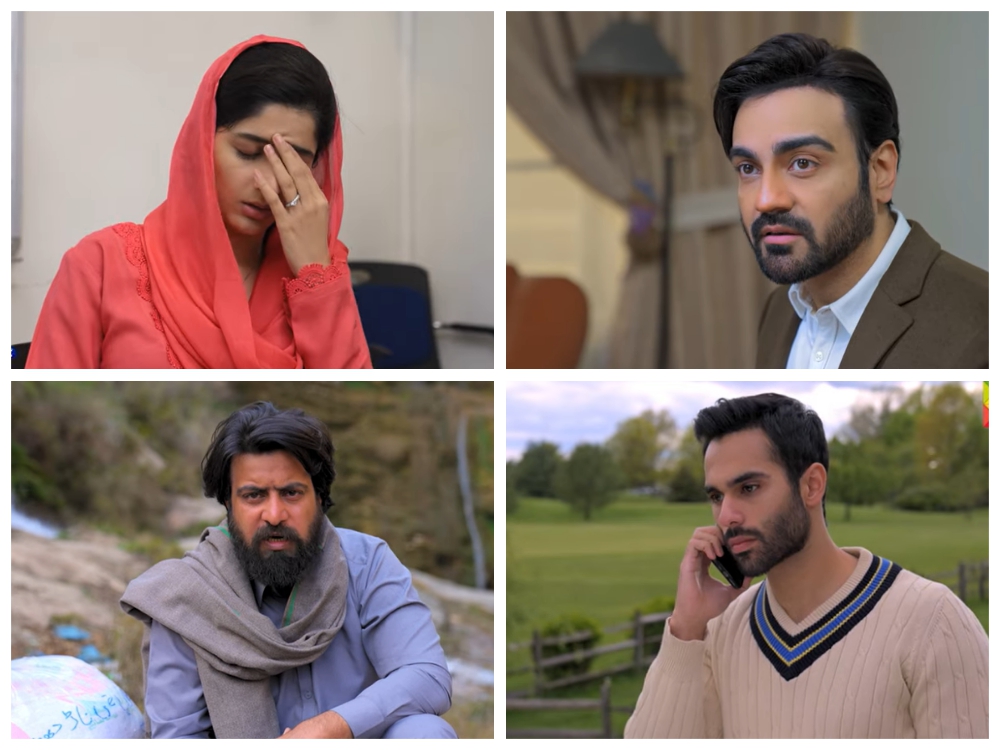 Ashhad's Lottery & the Mess
Ashhad's track was such a great opportunity for the writer to show the lives and struggles of people like him. But with Ashhad finding all that money and getting rich overnight that opportunity has also been completely lost. Now, his track is all about getting Camilla off of his back and he is still adamant about not going back home. I was hoping his life would turn around after his mother's death and he would find some purpose in life. So far, the only thing this track is focusing on is the demerits of paper marriages. While this too is a new and important subject matter the way it is being handled is not too engaging or entertaining. Also, just like Zimal's track, Ashhad's track is testing my patience at this point. How come no one is questioning him about the source of the money? This had to be the most illogical twist in an otherwise well-written plot. Even after going through so much Ashhad has not matured and is still looking for an escape from his troubles. This track still has potential if it the writer chooses to change its direction.
Zimal's Unrealistic Expectations
Zimal was always a character like no other. Her practical approach towards life and her main goal to bring a change in the lives of those less fortunate made her character unlike any other. Even though there were times when Zimal's character traits came across as 'extreme', there were always so many likable and positive aspects to her personality that you could not help but like this character. However, showing Zimal questioning herself to the extent of terming herself toxic has to be one of those extreme behaviors which is making it really difficult to see this as Zimal's 'niceness'. There is a thin line between being good to others and being just plain gullible and perhaps stupid as well; Zimal unfortunately crossed that line. She has bitten off more than she can chew and for the first time, she comes across as someone who is stuck in a self-created conflict. Why can't she see beyond a life with Shazil? And most importantly even with all her wisdom why can't she seem to question Shazil's behavior instead of holding herself responsible? This entire situation is ridiculous.
What is up with Jamil?
Just like all the other characters, Jamil has also been sending mixed signals for the past few weeks, especially in this particular episode. He went from being a greedy and selfish individual to a crusader who now wants to expose his 'master' even at the cost of his own life! While I understand that the writer is trying to show how karma works, a lot of what Jamil did in this particular episode made little sense! He can easily expose Karamat now and get him imprisoned yet he is waiting to die in order to achieve that objective. This entire track involving Jamil and Karamat has gone off track as well.
Final Remarks
For 10 weeks Neems was exceptional since it was a good balance of different kinds of characters and themes. But with Zimal's decision to get her good-for-nothing wannabe-dad husband married and Ashhad finding all that money both these tracks have lost their appeal and are frustrating to watch! Shazil has to be the most twisted and 'weird' character especially because of the fact that none of his actions are supposed to be viewed as such. All the 3 main tracks have lost connection to each other even though they can easily be connected even now. While Mawra Hocane and Ameer Gillani's performances and direction continue to be top-notch, the script has lost its initial appeal.
Are you still watching Neem? Share your views.