Neem continues to move forward at a steady pace. With this latest episode, all the main tracks moved in a different direction. This latest episode of Neem was truly heart-warming in so many ways. All the characters got equal screen time and the substantial growth in their tracks was covered in a convincing manner. The timeline was confusing because it felt as if too much happened in a short span of time. Zimal's character and her new journey with Shazil by her side was both uplifting and refreshing. Ashhad set off to America sooner than expected. Karamat's new beginning did not start on a positive note. Even Asad's track took a new turn. It was interesting how each one of these characters had unexpected developments in their respective tracks and all of them were given equal importance.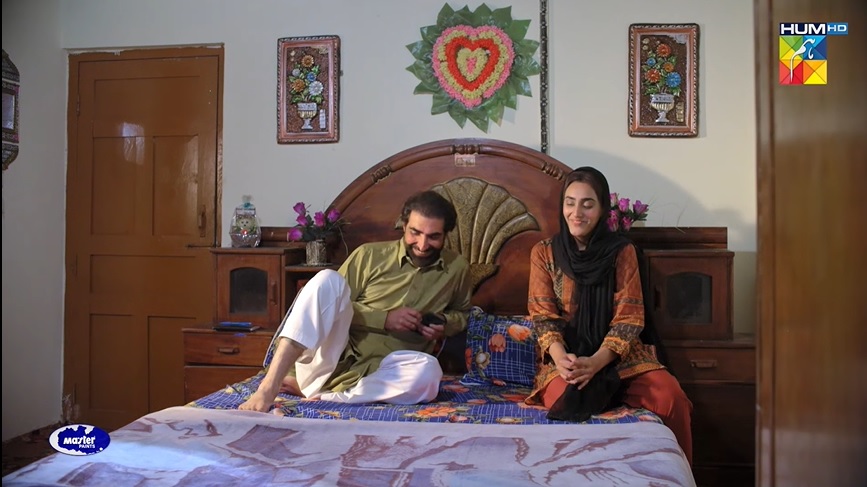 Shazil and Zimal – New Favorites
Shazil's character did not get a lot of screen time in the past few episodes but in this episode, he truly came into its own. He always came across as a 'nice' guy but with this episode, he truly impressed. Although, I will be honest and say that Zimal's commitment to her cause was definitely even more 'extreme' than I was expecting it to be. And she treated her wedding and this new relationship a little too casually but agr Shazil ko koi masla nahin hey tu who are we complaint ;) Zimal's entire attitude towards this marriage and her life was pretty clear before as well but with this episode, the viewers got to witness Zimal's practical side like never before.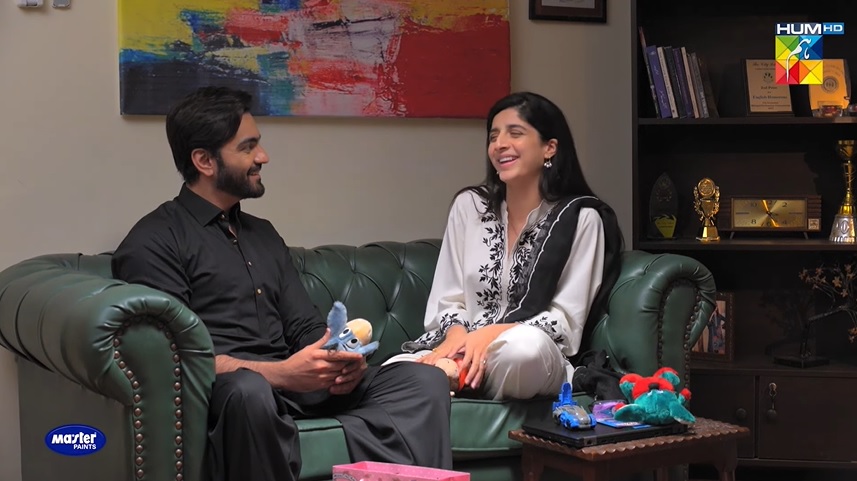 Zimal and Shazil gave the term 'life partner' a new meaning! These two really are partners who are not just romantically involved but they also have the same viewpoint with regards to what truly matters. Shazil is definitely more romantic than Zimal. He also loves her enough to give up on his plans altogether. He obviously believes in what Zimal wants to achieve otherwise he wouldn't have handed her all that money. These two are such pure souls and what makes them stand out is their purpose in life. These characters do come across as too-good-to-be-true at times but then we really do need to see such positive characters in our dramas. Mawra Hocane makes Zimal's character likable even though it can be preachy at times. I am glad that Zimal is away from Karamat and her entire focus is on her objective to educate children.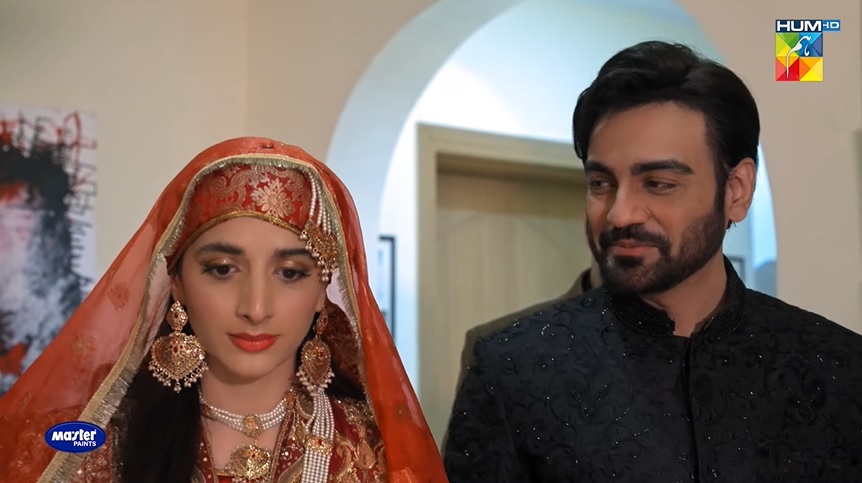 I especially like the fact that through Zimal's track, right from the beginning, the writer has emphasized the importance of education. Zimal had a teacher in her life who turned her life around and now she wants to be that person for others. Zimal's track moved forward at a fast pace in this episode and throughout she was shown as a motivated individual who left no stone unturned to make her dream a reality. The fact that Shazil respected her cause and did everything in his power to be her support was the best part of this track. The conversation about the importance of a supporting life partner was light-hearted but on point. I also liked the smile on Shazil's face after the wedding that was a cute way of showing how ecstatic he was to have Zimal in his life.
Karamat's First Reality Check
While Zimal set out to dedicate her finances, energy, and time to a higher purpose Karamat's dreamed of living a life of luxury surrounded by people who appeased him. The first scene covering his track in this episode reflected the stark differences in the purpose of both these characters yet again. Even though he got the house of his dreams built, he was unhappy about not being able to marry Zimal. And right at that time, the pain in his back was perhaps the first of many reality checks he is about to get! Karamat is sure that his wealth will get him exactly what he wants but it seems as if gradually he will realize that there is a lot that money cannot buy. Yet again, Syed Jibran's performance was impressive throughout.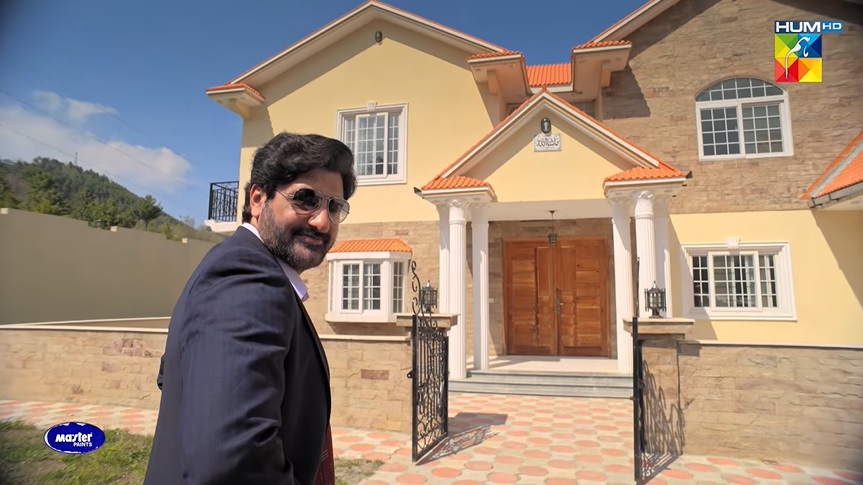 Ashhad In America
Ashhad reached America a little too soon and it seems as if he does not even have a definite plan. He simply ran away and was instantly struck with guilt while leaving. His partying scene was sweet and yet again showed the purity of his character. He also turned out to be quite lucky because he instantly made a friend who was more than willing to help him out. I loved how he sat down to talk in a typical 'village boy' style! I am looking forward to his transformation and waiting to see where this track will lead. Ashhad has a great deal of learning to do. It is good to see a drama being shot outside Pakistan after such a long time. After capturing the beauty of Kashmir brilliantly Shahzad Kashmiri managed to do justice to Philadelphia's landscape as well.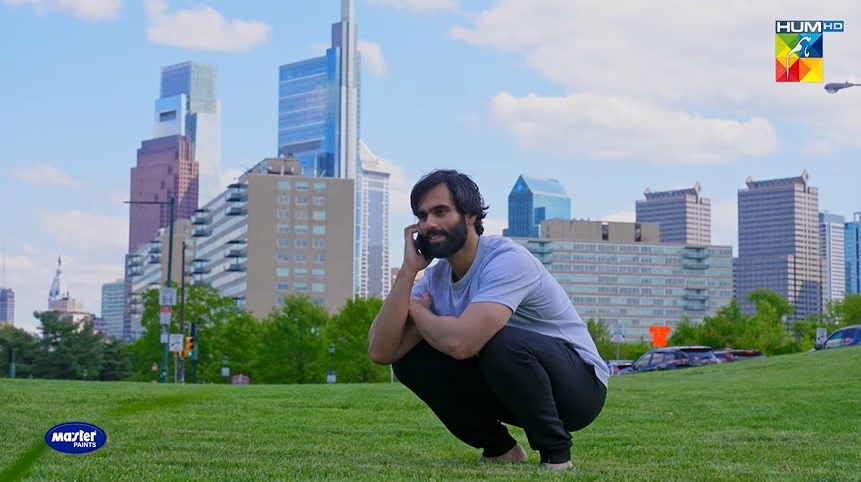 Did you watch this latest episode of Neem? Do share your views.