Music of the Subcontinent was extremely melodious and rich and the legacy continues in Pakistan even today. It not only dates back to pre-partition era rather many music instruments were dug out from the ruins of Mohenjo Daro and Harrappa; implying that its roots dates back to the ancient civilizations. The music and melodies produced by our artists are and will always be matchless. We have had legendary singers like Mehdi Hassan, Noor Jahan, Reshma, Farida khanum, Iqbal Bano, Nayyara Noor, Alam Lohar and Ahmed Rushdi etc. The masterpieces produced by them are countless however I'll be sharing a few of my favorites which majority of our new generation calls "boring", which reminds me of ONE DIRECTION, what is the craze with it?? Have people or more specifically girls gone mad or what?? People are actually obsessed with their crap :/.
A few of my favorites are:
1. Jab koi Pyar se Bulaye ga by Mehdi Hassan
2. Aye Ishq Humein Barbad na ker by Nayyara Noor
3. Hum k Thehrey Ajnabi by Nayyara Noor
4. Ranjish hi Sahi by Mehdi Hassan
5. Bhooli hui hun Dastaan by Ahmed Rushdi
6. Goriey Main jana Perdas by Reshma and Pervaiz Mehdi
7. Jo na Mil sakay wohi Bewafa by Noor Jehan
8. Mujh se Pehli c Mohabat by Noor Jehan
9. Dasht e Tanhai by Iqbal Bano
10. Who Ishq jo Hum se Rooth gaya by Farida Khanum
11. Aj Janay ki zid na Karo by Farida Khanum
12. Akhiyan Nu Rehn de by Reshma
13. Meri Hum joliyan by Reshma
14. Ulfat ki Nai Manzil ko Chala by Iqbal Bano
15. Kabi Hum Khoobsorat the by Nayyara Noor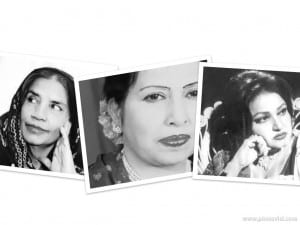 Many of the old numbers have been sung by many other singers as well but none of them have been able to acquire the perfection and aura the originals had, significantly Atif Aslam's tributes to Reshma. He is a great singer but I wish he stops torturing her songs.
The quality of language of most of the lyrics compels me to fall in love with the language. The flawless voices, accurate pronunciation (unlike many present day singers), perfect music and the sweetness with which they are sung further adds in the glory of the golden melodies. One of most interesting things is that they used to sing live and that too with perfection. Poetry of Faiz, Nasir Kazmi, Habib Jalib, Ghalib, Ahmed Faraz and many others have been revitalized by them.
Do share the Oldies you like.
Faiza Cheema