Pakistani dramas are finally getting the worldwide recognition which they deserved. The hardwork of Pakistani producers and actors are finally paying off and their work is getting appreciated by worldwide audiences.
There are a lot of Asian foreign viewers all over the world especially in places like America, India, UAE and Canada who appreciate the Pakistani content and give them preference over other content that is aired because of its unique stories and brilliant acting.
The drama that gained recognition for Pakistani dramas worldwide is the show Humsafar. A medium budgeted serial which managed to touch the hearts of people worldwide because of its simple story, brilliant acting and high production values. It gave Pakistani dramas International recognition and a platform for Pakistani producers to prove themselves. Before Humsafar, only the drama serial 'Tanhaiyaan' had reached the Arabic audiences when it aired back in the 1990's.
Humsafar has been a remarkable piece of entertainment and was also enjoyed by the Indian audiences when it went on air on the Indian channel, Rishtey. According to BizAsia, Humsafar managed to break a record for Rishtey for being the first non-film/event to attract such a huge rating at the weekend.
The serial Humsafar was dubbed into Arabic and was recently aired on MCB- Bollywood (a middle-east channel) with the name Rafeeq-Al-Rooh which means Soulmate in Arabic. It took no time for the show to gain immense popularity and after a few episodes, it became the most watched serial on the channel and was declared a huge hit. Previously, Pakistani dramas were not recognized much in the Arabic world because Arab's already have so much variety to choose from, but now Pakistani dramas have also entered the Arab market and has carved a niche for itself. This is a moment of sheer joy for all of us Pakistanis!
Here are a few comments on the show on MBC Twitter page: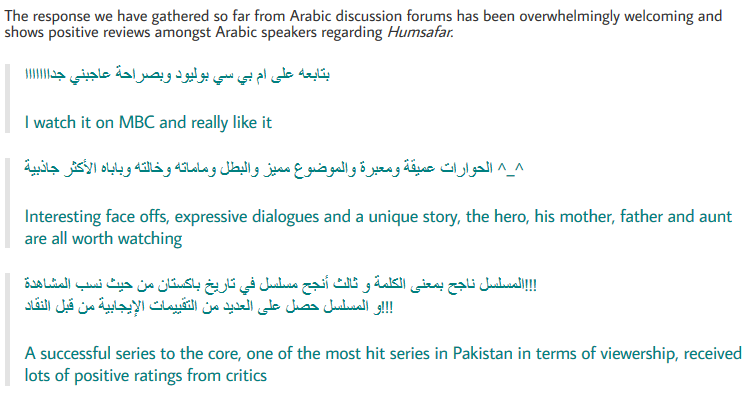 The next drama to follow Humsafar on the same channel was Malaal which had Faisal Rehman, Sarwat Gillani, Imran Abbas and Deepti as the main leads which was again appreciated by audiences.
After the success of Humsafar on the channel, Fawad Khan has become a phenomenon in the Arab world on a grand scale. Here are a few comments posted by his fan on his MBC profile on twitter:
 The latest news is that on high demand another one of his serial, Zindagi Gulzar Hai is going on air on the same channel. Zindagi Gulzar Hai is another hit serial of Pakistan which had Fawad Afzal Khan and Sanam Saeed as the main leads. It has already created waves in Pakistani, now let's see if it will gain the same response in the Middle East. Zindagi Gulzar Hai will also dubbed into Arabic just like Humsafar. Here is the Arabic promo of the show:
We hope that many other Pakistani serials air for the audiences in Middle East in the future too!
Mariam Shafiq