Charity is considered an important part of our religion. Everything from a smile to an act of kindness is charity. In times like the ones we are living in right now, active charity work is more important than ever before. While some celebrities do charity work either privately or discreetly, there are others who have proper organizations and systems in place to do charity work. These celebrities are going out of their way to do charity work at a time when most people are finding it hard to deal with the present conditions. In times like these, we realize what big heart these celebrities have.
Here is a list of Pakistani celebrities who are going all out to do charity work right now.
Iqrar-ul-Hassan
Iqrar-ul-Hassan has evolved from being an anchorperson to a social worker. He feels really passionately about his work as a social worker therefore it is no surprise that at this time, he along with his team are doing everything in their power to help the needy. Apart from distributing the people in need with all the basic things they need to survive right now, he has also been actively raising another issue. At this time, he went to donate blood and asked his followers to do the same. Right now the situation is such that most people are not leaving their homes therefore these blood banks are not getting the required blood they need to cater to the needs of their patients. Iqrar-ul-Hassan has been the most active social worker during this time of lockdown.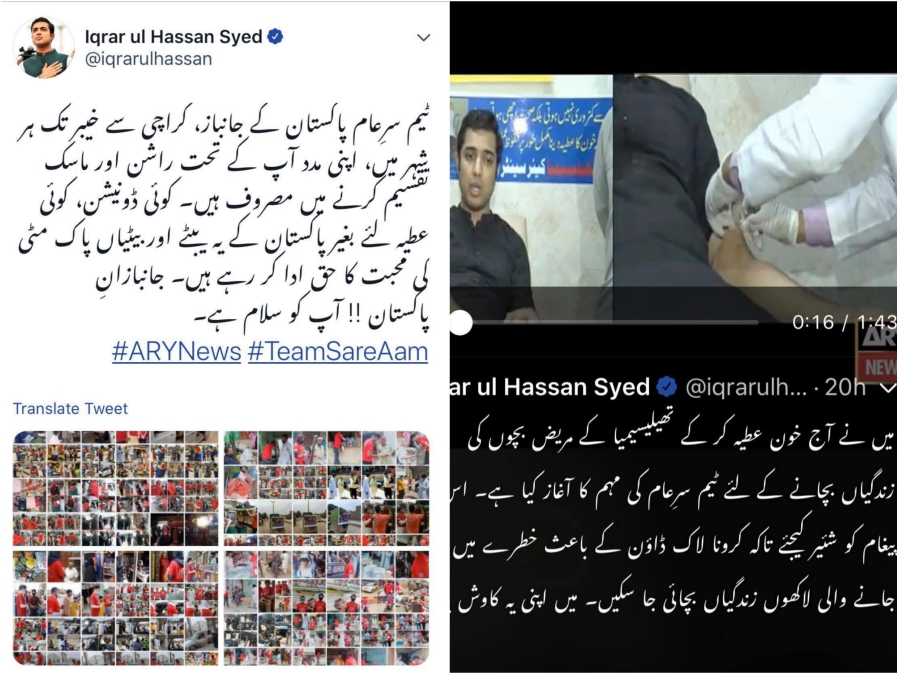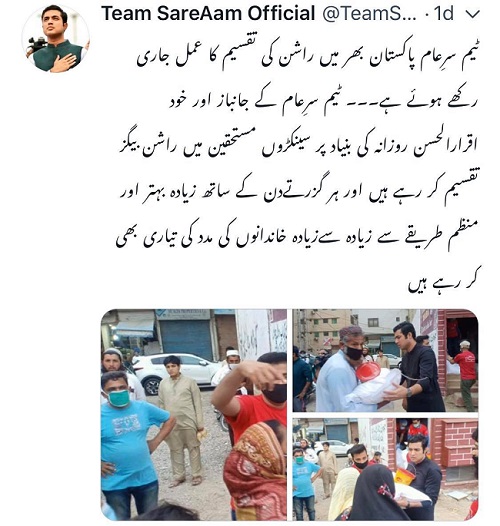 Shahid Afridi
Shahid Afridi has been actively involved in charity for many years now. His charity organization contributes to the welfare of the needy and poor in every way possible. In this time when the entire country is in a lockdown, Shahid Afridi is out there providing basic necessities to those people who have been hit the hardest by this lockdown. Apart from distributing these rations himself, he has also been urging people to do the same. Shahid Afridi has proved to be a good role model in this difficult time. His charity work right now is a source of inspiration for many.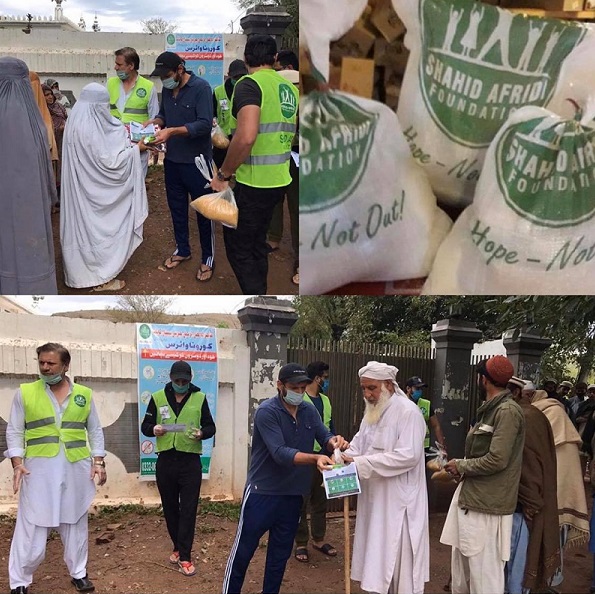 Maya Ali
While Shahid Afridi and Iqrar-ul-Hassan are busy doing active charity work all through the year, Maya Ali is usually not seen doing such work so actively. Maya Ali has won many hearts by her sincere efforts to help those in need in a time when most people are locked down in their homes. Maya Ali has not only tried her best to raise charity money with her designer friend Faiza Saqlain but she has also been supervising the efforts. She made sure that all the ration bags were packed under her supervision and she also packed some of the bags herself. Maya Ali's social media posts have been a source of inspiration for many people. She has a kind heart that was hidden from her fans until now.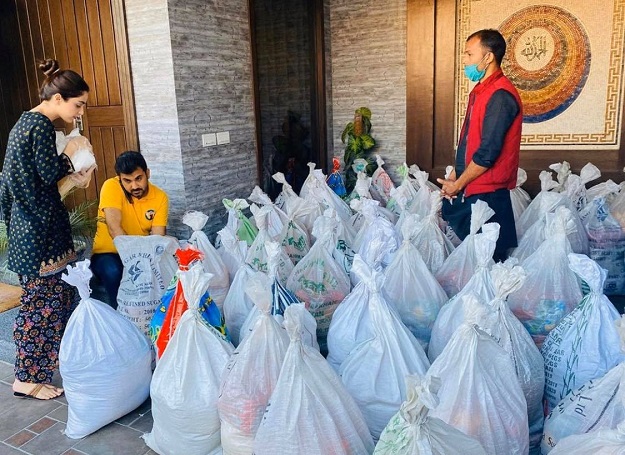 Aisam-ul-Haq Qureshi
Many people might not know that Aisam-ul-Haq has his own charity foundation. He and his sister have joined hands to make sure that no one sleeps hungry in these trying times. He asked people to help them with the cause and also promised people souvenirs if they participate in this noble cause. He has kept his cause discreet and it is so good to see these siblings working for such a charitable cause.
Feroze Khan
Feroze Khan recently announced that he was quitting showbiz. Right now, he is not very active on social media therefore a lot of people do not know that he is busy distributing ration among needy people. In an Instagram live, he thanked people for their donations and in one of his stories he shared where these donations went. It is definitely inspiring for the fans to see such young actors contributing to charity work with so much dedication.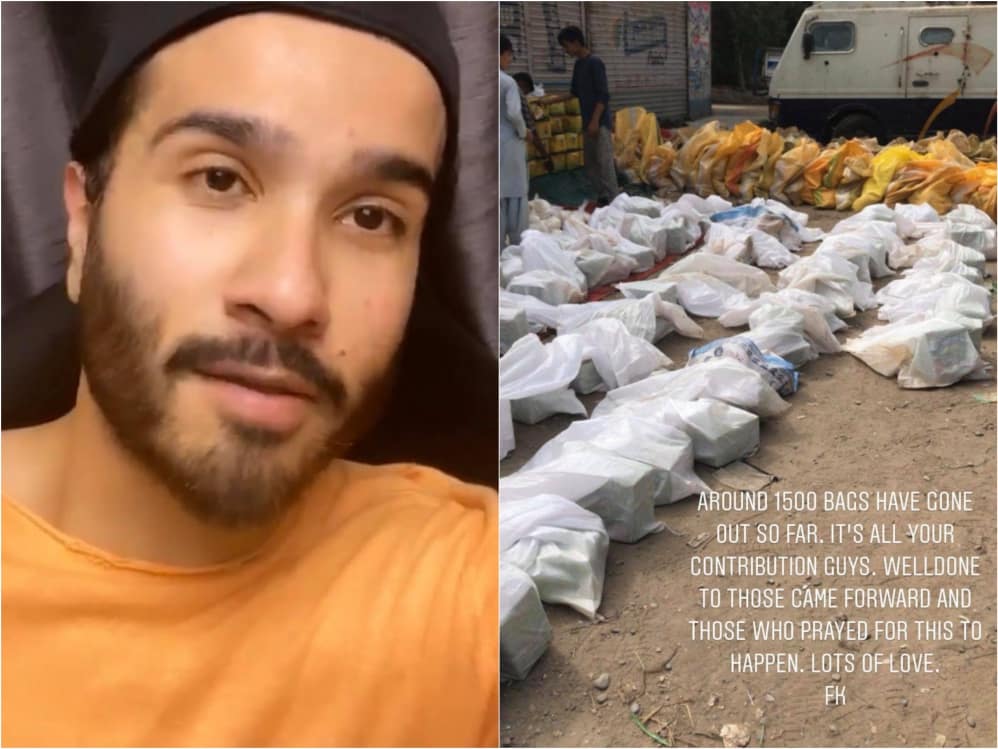 Ali Zafar
Ali Zafar is another celebrity whose foundation is collecting money to make sure that everyone gets food in this lockdown. One thing is for sure that when Ali Zafar makes up his mind and sets out to do something, no one does it like him. It is good to see him contributing to the charity work at this time.
It is lovely watching these amazing celebrities being so actively involved in charity work, so inspiring for all of us.