There are a few Nights that are merely more than a  Blessing for Mankind according to the Muslim beliefs and one of them is the 15th night of Sha'ban. This is the night which is very close to the muslims and they worship entire night to earn Allah's Gratitude, Forgiveness and Mercies for their remaining lives, and it is tonight that the muslim world is celebrating Shab-e-Barat.
It feels great when we see our Muslim brothers, known for their talent in the field of acting in showbiz industry, sharing and celebrating religious dates and their specialities, greeting their followers.
Here are a few celebrities who have been active tonight on their social pages to share their wishes with their fans,
Have a look!
Heartiest wishes and blessings to all the readers of DramasOnline.com and Reviewit.pk from the entire team. May He Pardons all your sins and brings Peace, Success, Safety and Happiness in your life. May the coming year brings peace and security for the people of Muslim countries who are being a victim of the cruelty in the world.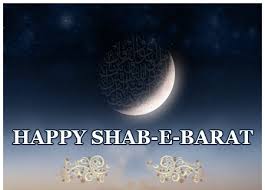 Happy Shab-e-Barat,
Nida Zaidi