Pakistani bridal fashion and glamour has remained the same for years. When it comes to wedding day, for a bride, it is all about heavy bridal dress, elaborate hairstyle, statement heavy jewellery, mehndi clad hands and most importantly, a loud and heavy glamorous makeup which adds more beauty to the already gorgeous bride. Over the years, with globalization and merging of norms and trends, Pakistani bridal fashion and makeup has changed drastically. From the last few years, more and more brides are opting for simpler looks; if they opt for heavy bridal dress, they keep their makeup simple, if their dress is simple, they compensate it by wearing heavy and glamorous looking makeup. Fashion always gets evolved and so do makeup trends, therefore it purely relies on the bride as to what she chooses for her big day.
Pakistani celebrity brides have always been the center of attention. It is because their fans and supporters closely follow what their favorite celebrities wear at their wedding and also because celebrities are very much trend-setters. A lot of times, celebrities inspire their fans and this is the reason why brides who are not from the showbiz industry take the pictures of their favorite celebrity brides to their makeup artists for references. In recent years, a lot of celebrity brides followed a modern bridal fashion and went for softer makeup looks on their big day but there have been quite a lot of celebrities who chose to go the traditional way by wearing heavy bridal dresses and wore fully glamorous makeup looks.
Let's take a look at those Pakistani celebrity brides who went for heavy bridal makeup at their wedding:
Saniya Shamshad
Saniya Shamshad is a young and beautiful actress. She is a fashionista and very modern when it comes to her styling and choices. However when it came to her bridal look, she opted for a very traditional look. Her dresses were heavy, jewellery was elaborate and makeup was fully glamorous. Saniya Shamshad went for different looks on all of her functions but one thing that remained the same was her heavy makeup. On her Baraat, she went for signature red lips, bold smokey and glittery eyes balanced with thicker darker eyebrows. Her makeup artist also went heavy handed with the blush and gave her highlighted cheekbones. She also opted for a foundation which was a couple of shades lighter than her skin tone. She made a beautiful bride.
Zara Noor Abbas
All of Zara's bridal choices were different yet traditional. She went for a simple look on her Nikkah but on her Walima, she wore a heavy bridal dress with classic black and gold combination. She wore a heavy and glamorous makeup look with smokey eyes and pink lips. Her makeup look was loud and was done in such a way which enhanced Zara's beauty in a perfect manner. Despite wearing such a heavy makeup look, Zara looked young and fresh.
Imaan Aly
Imaan Aly being a diva and a trendsetter that she is, definitely had her own take on the bridal glam and fashion but she kept everything very traditional and glamorous. Her choices were unique and awe-inspired a lot of her fans and followers, however it is a fact that she made a gorgeous and stunning bride. Imaan Aly's bridal dresses were not heavy but they definitely had tradition written all over them. One word to describe her overall look is elegant. She went for heavy bridal makeup while still maintaining her beauty and only opted for the kind of look that accentuated her features in the best possible manner. Her eyes were heavily kohled and smoked out. On her Nikkah she went for a brown lip and on her Valima, she went for pinker lips but the overall look and glam remained very much in-line with the traditional Pakistani bridal makeup that our brides are known for.
Aiman Khan
Aiman Khan got married right after Deepika Padukone and people couldn't help but notice that Aiman Khan's entire bridal look and choices were heavily inspired by her. Anyhow, inspired by someone or not, Aiman Khan's bridal look is purely based on Pakistani signature bridal fashion and does justice to it completely. She went for heaviest bridal dress, elaborate jewellery pieces, fully henna clad hands and a makeup look that was beautiful and heavy. Her makeup look was all about bringing attention to her eyes and lips. Her eye makeup was dark and glittery. Her eyes were outlined with kajal. The makeup artist did not do much to her eyebrows to keep her makeup look from getting too harsh. She also wore a beautiful shade of deep red on her lips. The high-points of her face were highlighted and she also wore a bit of peach blush which added a beautiful color and freshness to her face.
Naheed Shabbir
Naheed Shabbir got married last year and she also opted for a traditional bridal fashion. Gorgeous heavy dress, elaborate jewellery, the signature tikka jhumar which give the bride a complete look. Naheed Shabbir is always known for her beautiful features and makeup looks, therefore it was imperative that she made a beautiful bride. She went for a thick foundation, heavy contouring, smokey eyes, heavy false lashes and drawn on eyebrows. The feature that completed her signature Pakistani makeup look was the gorgeous red lip color.
Sanam Jung
Sanam Jung is a hooded-eyed beauty of Pakistani industry. Her hooded eyes add more beauty to her face and for this particular reason, she can carry a certain kind of makeup looks, which has to be smokey with enhanced crease to allow the makeup to show on her eyes. The makeup artist that she chose for herself knew exactly the kind of makeup that will suit Sanam Jung and she made a gorgeous bride. Sanam Jung is also one of those celebrity brides who went for signature Pakistani bridal fashion with heavily embellished bridal dresses, elaborate jewellery pieces and beautiful makeup looks. On her Barat, she wore a pink lip to compliment the pink in her dress, her eye makeup was smokey done with tones of brown shades and it was beautiful. On Valima, she again went for a smokey eye makeup but this time around, her makeup artist used a black base to enhance her eyelids a bit more. She wore a gorgeous shade of mauve nude lipstick. Highlighting and sculpting also enhanced her beauty the right way.
Uroosa Siddique
Uroosa Siddique also has beautiful hooded eyes. This is the reason she could carry smokey eye makeup look. She made the right decision by choosing signature Pakistani bridal fashion and makeup because her ethnic features could do justice to that kind of glamorous look. Uroosa Siddique made a beautiful bride. She went for smokey eyes. The makeup artist also accentuated her brow-bone by highlighting it, it brings attention to her eyes and make them pop a lot more. Uroosa also wore a gorgeous red lip, which completed her traditional bridal glam. Her makeup artist also gave her a foundation which was a couple of shades lighter than her skin-tone.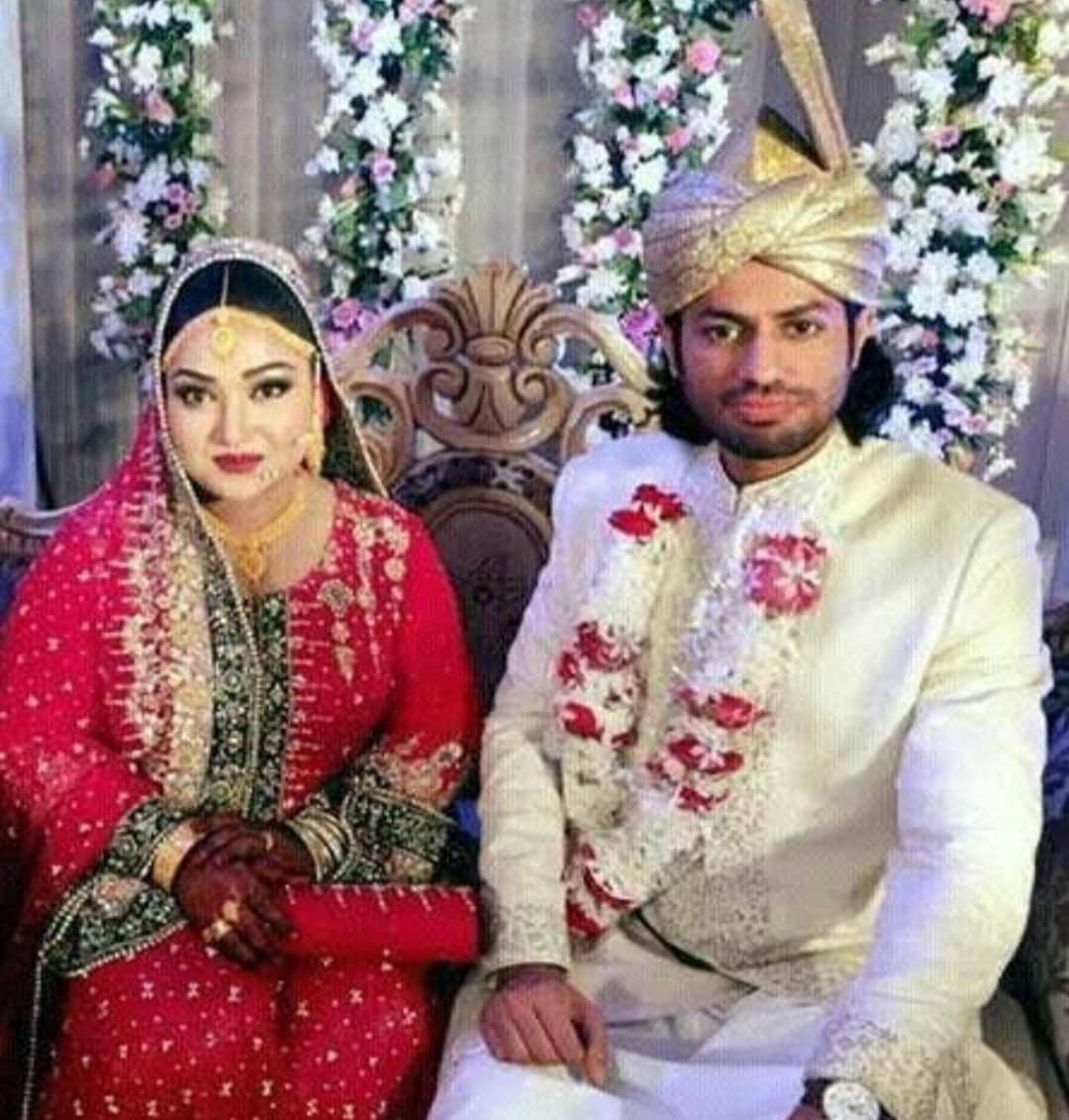 Ayeza Khan
Ayeza Khan got married during the days when the trend of glass skin and shimmery makeup was just getting started and people were following that routine a lot more. Natasha's salon mastered in giving that certain kind of look and because it suited Ayeza's aesthetics, she went for such a look. Ayeza's overall look was very traditional with the classic red and green bridal dress combination. She picked up all those ornaments which were totally in fashion during the year. Her jewellery was intricate yet heavy and beautiful. She also wore a jhumar and red bangles to complete the bridal look. Her makeup on the other hand was a modernized version of traditional Pakistani bridal makeup but was still on the heavier and glamorous side. The most beautiful aspect of her makeup was the glass skin and strategically done highlighting on the high-points of her face which brought a lot of attention to her and made her look glowy. Her brows were perfectly shaped, eye makeup look was achieved with shimmery golden eyeshadows and the crease was defined with browns shades. Her eyes were partly underlined to add depth and make them appear bigger. The makeup artist did not put kajal in her waterline to prevent her eyes from looking small. Ayeza wore a gorgeous shade of pink blush and she went for glossy red pout.
Sara Razi Khan
Sara Razi Khan got married at a very young age but it was worth noting that despite being a young bride, she did not opt for modern or fashionable look for herself. In fact she went the traditional way and made a gorgeous bride. Sara Razi Khan went for heavy bridal dress, elaborate and heavy statement jewelry. Her makeup was also heavy and glamorous. A signature Pakistani bridal makeup right there. She went for golden brown smokey eyes and the lids of her eyes were covered in glitter. Her skin was highlighted and she also went for a foundation that made her look brighter and fresh. Her face was not too sculpted because her eyes and lips were already accentuated. She also wore a gorgeous shade of red on her pout which completed her beautiful bridal look.
Anumta Qureshi
Young and peppy actress, Anumta Qureshi recently got married. Though she made different choices when it comes to bridal clothes, she went the traditional way with her jewellery and makeup. She went for a mathapati, an elaborate chokker on the neck, full set of bangles matching her heavy beautiful green outfit and a fully glamorous makeup look. Her makeup look is all about blown out smokey eyes and beautiful shade of nude lipstick. She has kept her eyebrows very much defined and they bring a lot of attention to her face. She has gone for heavy fluttery eyelashes, a lot of bronzing to sculpt and define her features because she has a round face. Anumta definitely made a beautiful bride as well.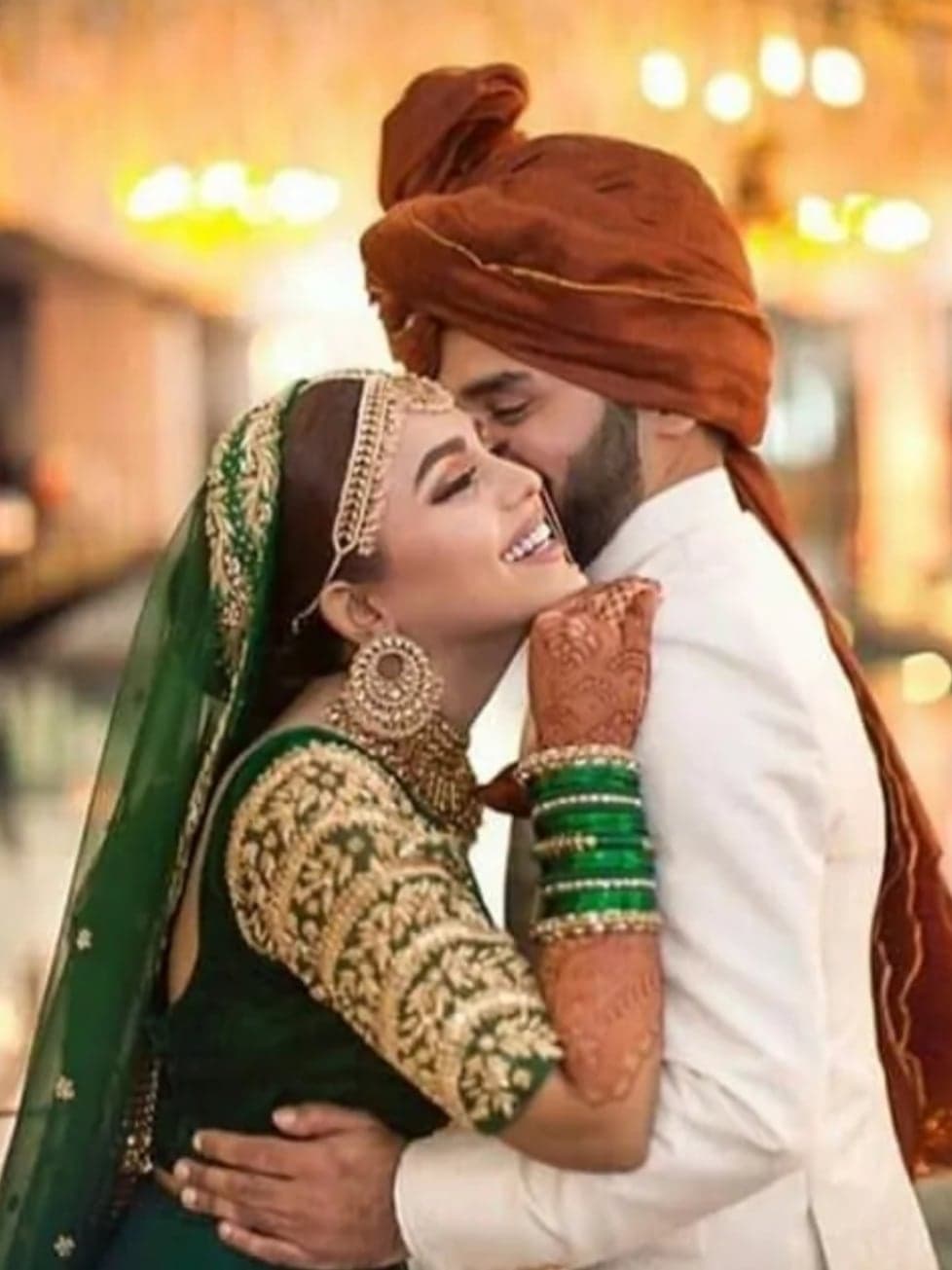 This concludes the list of those Pakistani celebrity brides who went for heavy makeup looks on their big day. Which one of these looks are your favorite. Feel free to share your opinion in the comment section below.