We have been hearing back to back news of many upcoming Pakistani movies, and the latest entrant in this category is the independent movie 'Dukhtaar'. The cast includes Samiya Mumtaz, Mohib Mirza, Saleha Aref, Asif Khan, Omair Rana and few others.
The main attraction of this movie is its unique story line which revolves around a young mother, Allah Rakhi (Samiya Mumtaz) who kidnaps her ten-year-old daughter on the day of her daughter's forced marriage and makes a run for it to save her daughter from the ill-fate ahead. A powerful tribal leader is then on their trail and pursues the runaway mother and his child bride. The conflict between the mother and daughter; and the opposed forces is the center point of the story. This movie highlights the social issues that are being faced by women in Interior Khyber Pakhtoon and Interior Punjab.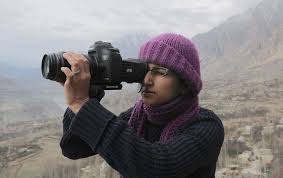 Afia Nathaniel the director, producer and writer of this movie is a LUMS graduate. She established Zambeel Films in 2008, with a vision of producing local films for global audience. Earlier, she has done three short films; Toba Tek Singh, Long After (Muntazir), and Butterfly as writer, producer, director, and editor. She has been nominated and won many international film and documentary awards till now.
This film is funded by Worldview which is a CBA [Commonwealth Broadcasting Association] Project that aims to improve UK public understanding and awareness of the developing world through the mainstream broadcast and digital media. Worldview supports producers who aim to bring the richness and diversity of the wider-world to UK audiences.
It is a proud moment for all of us to see that the male dominated film industry is now been taken over by females too who are just as capable as males with the technical and creative expertise. Afia is a valuable addition to our list of film-makers as she has diverse academic knowledge and work experience even outside Pakistan. She has won the support of an international forum like Worldview on the basis of her talent, knowledge and expertise. Previously, Sharmeen Obaid-Chinoy's documentary 'Saving Face' had won the Oscars.
The film is attracting attention internationally with its Gotham Award nomination which will be held in the New York City. The Gotham Independent Film Awards are now in their 23rd year and are wholly for the benefit of independent films and this time Pakistani entry Dukhtar has made it to the "Live The Dream" award category introduced by Calvin Klein to support women filmmaker in their post-production and distribution endeavors. It is one of the three finalists of this year, the other two movies that are nominated are: Beneath the Harvest Sky and Awol. Dukhtar is co-produced by Afia Nathaniel, one of Pakistan's most exciting filmmakers and founder of Lahore-based Zambeel Films, and Muhammad Khalid Ali, a seasoned producer at The Crew Films.
According to Afia Nathaniel, "The film is a powerful story about a mother's personal quest to save her ten-year-old daughter from an arranged marriage to a tribal leader. It is also Pakistan's first road-trip thriller shot in the surreal landscapes of the northern areas. The Gotham awards nomination for the 'Live The Dream' award comes at a great time for us as we continue with our post-production and strategize for our eventual release in various markets, including Pakistan."
Since, it is the first road trip movie of Pakistan; we can expect to see some exciting locations and thrilling scenes that would keep us on the edge of our seats. This film will also be released in Pakistan very soon!
Dukhtar is going to portray the ignorance, obliteration, and backward mentality that is prevalent in our society. Through these independent movies based on social issues, we can educate the society and bring the social evils into the limelight.
This is another movie worth looking forward too. It is not a mainstream movie, but the story is gripping enough to make you go to the cinema.
Mariam Shafiq