The world is turning into a high-tech place where the imaginations of yesterday are becoming a reality of today. It was Hollywood initially that made the fiction look like a reality and gradually the trend was introduced in India too with Koi Mil Gaya, Kkrish, Robot and RaOne type of movies which were based on superhero idealogies and now it is Pakistan to catch up the race with its first Superhero Movie.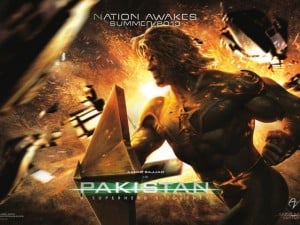 Been produced by Aamir Sajjad, Nation Awakes is the first superhero movie that enjoys a huge budget of 250 Million. Aamir  would also be seen in the movie with his acting skills. According to the producer:
 "The basic concept of the film is that it is not a normal superhero movie — we are trying to take a different route by exploring Pakistan's current scenario," 
The movie is said to be filmed in 12 different countries and would be a bilingual film, targeting English and Urdu as the real languages. As the movie revolves around technology, the characters of the movie are been developed using the latest technologies in US and  other countries.  Although nothing much has been revealed about the project yet, it has been disclosed that the music of the movie has been composed by Sahir Ali Bagga.
The director of the film, Umair Nasir Ali revealed that about 20% of the script is still incomplete and once done with it, the casting of the movie would be scheduled in April. The first teaser of the movie would be out by June as per schedule.
Keep your fingers crossed to know more about it,
Blessings,
Nida Zaidi