Not being the first one in any trend going viral in any field, Pakistan will now be adopting the foreign trend of introducing zombie movies within the country. As per news received, 'Walking Dead' will be the first Pakistani zombie movie which will be entertaining the viewers with its said thriller. There have been some worth appreciating horror movies which were nicely done in a low budget including Siyaah, Zinda Laash, etc.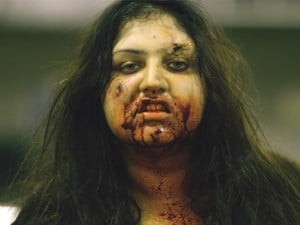 The movies is been directed by Usman Mukhtar and has been filmed in Dubai. As a result of collaboration in between Usman Mukhtar and Muse Dubai, the movie also has some Dubai faces who will be seen doing leading roles such as like Nidhi Jha, Nadia Williams and Nitin Mirani. The screenplay has been written by Shahana Khan and so far, the project has been quite satisfactory for Roha Daud, co-founder of Muse Dubai. He said:
 "A zomcom in particular, hasn't been shot on this scale locally, making it a great collaboration between South Asia and the Middle East, based on talent. Although the film industry in UAE is steadily growing, I haven't heard of any [movies] being made in this genre".
It was recently seen that zombies had been a hot topic for both Bollywood and Hollywood movies that also did an average business. While India's 'Go Goa Gone', starring Saif Ali Khan had been a disappointment for his followers, Brad pit's  World War Z is still running on box office and doing a significant business.
Now that Pakistan is too planning to coup up with the race, 'Walking Dead' is considered to be an important move in Pakistan's film industry.
The movie will be releasing in two months so hold on your breaths to find what will be coming out your way under the said banner.
Wishes,
Nida Zaidi