Since the new government has started working, our ministry of information and broadcasting is one which is running very efficiently. The minister Mr Fawad Chaudhary is always answering media's queries and promotes anything government starts. Recently, Prime Minister Of Pakistan made his first official visit to Saudi Arabia and it was a successful visit. Many projects have been signed between both the countries. Both the countries have also pledged to share more and more cultural media. In light of this, the minister for Information tweeted that Parwaaz Hai Junoon will be the first Pakistani film to be commercially released in KSA.

After the ban on cinemas was lifted, Parchi was the first film that released in Saudi Arabia. To rectify this misinformation, the lead actress and producer of the film Parchi tweeted to the honourable minister that Parchi was indeed the first film to release in  KSA though she appreciates the way Pakistani cinema is progressing. Here is what Hareem tweeted: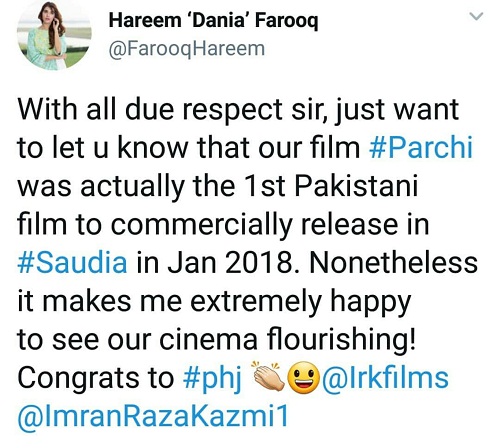 It is good t see how more and more quality film s are coming out from Pakistani cinema and making an impact. With more and more projects lining up, the Pakistani industry will definitely become super successful in a short period of time.