This was yet another episode of Parizaad with some unexpected developments and outstanding performances. The dialogues and screenplay continue to be some of the best aspects of the drama. However, for the first time, I did not warm up to a new character instantly. Urwa Hocane's character did not have the 'class' or 'aura' which Behroze's character has. She came across as cute and perhaps immature; I felt that Urwa was not the best choice for playing the role. Having said that, I am waiting to find out more about this character and hoping that Urwa Hocane will give us another memorable performance as this track moves forward. Ahmed Ali Akbar deserves all the praise for translating this character in the most impressive manner possible. Besides his phenomenal performance, Nauman Ijaz is one of those few actors in the industry who truly make their presence felt. His expressions and body language are enough to hold the viewers' interest, which is simply amazing! The camerawork in Parizaad has always added to the value of different scenes. The way the director and the cameraman have captured every little gesture makes each one of these scenes detailed and easy to interpret especially when there are no dialogues.
New Responsibilities
Tonight's episode opened with Parizaad wanting to tell his new boss the truth even though he was threatened with dire consequences. The highlight of all these scenes covering Parizaad and Behroze's interactions were Behroze's dialogues. He is going to be yet another mentor who might leave a bigger impact than anyone else has so far on the main protagonist's thought process! Parizaad is learning new perspectives of life as he meets different people. Even though he learned an important lesson about the value of an individual and material gain, he always held his integrity and honesty dear. That is the reason why he did not think twice before telling Behroze what he had witnessed. However, the lesson his new boss gave him wasn't that of integrity or honesty. Contrary to that, he actually told him loud and clear that his honesty might prove to be a hurdle in the way of his success. Although it was this honesty that made his new boss trust him, he also told him that most of the rich and powerful people did not follow rules and were dishonest! This was yet another bitter truth coming from a man who is highly 'respected' and even feared! The viewers found out more about this character in tonight's episode through different scenes. Quite unexpectedly, the development in the previous episode was a set-up to test Parizaad and he passed this test with flying colors!
I find it quite interesting that Parizaad is not 'ashamed' of his new goal in life. He has been telling everyone he meets that his main goal in life right now is to get rich and he is willing to do whatever it takes to achieve this objective. There were times tonight when I felt there was a contradiction in his behavior. On the one hand, he talked about his honesty, and on the other, he was willing to work for someone who he knew had not earned his wealth by using honest means. Is this another transition in Parizaad's character? Is he willing to compromise on his principles in order to earn money? I am waiting to find out! This character has so much going for it; I am expecting it to get even better as the story progresses. So far, all of his transitions have been so smooth and effortless therefore I am expecting the best from the writer in the upcoming episodes as well.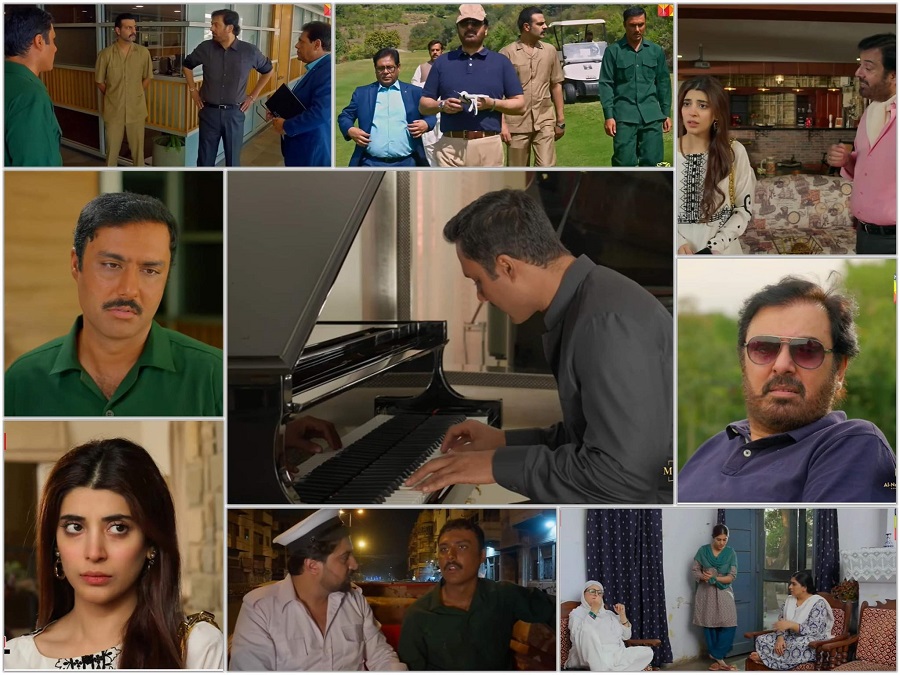 Mrs. Behroze is definitely hiding something. It was also obvious that her husband isn't just 'protecting' her but he has trust issues as well. He told Parizaad to inform him about her whereabouts and whoever she was meeting. So, this is more than just protection! Personally, I felt that Hania Aamir would have been more suitable for this role. Parizaad and Mrs. Behroze's interactions were quite interesting as well. The advice Behroze's PA gave him also said a great deal about how challenging this job was going to be. Parizaad has never been afraid of facing new situations therefore it did not come as a surprise when he decided to go ahead with the task even though he knew that there were challenges involved.
Parizaad's fascination with the piano and the opportunity he got to play it for the first time went to show that this was perhaps the first step towards the realization of his dreams. Parizaad's close ties with his new friend Janu might be the reason why he ultimately decides to go against his boss' wishes and accept bribe from his wife. So far Parizaad has done more for the people he loves than himself therefore it would be completely in line with his character if he decides to do so. Some of Parizaad's scenes in this episode as well reminded me of Moosa. Even with all his intelligence, there is so much he needs to learn about the ways of the world. Also, there is a certain innocence about him that sets him apart. That is definitely a rare combination.
The Bhabhis
So, the bhabhis finally found out about the money Parizaad gave Saeeda. Their scenes have always been given so much attention and even now I cannot figure out why that has been the case. While all the other characters have played a vital role in taking Parizaad's track forward, the bhabhis have been playing more or less the same role. They have not impacted the main track in the manner rest of the characters have. The convincing performances by all the actors involved make this track watchable otherwise these scenes are more or less repetitive. I would have liked to see more of Saeeda in this episode since Parizaad's absence must have impacted her more than anyone else.
Final Remarks
The reference to The Godfather was another interesting addition to this episode; it suggested that Parizaad might be taking a different road from now on. He will surely learn more from this experience than anything else he has encountered so far in life. Apart from the well-executed script, the production values of this drama also add to its overall appeal. Behroze's world truly came alive on screen because of the way his lifestyle was shown. Parizaad's journey continues to be unlike any other; it is refreshing and engaging.
Did you watch tonight's episode of Parizaad? Do share your thoughts about it.