This was yet another emotional, unpredictable and enticing episode of Parizaad. In these 10 weeks, so much has been revealed about the main lead in particular yet every time there is an element of surprise. His primary nature has stayed the same right from the start yet he keeps the viewers wondering about his next move. This element of surprise coupled with the perfect execution makes Parizaad's journey one of a kind. There have been so many times when different situations suggested that Parizaad might choose financial gains over integrity but every time he passes the test with flying colors! Parizaad is learning how the world operates and every other week he has a different dream. "Dil ke kamray mei ek khawab takmeel ke darwazay se undr ata hei tu dusra khirki se bahar chala jata hei"was such an apt dialogue that summed up not just this main lead's journey but perhaps everyone's life in general. This was another valuable lesson learned by Pari but clearly, there's so much life and the people he will come across are going to teach him. He continues to be a hero with a heart of gold who takes everything at face value even after going through so many different experiences.
Apart from a solid script and some exceptional performances (Ahmed Ali Akbar being the undefeated star of the show), Parizaad is also a visual treat. The cinematography has been impressive throughout but it was especially outstanding in this particular episode. The camera work has been remarkable; some of the scenes were ideal for the big screen in this episode. The director has breathed life into the script by keeping the essence of every scene alive.
Interesting Journey
Tonight's episode revealed a great deal about Laila's character as well. She is an intelligent woman who figured out rather quickly that Parizaad was a caring young man who would be willing to help her out if she makes him feel as if he is doing someone in need a favor. She started her story (which sounded made up) with presenting herself as a victim and Parizaad fell for it instantly. She was also wise enough to make a 'connection' between herself and her 'bodyguard' by telling him that they were more or less the same. This was the perfect example of someone exploiting Parizaad's kindness and sensitivity. Although these two personality traits have been the biggest strength of this character but this time around they turned into a weakness when he decided to help Laila out without questioning her story. More than once, Pari has done what he felt was the right thing to do without thinking about the consequences. This time around too, he did just that. As he said, he has always followed his heart although his heart has led him in the wrong direction more than once! However, Parizaad's gullibility did not come as a surprise because he has often believed everyone he has met so far. Also, most of the people except for Bubbly were quite honest with him as well about their identities and their true intentions.
In the previous two episodes, Parizaad was bent on earning money that was the sole purpose of his life. Even this episode opened with Parizaad recalling Lubna's mother's words suggesting that he still woke up with the same purpose in mind. However, Parizaad continues to be someone who would not think twice before helping someone he loves in need or even someone he has just met. He is willing to work hard to get rich but he is not going to compromise on his principles or change who he is as a person to earn money. The way he gave all the money he had to help Janu out went to show yet again that Parizaad was just as good a friend as he was before earning money wasn't his primary focus. Also, it is amusing how some of the conversations stay with him and leave a lasting impression. Laila's words perhaps altered his perspective towards life. It was endearing and heart-warming watching Pari help his friend get the love of his life even though he himself hadn't been lucky in love. Parizaad has met so many people who have loved and respected him for the person he is and have not paid attention to his outward appearance. Yet, it seems as if this validation is not enough for him. The writer of this drama has also made the viewers fall in love with the most unusual hero hence proving that looks are completely secondary!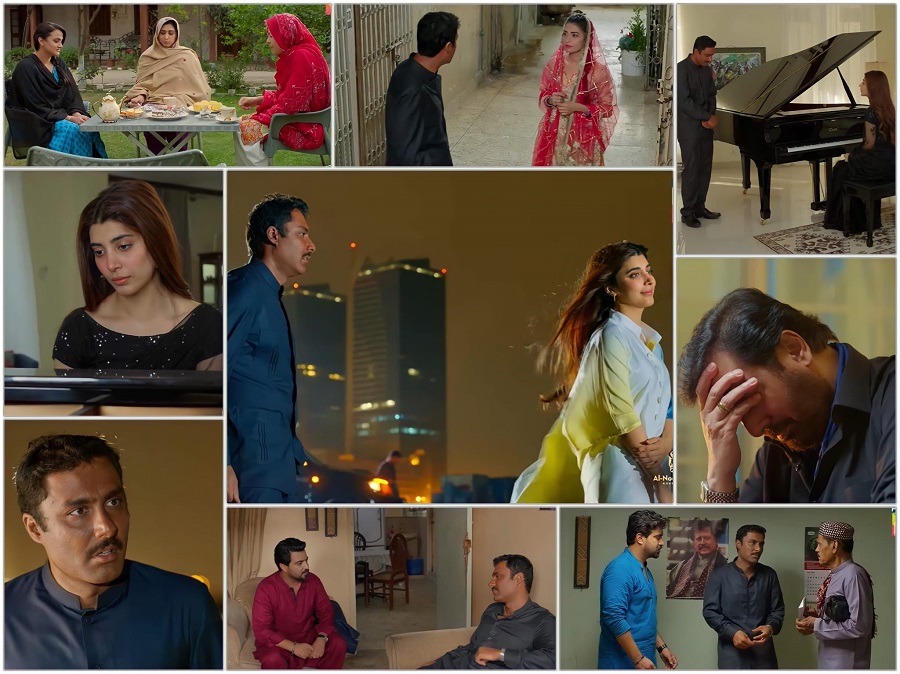 Behroze definitely picked up on what Laila might be up to since it seems as if there is a good reason why he does not trust her. He warned Parizaad politely the first time they were late and the preview of the upcoming episode suggested that he will give him another chance to tell him the truth. Even though Behroze has a few scenes in every episode yet he makes his presence felt every time. Parizaad's bhabhis were yet again shown doing what they do the best! It was good to see Saeeda in this episode happily married and defending her brother. However, it would have been even better if there was an actual conversation between Pari and Saeeda in this episode. Naheed's mother's scene showed that Naheed was under pressure to have a son. Having a daughter might impact her marriage and she will perhaps eventually be shown regretting her decision.
Final Remarks
Ahmed Ali Akbar has truly outdone himself by translating even the minutest details of his character impeccably on screen. Parizaad's awkwardness when someone appreciates his kindness and the smirk on his face when he is happy makes his acting truly commendable. Apart from everything else, he has captured the essence of Parizaad being a complete misfit socially because of the way he expresses himself. This drama wouldn't have been the same had he not been playing the lead. Hashim Nadeem deserves credit for penning down the most meaningful dialogues; these dialogues are definitely the best part of the script other than the characterizations. This drama has definitely set the bar high by being a commercial hit without relying on done-to-death scenarios. I was not too sure if Urwa Hocane was the right choice for this role but after watching this episode I am really impressed with her performance. She did not give anything away; it was impossible to gauge what Laila's true intentions were. The preview of the next episode was enticing, to say the least! I can't wait to tune into Parizaad next week.
Did you watch tonight's episode of Parizaad? Do share your thoughts about it.