Watching this recent episode of Parizaad was a completely different experience altogether. Parizaad's life and circumstances changed drastically in this particular episode. The story took a dark turn and for the first time, Parizaad made some of the most foolish choices. He survived nevertheless and the writer did give the viewers all the possible explanations for Behroze sparing his life. There were also scenes and conversations which were slightly difficult to relate to. For the first time, the script was not as solid as it has been so far. The delay in the investigation and Parizaad's unbelievable courage did not work for me at all.
The production values continue to be beyond impressive. The director and the production house have left no stone unturned to ensure that every chapter of Pari's life comes alive on screen. The locations and the camerawork couldn't have been better. Parizaad definitely has my undivided attention even after this episode but this latest transition in the story was slightly shocking! This had to be the bleakest turn in Pari's life, so far. In these 12 weeks, we have watched so many different phases and chapters in Pari's life. This time around for the first time I felt as if this was going to be the turning point in his life. Janu's scene with his fiancé was the weakest scene in this episode. Nadia Afgan's character was also introduced in tonight's episode; it is definitely good to see her in a different role yet again.
Parizaad's Gullibility
Parizaad has always been shown as a gullible character. He has through the years chosen to forgive many people who did not deserve to be forgiven. But this time around he literally put his life on the line in order to cover up for Laila. Later on, he explained to his maalik that he did that to save his 'izzat'. Honestly speaking, I was shocked to hear him say that since being brave enough to speak your mind is one thing but pushing your luck is another! Behroze gave different reasons for letting Parizaad go but the main reason seemed to be the fact that he believed in being 'fair'! He knew that Laila had tricked Parizaad into taking her to see her boyfriend and that he did not really know what was going on. Even then, his gullibility is definitely more of a weakness than a strength therefore I am wondering what Behroze has in mind for Pari. Parizaad's last wish was his way of showing how much he regretted coming across people who hurt him and let him down every single time. He knows that he is gullible and even after watching Laila blame him for everything; he decided to take the blame for her. He blamed himself for being used repeatedly yet he continued to question Behroze's action.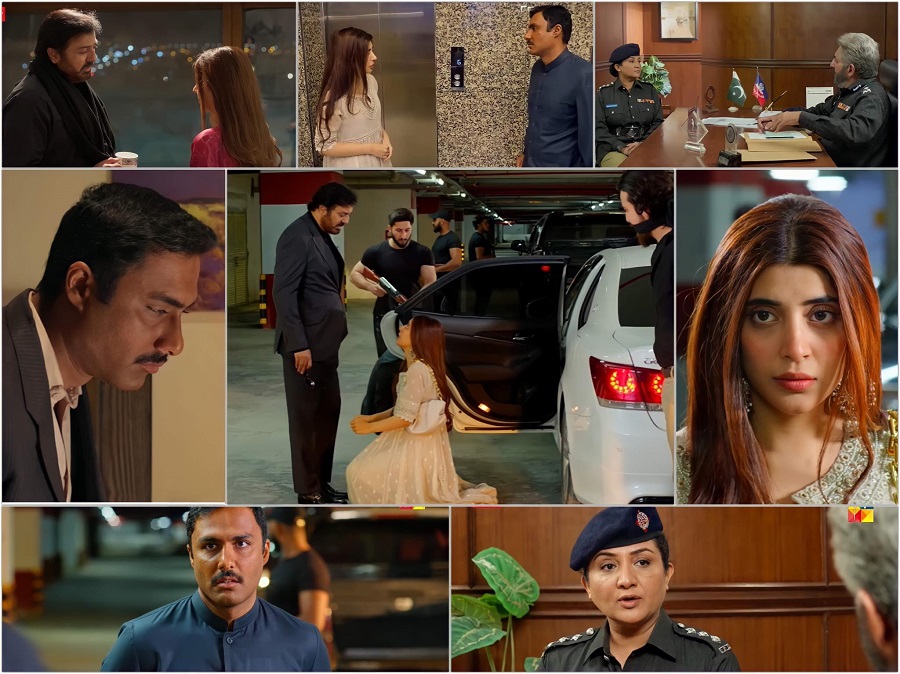 The 'raqeeb' dialogue was the highlight of this episode. It is interesting that even after going through so many different experiences, Parizaad's biggest desire remains the same. He wants to be loved more than anything else. Now, it also seems as if the only reason he wanted to be rich was so that someone would perhaps fall in love with him. There have been so many twists and turns in Parizaad's track but his basic nature remains the same. He has not learned the ways of the world even now. Some character development would have made this character even more interesting.
The Investigation
Badar Munir's character played by Nadia Afgan was introduced in this episode. She was introduced as an honest and dedicated police officer, who was the one, heading the investigation team probing into Laila's love interest's murder. The timeline in this episode was confusing since it took the investigation officers two months to get call records! This is the kind of basic information which the police authorities get immediately. Since this was such a high-profile case, it was difficult to relate to these delays. Laila's friend's disappearance was equally unconvincing since surely the hotel had some record of the guests staying and visiting! Even if the police could not get hold of these details because Feroze made sure that they did not leave any leads, Behroze's men should have been able to find out about the whereabouts of this girl. Even with so many resources and after two months, there was little or no progress in this particular track.
Final Remarks
The performances and the execution of this episode couldn't have been more impressive but the timeline was confusing. Watching the police officer announce that there was no progress in the investigation after a month was the biggest disappointment since it was not convincing. Also, watching Janu's fiancé talk about Parizaad as if he meant nothing to her after the emotional scene last week in which she told him that he was like a brother to her, made little sense. This scene should have been edited and instead of this scene, the writer should have shown Saeeda worrying about her brother in order to pass on the information about how much time had elapsed since Pari got into trouble. Nauman Ijaz has been brilliant in this role; Ahmed Ali Akbar continues to give a spell-binding performance and Urwa Hocane looked fabulous throughout. She also did complete justice to the role assigned to her. I am wondering what turn Parizaad's life will take next and waiting to see some character development as well.
Did you watch tonight's episode of Parizaad? Share your thoughts about it.