Parizaad's journey continues to be filled with new experiences, few weeks back it was impossible to imagine Parizaad living this life. It was definitely pleasing seeing a familiar face from the past. It was also a reminder of how uncomplicated Pari's life was back then! Even after all these weeks, new characters are introduced in every episode and each character has a backstory different from the others. Tonight's episode focused on Bubbly's (now Dilawar) reunion with Parizaad and it also established the Guru's character.
Saboor Aly and Ahmed Ali Akbar's outstanding performances coupled with the most beautiful cinematography made this episode an absolute treat to watch. The scene in which Ahmed Ali Akbar yawned was perhaps the best display of unrestrained and realistic acting. This drama continues to surprise me every week. I must say that at times it takes time to warm up to the new circumstances and characters. Although the pace of the drama is not fast, there is a lot going on and every character brings with it a completely different track. The special treatment Parizaad has been getting from Behroze is at times difficult to relate to since he failed the first assignment given to him by trusting everything he was told.
The Reunion
Who could have thought that Parizaad would meet Bubbly in a place such as the Guru's dera. I am glad that this reunion came as a complete surprise and there were no spoilers in the preview of this episode. Behroze decided to send Parizaad away so that he could be safe and perhaps also because he knew that sooner or later the police will come after him. Behroze is not the same person anymore after punishing his wife. He could not get over the betrayal and hence he leaves many of the decisions to his assistant. Parizaad's surprise meeting with Bubbly was the best part of this episode. Both of these characters have come so far from where they started. They have so much in common as well; in order to make up for their weaknesses, they decided to take risks that most people would not take. Now, they are part of a world that is nothing like the one they were born and raised in. They seek validation from others since they grew up around people who did not accept them.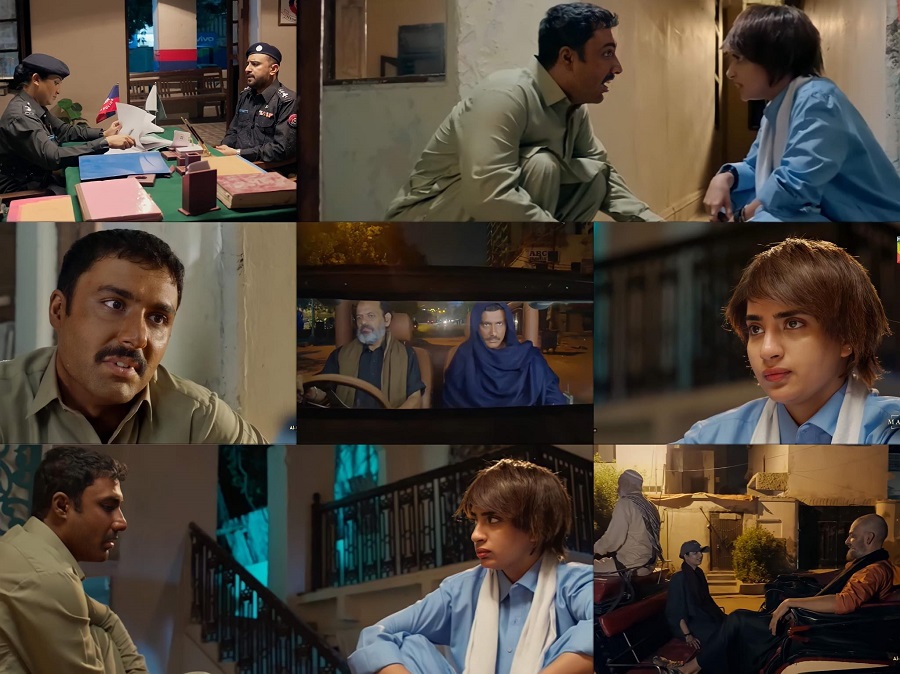 Bubbly's entire track has been just as meaningful as that of Parizaad's. Had these two been accepted by society and were not made to feel like outcasts, they wouldn't have to run away in search of new identities. I absolutely loved Saboor Aly's expressions when she was introduced as Dilawar for the first time. I have always been able to connect to this character; she was always in desperate need of validation. Unfortunately, with this validation came exploitation! Parizaad and Bubbly both have not lost their innocence even after facing so many different situations in life. In the last scene, Pari once again spoke his mind without thinking of the consequences which went to show that his basic personality was still the same.
The Investigation Continues
The murder investigation was given substantial screen time in this episode which made me wonder if this is going to be the turning point in the story. It was however strange that the CCTV footage was recovered after so many months! The timeline is seriously confusing especially with reference to the investigation. The most initial steps that should have been taken by the authorities are now being taken after so many months. The investigation will finally lead the police to Behroze and even Parizaad as was shown in the preview of the upcoming episode. While Behroze sent Parizaad away so that the police could not reach him, he hasn't done much to ensure that the police cannot get their hands on him. Badar Munir was reluctant to look further into Behroze's involvement in the case initially which was a realistic addition to this entire scenario.
Final Remarks
Parizaad is not just the story of one person who was rejected by society but there are so many different characters that have been introduced at different stages who have struggled in their lives. Even the Guru tonight turned out to be one such character. The writer has definitely penned down every character and its backstory with the utmost precision. Parizaad's family has completely been relegated to the background which is rather odd. Although he has left that life behind, he should have stayed in touch with his sister since that was the only bond he held so close to his heart. Parizaad continues to be gripping and at times too dark therefore upsetting! It manages to hold my interest every week and keeps me looking forward to more.
Did you watch tonight's episode of Parizaad? Do share your thoughts about it.