Behroze Karim's track finally ended tonight; this had to be the only sidetrack that lasted for so many weeks and got more screen time than any other. It was also the most unpredictable one with plenty of twists and turns, some of which were actually shocking! It will be interesting to see how this experience alters the course of Parizaad's life. Noman Ijaz was brilliant in this role and honestly speaking it was upsetting watching him take his life in the end. Even though Parizaad almost always manages to 'shock' me since every episode has something or the other which I could not have anticipated even if I thought out of the box, it always manages to entertain. I make sure I keep an open mind while watching this drama and enjoy the ride since it is well established by now that Parizaad's story can take any unexpected turn at all.
Even though I do not feel the same way about Parizaad (the character) as I did before because he has been so 'adventurous', I am still interested in his story. There are too many instances when I feel that Parizaad is not looking out for himself, as I mentioned in my previous review, and that can be frustrating for a viewer who is rooting for him. But then, that also goes to show the kind of connection I have with the main lead which signifies the real success of the drama.
Goodbye Behroze Karim
Parizaad is clearly more loyal to everyone who has ever helped him even a little than he is to himself. Tonight, he took the blame for the murder in order to save his maalik. This was somewhat expected since the promo of this episode suggested that he will do something extraordinary to save Behroze. For so many weeks, the viewers had been watching Behroze Karim's depressive state of mind but he also surprised us more than once! This was yet another character played by the enormously talented Noman Ijaz which kept the viewers guessing! Behroze clearly planned to end his life which is why he made sure his will stated who will be inheriting his wealth. Parizaad proved his loyalty in such a way that Behroze must have left him with something worthwhile. Does that mean Parizaad is finally going to get rich? I cannot imagine Parizaad being comfortable with wealth but then we have seen so much which was beyond our imagination!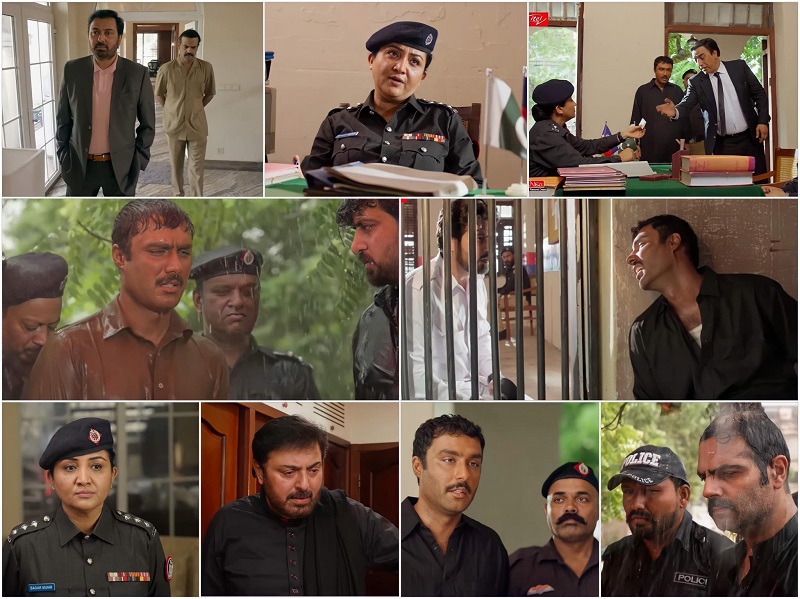 Behroze Karim's character was penned down magically. He exuded charm because of the way his dialogues were written and obviously, the credit for that goes to Noman Ijaz as well. Behroze decided to have the final laugh and Badar did not get exactly what she wanted. I absolutely loved Nadia Afgan's performance in this episode. When Behroze praises his dead wife's handwriting, her expressions were priceless! The writer finely added this particular track in the story and showed the challenges women face especially when they take up professions dominated by men. It reminded me of the difficulties Noor from Aakhir Kab Tak faced when she started running her father's business. The big difference here was that Badar saved herself on her own, entirely! It was really good watching the colleague who mocked her acknowledging and appreciating her. Her confidence and everything else about her gave hope that we will see more such female characters in dramas in the future as well.
Even though this particular track got so much screen time and I wanted Parizaad's story to move to the next phase, I am going to miss all these well-written and beautifully acted out characters. At the same time, I am looking forward to what is in store next for Parizaad. It seems as if he will never put himself first. Will he find someone who loves him the way he has always wished to be loved?
Final Remarks
Parizaad continues to be a beautifully penned-down drama with quite a few exceptional characters as well as performances. All the characters are layered; even Behroze's character had a good side to him! It has also been directed and shot superbly. The funeral scene in tonight's episode was one of the best; beautifully shot. Also, even though Parizaad has made so many questionable decisions, he has also won the love and respect of people around him as a consequence. 'Loyalty' had to be the main theme of this particular track since not only did Pari prove his loyalty, he also won some loyal friends. Behroze Karim's final words had to be the highlight of this episode. This scene was written down and executed so powerfully. The actors playing supporting roles also made their presence felt once again in this episode. I would especially like to mention Saad Azhar here, who has been brilliant as Feroze. I am looking forward to meeting new characters as Pari's journey continues and cannot appreciate the writer enough for giving us a drama that is not only different but also entertaining and meaningful.
Will you miss these characters? Am I the only one who was saddened by Behroze Karim's tragic ending? Share your views.