"Mujh jesu ko dushman ki zarurat nahi parti, hum khud hi apni dushmani ke liye kafi hote hein" was one of my favorite dialogues from this episode, which had so many beautifully written dialogues. The best scene had to be Parizaad's meeting with Naheed – exceptionally well written as well as gratifying. There are so many interesting dimensions to Parizaad's personality and I honestly feel that each individual out there who has ever struggled with self-love or acceptance would find it easy to connect to this journey. When Parizaad is in his office or around his employees, he never shows his vulnerabilities but when he is meeting someone in a personal capacity, he does not hold back. The wholesome and meaningful conversations coupled with phenomenal performances continue to be the best thing about the drama. Ahmed Ali Akbar continues to be outstanding in this role and Yumna Zaidi is another superb actress who never ceases to impress. The script however makes this drama truly stand out.
Meaningful Conversations
Parizaad has always been someone who has been quite aware of his strengths and weaknesses. His weaknesses however always defined the way his life moved forward more than his strengths. That is why he always had low self-esteem. It was interesting to see Parizaad admitting out loud to Naheed that he had desperately tried to get validation and love from others. However, he was convinced even now that he was perhaps incapable of being loved for who he was. His interactions with Annie definitely have shown him another perspective. She accepts him wholeheartedly and fails to understand why he has such a low opinion of himself. The most likable aspects of Parizaad's personality have to be his honesty and intelligence. He is intelligent enough to perceive and accept things as they actually are, that is why he did not fall for Naheed's lies. He is also honest enough to open up about his true feelings regarding others and himself. Even though he is in a position where he can win people over with his money but he has not done so. He has helped many people around him and plans to help others but his intentions were always honest, he did not expect anything in return.
The viewers found out more about Annie's background in this episode. It was good to see Huma Nawab playing her mother's role. The warm welcome Parizaad got by her said a great deal about how much Annie's mother treasured whatever mattered to her daughter. Some of the dialogues tonight suggested that Parizaad might give Annie the gift of eyesight. I was wondering when and if ever that happens, will Annie still have the same reverence for him as she does now? Annie's track it seems is going to be the real game-changer in the story. She is either going to be the one who will give Parizaad all the love and validation he has longed for his entire life or she will be the most bitter rejection Parizaad has faced till now. I find this track quite interesting because there are endless possibilities. Yumna Zaidi and Ahmed Ali Akbar's on-screen chemistry is an additional plus. Parizaad, it seems, is falling in love yet again even though he keeps on reminding himself that he is not worth loving! Annie gives him the kind of unconditional acceptance which he had never imagined that he will get.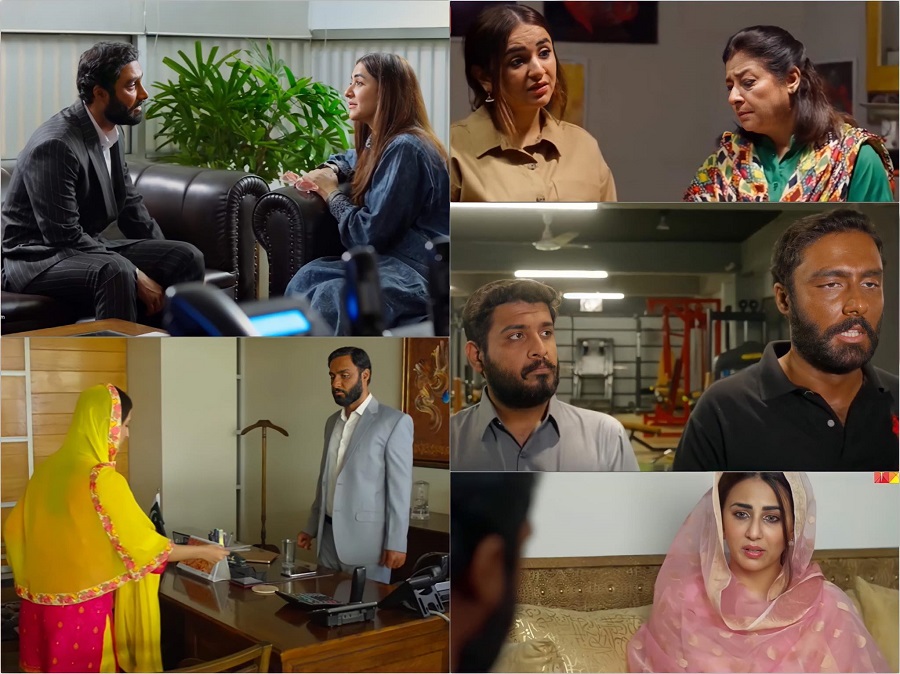 Parizaad and Annie have so much in common. Apart from the obvious fact that both of them have names that are 'meaningful' in a different way. Parizaad is definitely not beautiful like a fairy and Annie is not blessed with the gift of eyesight. Apart from that, both of them are really good with words. They also have a special kind of love for books and reading. Therefore, their attraction towards each other is more meaningful. Parizaad perhaps is attracted to Annie because of his vibrant personality as well since that is something he seriously lacks.
The conversations between Parizaad and Akbar, their scenes together, showed a completely different side of Pari. As he said, he was not afraid of dying but he also wanted to live! This dialogue suggested that Annie had perhaps given him a reason to live. He also gave Seth Shehbaz a dhamki which you would only accept from a businessman who knows how to look out for himself! I am enjoying watching all these different shades to Parizaad's personality.
Naheed was so sure that Parizaad will accept her proposal immediately therefore his detailed and unexpected response left her speechless. Parizaad literally told her off in the most polite manner possible. He never held back while sharing his views and this time around he truly nailed it. He covered every single aspect of this proposal and his 'relationship' with Naheed so far. The reason for Majid's attitude towards Naheed was also elaborated today. Naheed is clearly not just greedy but also manipulative. When nothing else worked, she tried to make Parizaad feel sorry for her. Ushna Shah's convincing performance made this scene a treat to watch. It was also interesting watching him give Naheed a lecture on self-worth!
Final Remarks
Although I absolutely loved all the scenes in this episode and the acting was impeccable, I miss watching Saeeda on screen. Lubna is also out of the picture suddenly. Also, I am wondering if Parizaad will meet Nasaaz at some point. This was definitely another phenomenal episode of a drama that continues to impress.
Did you watch this latest episode? Don't forget to share your thoughts.