This was another engaging episode of Parizaad with quite a few impressive performances. Guru's scenes truly stood out for a number of reasons. They were penned down, acted out, and shot brilliantly. I am glad that the actor and the character is getting the screen time and attention he deserves. Yet again, Parizaad proved that even with his current status he was not going to let go of those principles which he always held so dear. Annie and Parizaad's track however continues to be the most engaging element of the drama. Annie's fascination with Parizaad sir keeps you guessing, which makes this entire track more interesting. Hashim Nadeem tends to pen down certain tracks in such a manner that you are left wondering about the true intentions of the characters in a pleasant manner. We also got to find out more about Annie in this episode and for the first time, the viewers saw a serious side to her character.
The Journey Continues
Sharjeel and Parizaad's meeting in this episode was actually quite interesting. The contrast in their personalities was as clear as daylight. On the one hand, Parizaad did not think of himself worthy of praise and on the other hand, Sharjeel was full of confidence. Parizaad's serious personality is also poles apart from Sharjeel's fun-loving nature. Not to mention the fact that Sharjeel also takes pride in his good looks, something which Parizaad is seriously lacking in. Since even after attaining all the wealth, Parizaad's personality is still defined by the lack of self-worth which he constantly feels due to all the obvious reasons which have been shown with the utmost clarity. The way Parizaad looked at Sharjeel suggested that he already saw him as his 'competition'. Sharjeel on the other hand was welcoming and did not feel threatened by Annie's new friend at all. He gave Parizaad the same Nasaaz's dialogue about sharing his true feelings with the one he loved also indicated that this time around as well Parizaad's love story might meet the same fate as the last few times.
Sharjeel and Annie's mother's conversation on the breakfast table hinted towards Annie getting her eyesight back at some point. I was expecting Parizaad to play a major role in helping her get her eyesight back and honestly speaking for a little while I was glad that was not going to be the case! However, when they started talking about the financial issues, it was immediately apparent that he was going to help her out financially in some way. The plan he came with was nothing short of pure genius! Fahad Mirza is definitely not as brilliant an actor as the majority of the actors in the drama but he does fit the role.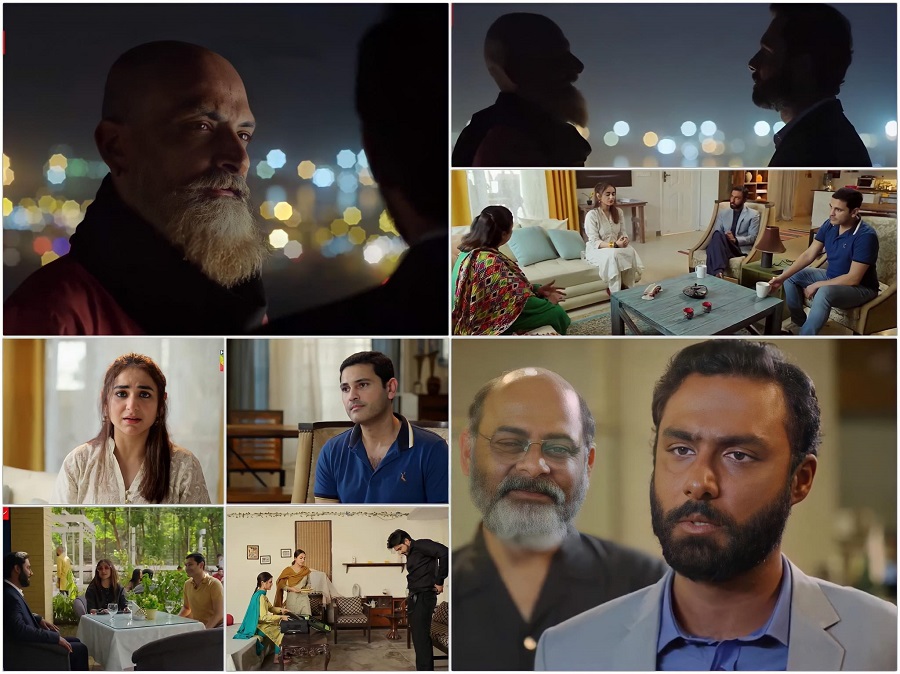 Parizaad and Guru's scenes together were brilliantly written. Guru's scenes in particular were the perfect example of highly impressive cinematography. It was good to see Parizaad getting his way without harming anyone. This was yet another example of how the writer made us believe that Parizaad was actually capable of doing something like this but then showed something which was definitely more in line with Parizaad's actual personality. I am certain I am not the only one who did not want to see him going down the same road as Behroze Karim.
Majid and Naheed's track is another one of those many tracks which have been largely influenced by Parizaad's generosity. Naheed immediately realized that Parizaad was behind the positive changes in her life. The dialogues about respect being more important than love was one of my favorites tonight since respect is sometimes so underrated when people decide to start a new life together! Once again, Parizaad's family, especially Saeeda was missing from the picture. Even after the murder attempt on Parizaad, we did not get to see a single scene showing her reaction.
Final Remarks
After watching the preview of the upcoming episode, my expectations changed completely. I can't help but wonder if Parizaad will actually ask Sharjeel to keep Annie happy and to be by her side. I definitely do not expect him to 'buy' Annie's affection or Sharjeel's trust! The fact that even after all these weeks Parizaad is entertaining and highly unpredictable makes it a drama that keeps me looking forward to more.
Did you watch this latest episode of Parizaad? Do share your thoughts about it.