Parizaad is turning out to be a drama with a seamless story as it gets better with every single episode. I am completely sold after watching tonight's episode. I just hope that it continues to be this strong in terms of storyline and characterizations in particular. The script continues to be not just unpredictable but also enticing. It is such a refreshing change watching characters and stories which are unlike others we see in Pakistani dramas.
I have complete faith in Ahmed Ali Akbar, Saboor Aly, and Adeel Afzal in particular. All the other upcoming actors are also a few of the most talented people in the industry therefore the performances will continue to mesmerize. Saboor Aly's performance impressed me more than ever tonight; her body language went so well with the character. I am genuinely pleased that she decided to take up this role and she has performed it so well.
Parizaad and Bubbly
Until last week, I was convinced that none of the other characters in this drama would be able to hold my interest the way Parizaad does but then Bubbly entered and changed everything! I love the way this character has been etched out and translated on screen. Saboor Aly's performance is at par with that of Ahmed Ali Akbar which is such a huge deal considering how outstanding his performance has been. Parizaad might have had a lot of setbacks in his life but he continues to be a fighter. He is intelligent and also resourceful. He managed to convince Bubbly to do something she was not prepared to do and later on bailed his brother-in-law out using his contacts. It is interesting how this seemingly socially inept and awkward man manages to get so much done using his intellect. He does not know how to receive praise and he definitely does not show how capable he actually is. However, at the same time, he looked genuinely pleased with himself when his contact helped bail his brother-in-law out. He definitely takes pleasure in bringing happiness to people he loves; Saeeda being on top of that list!!
Parizaad and Bubbly have certain similarities as well – both of them never got the acceptance they wanted from their families or the society due to completely different reasons. However, interestingly enough, the reasons are also somewhat similar because it is their outward appearance that is their first introduction. While in Bubbly's case what you see is what you get, the same is not true for Parizaad. Most people do not accept someone who does not conform to the beauty standards of society to be so bright! While Parizaad has managed to carve a path for himself despite all the setbacks, Bubbly being a girl is still struggling. I absolutely loved Saboor Aly's body language in the scene showing how Bubbly looked at herself in the mirror. The dialogues and these situations were hilarious as well as meaningful, which is always a winning combo! Bubbly's scene with her father was equally powerful. I personally know someone like Bubbly therefore her scenes resonate with me on a different level! Parizaad and Bubbly both are fighting against all odds in their own ways.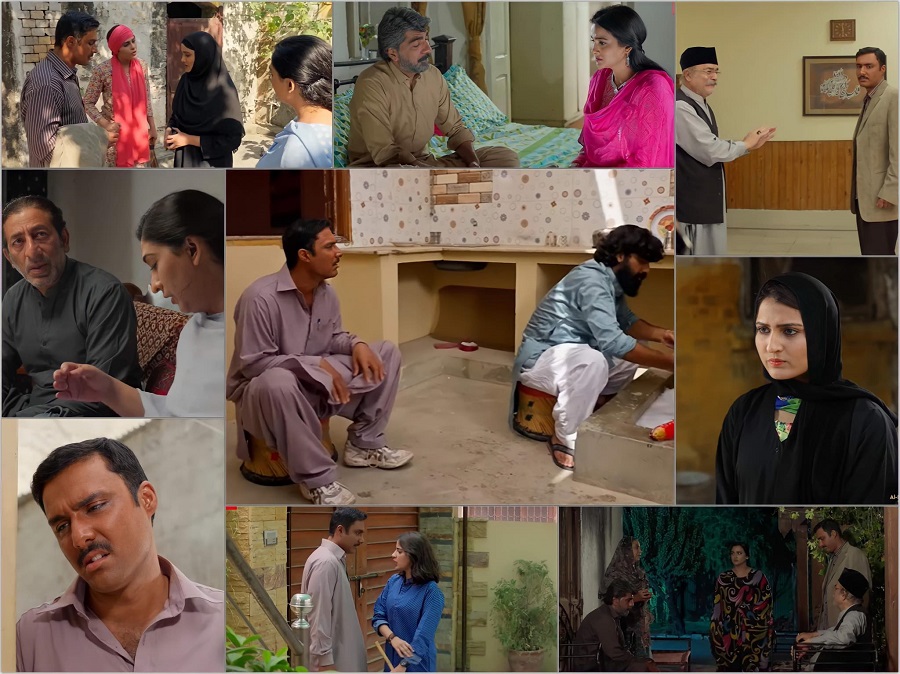 Kanwal's character continues to be so refreshing; her conversation with Parizaad yet again suggested that Naheed will be back at some point. Kanwal always had a soft corner for Parizaad. I am glad she figured out what was going on and that she decided to talk to Parizaad. The highlight of Parizaad and Bubbly's track was Nasaaz's suggestion at the end of this episode. Bubbly and Parizaad's scenes suggested that their relationship was meant to last and I kept on wondering how this marriage will take place, now we know how! The writer gave Parizaad the most convincing motive to act on Nasaaz's advice.
Saeeda's Track
Saeeda and Parizaad's love for each other was well established in the first three episodes. Even though the bhabis' scenes were unbearable in the previous two episodes, these bhabhis will be affecting the developments in the upcoming episodes in such a way that Saeeda is further pushed into a situation where only Parizaad can help her out. Saeeda's husband's recent financial crisis would be the reason for Parizaad's decision to marry Bubbly. I am impressed with how the writer has connected these two tracks to make a major shift in Parizaad's track. Saeeda's in-laws refused to sell her jewelry; I am wondering how they will be convinced to accept the money Parizaad offers for help.
Final Remarks
This was another thoroughly entertaining episode of Parizaad with some exceptional performances. Hashim Nadeem has given us some of his best characters in this drama, so far. Ahmed Ali Akbar deserves tons of appreciation for giving the most unforgettable and organic performance of his career. He is truly gifted and he has clearly put his heart and soul into this one. Saboor Aly is equally convincing as Bubbly Badmash; her performance is just as superlative as the character. The director also deserves due credit for giving this script such a treatment that every single important scene, in particular, stands out. Some of the scenes in this episode were shot so well; the camera work has been amazing throughout.
Did you watch tonight's episode of Parizaad? Do share your thoughts about it.