Every other week, the writer Hashim Nadeem, introduces his viewers to a new character that determines what direction Parizaad's story takes. Like every other character, Parizaad's new mentor, the ustaad lead him to a direction that will perhaps change the course of Parizaad's life altogether. The writer has effectively used direct and indirect characterization that makes it easier for the viewers to understand these characters. All of these characters are round or dynamic, except for the bhabhis! The writer and the director deserve a lot of appreciation for the smooth transition from one phase of Parizaad's life to the other. Parizaad is also turning out to be one of those rare dramas that make the most of star power; each actor has been assigned a role that leaves an impact. Usually, when the production houses over-rely on star power, they end up compromising on the script. Here, every actor is well-suited for the roles that they are playing – especially all the central characters.
Laila Zuberi, who was for the longest time being typecast, is also playing a supporting role in the drama which shows a completely different side of her! Ahmed Ali Akbar's performance continues to be outstanding; he has made sure that this character comes alive on screen in such a way that it truly becomes the driving force of the plot. After watching this particular drama, I am more convinced than ever that artful storytelling starts with penning down characters that take you on their journey with them. Parizaad has managed to do that effortlessly.
New Beginnings
Last week Parizaad redefined his priorities and this week his new boss showed him a way through which he could make his dreams come true. There were times tonight when it seemed as if even with all his wisdom, Pari knew little about the ways of the world. This aspect of his personality reminded me of Moosa from Raqs-e-Bismil. Hashim Nadeem's heroes always start off from a point where they don't know much about the world and end up learning so much along the way. It is interesting that even though Parizaad got rejected from some of those people he expected the most from and from the one girl he ever fell in love with but he has also been blessed with some great mentors. If it were Parizaad versus the world kind of a situation his journey wouldn't have been as endearing as it is now. The fact that he has met all kinds of people so far makes his journey easier to relate to. It goes to show that the writer wanted to keep this character real and did not try extra hard to make the viewers feel for him. Parizaad decided to move to Karachi in order to make it big; a decision his bhabhis were quite happy with because it was like killing two birds with one stone kind of a situation for them. This way Parizaad would move out of the house and they could also benefit from his good fortune once he makes it big.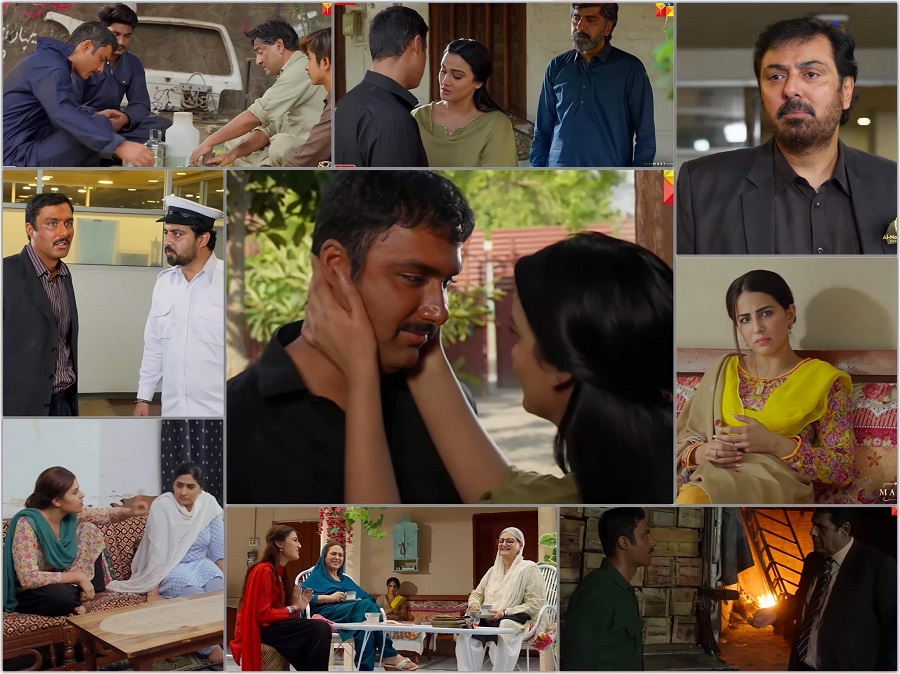 There were multiple new characters introduced in this episode, as is the case every time Parizaad enters a new phase of his life. This time around Behroze Kareem (Nauman Ijaz) and Janu are the central characters in this part of his journey. It remains to be seen what role they will be playing. This new track is off to an exciting start as Parizaad will immediately win his new boss over with his honesty even though he will be pressurized to stay silent. Behroze Kareem appears to be another dynamic character, as was evident from the OST as well. The information Janu gave also gave a primary introduction to him. Nauman Ijaz made his presence felt in that one scene and I am waiting to see more of him. It is interesting how Parizaad's name is always the first thing people notice about him for obvious reasons.
Parizaad was introduced to Karachi's 'modern' living and his naughty expressions were just too cute! It is interesting how he enjoys certain situations which are brand new to him and is quick to share his thoughts about them. Saeeda and Parizaad's farewell scene was definitely the most emotional one in this episode. This was the highlight of the episode because even at such a young age, Parizaad has concerns which most people his age are not even aware of! Apart from this, the siblings' bond has always been the most genuine one in the drama, so far. Parizaad still dreams about Naheed and she continues to be his first love! He is convinced that no one will ever fall in love with him and that seems to be his biggest regret in life.
The bhabhis are more inquisitive than ever to find out why Saeeda is happily married even now after everything they did. Sooner or later, they will find out the truth and it remains to be seen how that will be linked to Parizaad's track. These women's sole purpose in life is to make sure that Saeeda and Parizaad do not get any happiness at all! Even though they are not the best part about this drama but I have warmed up to their scenes. Naheed, it seems, is not too happy with her life. Her scenes keep you wondering because she has not shared much about her married life so far.
Final Remarks
Parizaad's journey is exciting, real, and as engaging as a drama can get. Ahmed Ali Akbar continues to be the star of the show. Tonight's episode was well-paced and brilliantly put together. Parizaad is setting the bar higher with every passing episode. Not a single new character has disappointed me so far; I am eagerly waiting to meet more such characters.
Did you watch tonight's episode of Parizaad? Do share your thoughts about it.