"Tum bachi nahi ho, shadi shuda ho, aik beti ki maa ho…stop dreaming!"  I love the way this drama gives its viewers a chance to rethink all the clichés and double-standards that exist in our society. Once a girl gets married, she is supposed to dedicate her life to making her marriage work, nothing else in the world matters. The second a girl gets married she should stop dreaming because that is the start of practical life; stop dreaming about being happy…Is that really fair or right? Bee Gul's script forces you to question all the preconceived notions about married men, women and marriage in general. Is marriage just a social obligation or more than that? Is a woman only a wife and a mother after marriage or does she have a pehchan of her own too? And if a woman loses her pehchan as an individual after marriage why doesn't the same hold true for the man as well? Why does the society expect the woman to deliver and the man is not questioned because as long as he provides for his wife and kids he can get away with everything. Pehchan rejects all the stereotypes which we have been seeing in our dramas for a very long time now. It is refreshing in its own unique way. Laila has stopped looking for excuses for Mansoor's less than attentive behavior, she knows that there is no point in hoping that one day things will change for good and she most certainly is done with putting up a show for her mother.
"Jis rastay pe tum chal rahi ho, us rastay pe chalnay wali aurat ko hamare masharay mei jis naam se pukara jata hai, janti ho?…..Buhat achi tarah janti hun, magar ap jaise mard ko kis naam se pukara jaye yeh nahi janti!!"…so true and so ironic! They are so many names for women who cheat on their husbands, who fail as wives because our society loves to label and judge women but what do you call a husband who cheats on his wife and who fails to make her happy? Although this episode like all the previous ones was loaded with powerful dialogues that cast a spell on you; the sort of conversations that stay with you long after you have heard them but my favorite scene in tonight's episode was the final confrontation between Mansoor and Laila. Laila may think that it is her financial independence that has given her the courage to stand up to Mansoor but something tells me that it is not just that. There are many financially independent women like Kukoo who think they are incomplete without a man but Laila knows that she has an identity of her own, which she can only safeguard if she goes away from Mansoor. Laila also knows that she gave this relationship her best but Mansoor failed as a husband; he failed to give her the love she deserved. Laila would have happily let her husband be her new pehchan had he given her enough love to earn that status. Men do not get respect, love and everything else that comes with a marriage simply by entering into nikkah with women, they also need to work hard to earn all that. Mansoor warns Laila again and again that without his pannah Laila is vulnerable and weak but Laila knows better. Sohail Sameer has outdone himself as Mansoor, he has been brilliant throughout the play. Whoever selected him for this role deserves special appreciation.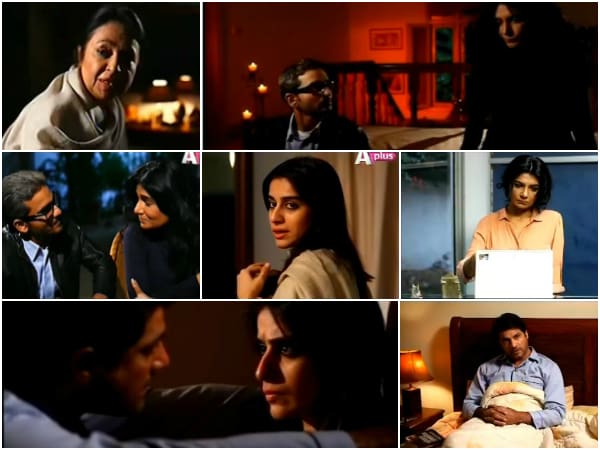 "Tum buhat masboot ho Kukoo, tum ne mujh jaise admi ka bhoj saha hai…Mansoor Jaise admi ka stress saha hai!" Khurram and Kukoo both failed each other and they decided to be honest about it when they parted ways. Khurram explained his relationship with Kukoo brilliantly. He was always like a spoiled child and Kukoo like his mother, maybe that is the reason why he never wanted a child of his own! A child does not know that he has duties too but he only expects the mother to be there for him whenever he needs her. Similarly Khurram forgot that this marriage was a two way road, he did not realize that one day Kukoo may get very tired of all this and turn to someone else for the kind of love Khurram never gave her. Khurram always got what he wanted from his relationship from Kukoo but he never gave much consideration to Kukoo's wishes. He never even tried to understand her. He knew what she wanted but his own happiness was much more important to him. Khurram is not perfect in any way at all but at least he was man enough to admit his mistakes and he forgave his wife for what she did. Mansoor on the other hand still thinks that he did nothing wrong. Kukoo felt liberated after Khurram left, it looked like she was eager to move on.
Kukoo and Laila both have an opportunity to start afresh; how are they going to make use of this opportunity, remains to be seen. Will they be able to find their pehchan without a man? Will Laila be able to stick to her decision? I can't wait to find out. Pehchan has been a masterpiece till now, it is refreshing, enlightening and very well executed. Bee Gul and Khalid Ahmed make a superb team, I hope we will be seeing more plays from them in the future too.
Do share your thoughts about yet another impressive episode of Pehchan.
Fatima Awan