"Hur roz mujhe yeh lagta hai ke bus jo hona tha ho chuka, saari azmaishein khatam ho gaye, ab honey ko reh hi kya gaya hai magar hur roz aik naye jung aik naya mahaz…kub meri himat jawab de jaye gi, kub mei is meidan-e-jung mei maari jaun gi, ya mei yun hi lrti rahu gi!" The path that Laila has chosen is most certainly not an easy one, the hurt that she feels at every single step when her mother makes things even more difficult for her is being portrayed brilliantly by Alishba Yusef. Laila does not blame her mother for a second because despite of everything that she has put Laila through, she understands her majburis. The way Laila kept on hoping that her mother will at some point share her happy moments if not do anything to support her was shown superbly. Even after Laila leaves her mother's house because she knows that she is not welcome there any more, she is ecstatic to see her mother when she comes to meet her at Kukoo's salon. Laila does not even react when her mother asks her to give up her share of the property because that is what the man of the house wants. Even when her mother hands over the baby's toys to her, as if saying that Laila should never come back to her parents house again, Laila does not judge her. Laila is beyond all these things now; she does not want to rely on her brother or husband's money, she wants to make her own jannat with her own efforts. Laila is ready to make space for new relations but she also knows that leaving her mother and Bhaiya behind is not going to be easy. There are memories attached to these people and Laila clearly loves both of them that is why she is so willing to forgive them! Laila's call to her mother after she gets her apartment was one of the many scenes in tonight's episode that went to show that Khalid Ahmed and Bee Gul both believe in showing and not telling. Laila's mother answers the phone only in the hope that her daughter may have changed her mind and when she finds out that Laila has something completely different to share with her, she hangs up instantly. Kukoo explained the reason behind Laila's mother's attitude brilliantly, she has to pay this price….make this sacrifice to continue being the queen of her house.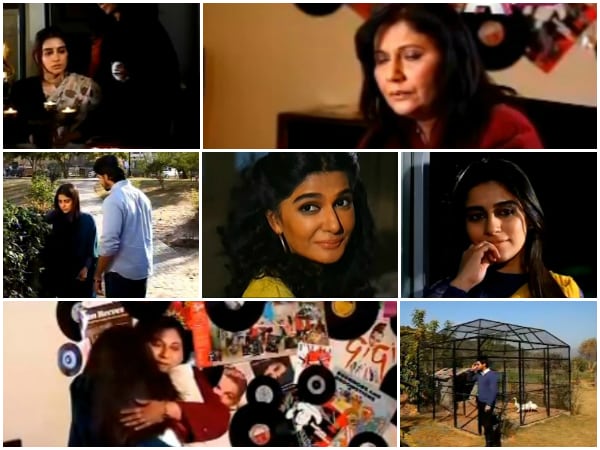 Laila is a POW now, just like her father said, " POW bun jana zulm na sehna". Things would have been entirely different for Laila had her father been alive. Laila has the convenient option of going to her husband's mahal because after all she is expected to do just that. Like her mother says, " mard mei jitne bhi aaib hun, aurat apni aulad aur aram ke liye guzara kr leti hai"… this is SO true! Our society is filled with women who put up with the worst only because of their children or because they have a roof on their head and get free meals. Laila has taken a path less travelled and therefore her experiences are going to be very different from that of her mother's, Mrs. Khan's and other women like them but she is ready to face those challenges. This play also goes to show that sometimes people who are not related to you support you more than your close relatives. Kukoo and Mrs. Khan have always been there for Laila and so has Saadi. Laila has only been able to come this far because she had support from all these friends. The conversation between the three friends about Mansoor and Kukoo's statement about Mansoor that there was no room for improvement in his life was just what the doctor ordered. A man like him certainly deserves to be pitied. The scene on the dinner table when Laila asks Kukoo is she was waiting for someone and she replies, "nahi ab mujhe kisi ka intizar nahi" was brilliant.
Mansoor's mother is already looking for a new wife for him, we saw her raving about her son's wealth and thanda mizaj while Mansoor shouted in the background! The list of khoobiyan she wanted in her bahu was never-ending. Mansoor, on the other hand still has a very bruised ego which will not be satisfied until Laila comes pleading to him. The fact that Kukoo and Laila both can do without him now is eating him up. Laila is warming up to Saadi and this time she does not decline when Saadi puts the ring on her finger. Laila shared with Saadi how she used to be there for her brother when he was a baby. I must say that I found it hard to relate to the story because if Laila used to take care of her baby brother like that she must be at least 9 or 10 years older than him but she just got married and her brother is already married. Laila must be in her early twenties so that means her brother should be a teenager then…correct me if I am wrong.
I really felt for poor Alishba tonight; Saadi could not take his hands out of his pockets because it was that cold and Alishba was wearing a chiffon saree. Another thing which is a little too odd is that Laila has absolutely no help just like Kukoo, not even someone to clean up the tables etc. Other than that, this episode and the drama in general is picture perfect. Every episode is full of meaningful dialogues and scenes that leave you speechless. Every little gesture suggests something or the other. Pehchan is keeping me glued to my seat because every scene has something significant to offer. In my opinion this episode belonged to Laila – Alishba Yusef. She was the perfect choice for playing this character. The wonderful thing about this drama is that you are able to connect to all the three women in the play. Kukoo has clearly moved on but will Mrs. Khan find her own pehchan too?
Fatima Awan