Pehli Si Mohabbat's beautifully written meaningful conversations continue to be its biggest strength. We get to watch such situations quite often in dramas but most often the writers do not spell the underlying hypocrisy and double standards of the society out loud in the form of dialogues the way Faiza Iftikhar has done in this drama. There were so many conversations tonight which highlighted privileges enjoyed by men in our society. The writer has however kept her vision broader by showing that the men 'in power' are most often the ones who exploit their position and run everyone's lives. Therefore, we have men like Aslam and Sikandar as well. These hard-hitting dialogues reflect the different complications of the family system which has been accepted as 'normal' yet it is not based on equality at all!
Watching Pehli Si Mohabbat has been a pleasantly surprising experience since I was expecting to watch (only) a powerful love story and not a drama that would highlight social issues which are most often not even considered 'issues', in such a remarkable manner. While I am watching an episode of Pehli Si Mohabbat I do not actually realize how many meaningful dialogues were intelligently integrated into a single episode. It is only when I sit down to write the review that I realize how effectively this drama is talking about things we do not often talk about.
Mothers Take The Lead
This was another one of those episodes in which the supporting characters stood out yet again. While Aslam and Rakhshi's track is the central story around which all the tracks revolve, the well-defined supporting characters in this drama have more surprises in store than the main leads. Tonight's episode belonged to the mothers because of the way they stood by their children. Aslam's mother and Nargis both handled the entire situation so gracefully; we definitely need to see such mothers in dramas. We get to see caring but helpless mothers all the time but rarely do we get to see the mothers actually standing up for their children. Aslam's mother obviously changed her approach because of her previous decision and Nargis can relate to Rakhshi's pain. These mothers are not 'perfect', they have made mistakes but now they are trying really hard to fix things for their children.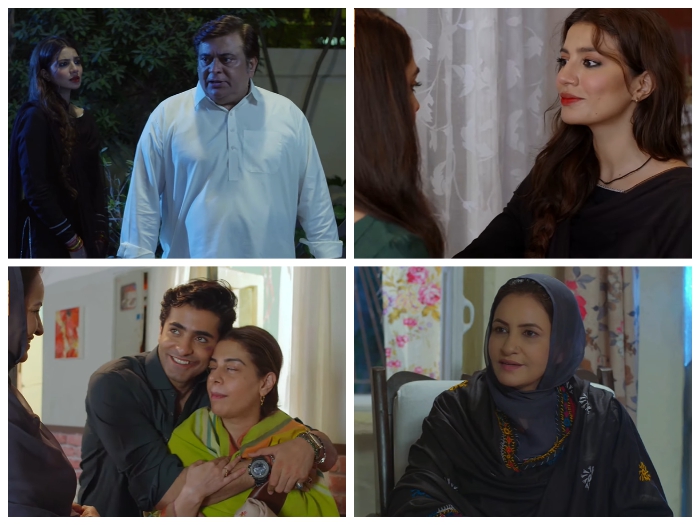 I was not expecting Aslam's mother to be so calm and calculated while talking to Faiz Ullah. She tried her best to convince Faiz Ullah and even after being insulted, she did not lose her cool. Later on, she was more interested in knowing whatever Akram was hiding from her and was all for saving Rakhshi's 'reputation'. Saba Faisal is an exceptional actress with a definite screen presence; she acted brilliantly tonight.
Nargis continued to support Rakhshi and she was just as cautious as Aslam's mother while handling the situation. One thing that stood out more than any other in this episode was Rakhshi's complete failure to take a stand for her own self. Now we know why she was always shown as such a scared and meek girl. This weakness will ultimately determine her future. Nargis continued to convince Rakhshi that she needed to tell her father the truth but it is quite apparent that she just cannot do that! Rabia Butt fits this role so well which makes Nargis' character even more impactful. The fact that Nargis isn't always a pleasant personality and can at times be exceptionally blunt, makes her character more 'real'.
Faiz Ullah and Aslam's mother's meeting was written down in an interesting manner since the dialogues were such that for a minute it seemed as if he had figured out that Aslam and Rakhshi were having an affair. The fact that he had just visited his friend and finalized the wedding plans made his reaction even more believable. The conversation Sikandar's parents had was also meaningful! Zainab's track did not get a lot of screen time tonight but that one scene was intense and highly relatable since sabr is all that she has!
Aslam and Rakhshi
Aslam was over the moon at the beginning of this episode even though Rakhshi was not answering his calls! That changed completely by the end of the episode. Rakhshi is an escapist who does not like confrontations at all; she worries more and acts less. Her crying is definitely repetitive and annoying but then that's who she is! She was waiting for a miracle while dreading that her father will not consider this proposal at all. The scene in which Nargis told her the kinds of reactions she should be expecting from her father was well written. Maya Ali is usually comfortable with wearing minimal make-up but in this drama, even in such scenes, she has been seen wearing more make-up than necessary. Aslam understands Rakhshi more than ever now therefore he does not even expect her to take a stand.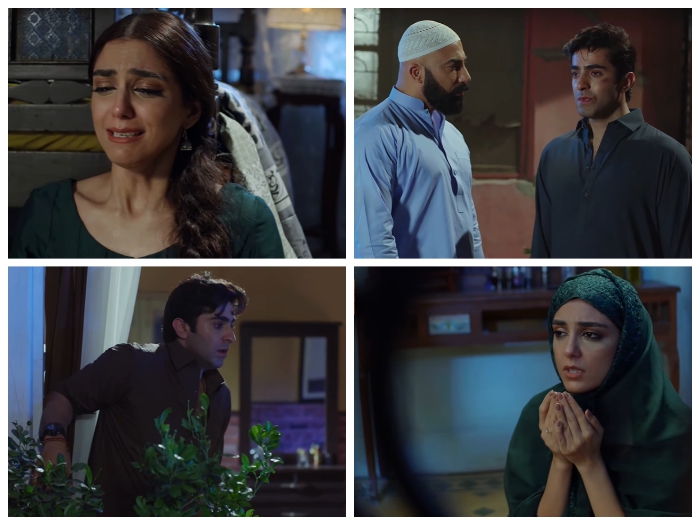 Final Remarks
Misunderstandings and mistrust dimmed the 'ray of hope' tonight and Akram's confrontation with Faiz Ullah in the next episode will be the final nail in the coffin! I am waiting to see what the writer has in store for us next. The upcoming episode will be filled with intense scenes and it could be the end of Rakhshi and Aslam's love story! Akram is already furious because of the refusal and he is only looking for an excuse to have a confrontation with Faiz Ullah. Faiz Ullah is also mistrusting him more than usual now therefore he might just be the one to start it. Also, I am waiting to 'meet' Sikandar since so far we have only 'heard' about him, he has yet to make an appearance.
Did you watch tonight's episode of Pehli Si Mohabbat? Do share your thoughts about it.