Pehli Si Mohabbat continues to question the double standards and hypocrisy of society. The writer is making sure that all the characters add something meaningful to the story. Tonight's episode covered the aftermath of Sikandar's actions and Rakhshi's track, in particular, was intelligently used by the writer to raise some important points. This drama continues to focus on the lack of acceptance by the parents for their children's feelings. The women in particular have to pay a bigger price because they are the ones holding the 'family's honor'. I am so glad that this drama was not promoted as a social drama yet it is perhaps doing a better job of speaking for the women than many other dramas. What if Faiz Ullah showed some flexibility and honored his daughter's wishes? Things would have been far easier and everyone would have been happy. Similarly, had Akram not been so rigid, Zainab would have been living a different life right now! I love how the writer used the supporting characters such as Nargis and Rakhshi's friends to ask questions which the viewers would want answers for.
Rakhshi and Aslam
Rakhshi and Aslam's love story is getting even more complicated with Sikandar in the picture. This also makes it more interesting since there is room for Zainab to step in and perhaps this will lead to some kind of closure for her. Rakhshi's 'protest' was written down and acted out brilliantly. However, it would have been even more impactful if Maya Ali wasn't wearing so much make-up. Her performance was on point but the make-up did not fit in at all. Maya Ali did exceptionally well while translating Rakhshi's desperation and helplessness on screen. Aslam seems to be growing stronger with every passing episode. He is also wise especially when it comes to Zainab. He wanted to get in touch with Rakhshi but he wasn't 'allowed' to do so. So far, everyone was thinking that Faiz Ullah was the one responsible for Aslam's injuries. That is why Rakhshi also questioned him. There wasn't a single scratch on Aslam's face and he looked quite radiant for someone who had been beaten so badly. Faiz Ullah seemed like a balanced character but he is turning out to be quite typical, it is painful to watch him treating Rakhshi so roughly.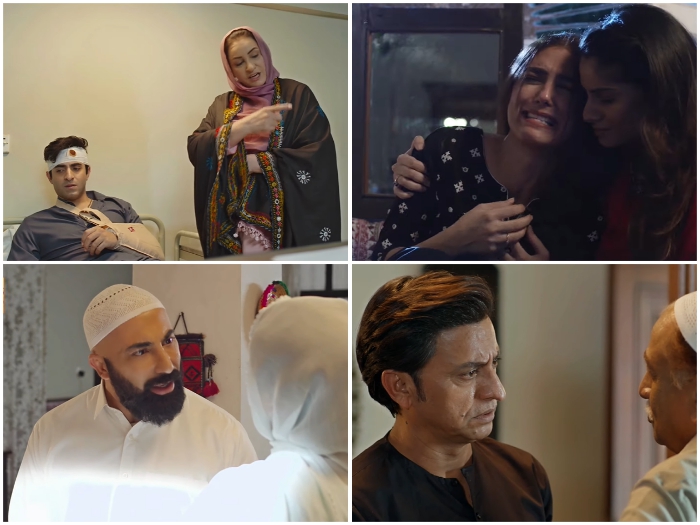 Nargis Questions Faiz Ullah
Nargis retaliated in this episode and this turned out to be one of the best elements of this recent episode. She is fearless and quite unlike Zainab, she does not believe in compromising. At the same time, there is a loving and sensitive side to her personality which makes her character wholesome. Surely, someone like her was not going to sit back and tolerate these insults. She continued speaking her mind until Faiz Ullah apologized and even after he apologized she gave him much-needed reality checks. This character has been penned down brilliantly since Nargis always has the courage to say things which most women wouldn't dream of saying. She does not think twice before questioning Faiz Ullah or anyone else who is not being fair. Rabia Butt's performance never ceases to impress. Nargis is also thinking about Farooq since he has a solid reason for disappearing and he loves her just as much now as he did before. Her scene with Rakhshi suggested that right now protecting her was perhaps more of a priority than anything else. Her confusion is justified given the circumstances.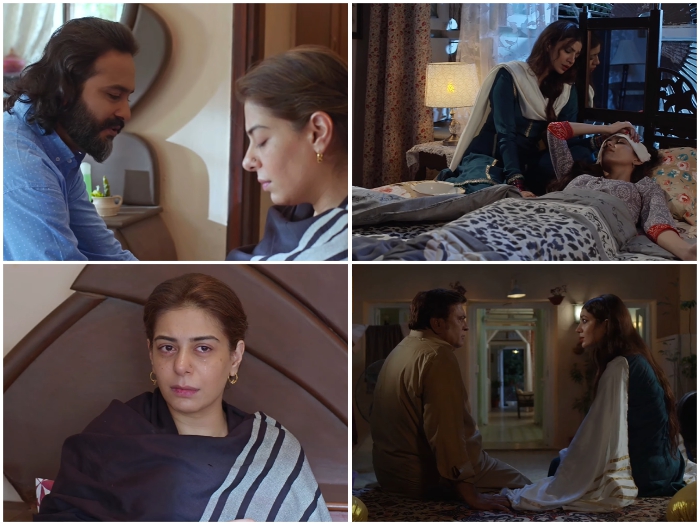 Zainab and Murad
Zainab and Murad's scenes were more or less the same. Murad expects to be 'loved' and wanted even though his attitude towards his wife is toxic. It didn't seem as if he was hiding things from Zainab to 'protect' her. It is almost as if he wants her all to himself so that he can treat her any way he likes. Zainab cannot stand him either but then it is quite obvious that he has been judgmental and belittling right from the start. She was more than willing to give this marriage a chance when she decided to bury her past but then Sikandar turned up on her nikkah and the past she was willing to bury became an open secret. Uzma Hassan emotes so well that even in all those scenes without dialogues, she makes you understand what Zainab is going through. Paras Masroor has also done complete justice to his character. Even though Murad is toxic, there are also times when you 'understand' his frustrations. Like all the other characters the logic behind his toxic behavior does make sense but is obviously not a justification for it.
Final Remarks
This was another meaningful episode of Pehli Si Mohabbat with superb performances. The preview of the next episode was enticing; I am looking forward to Zainab finding out what Sikandar has been up to, more than anything else. Will she step in to stop this marriage from taking place? Right now I am wondering if Faiz Ullah deserves Nargis and if Murad deserves to be forgiven! Will these men redeem themselves? I am waiting to find out.
Did you watch tonight's episode? Do share your thoughts about it.