Tonight's episode of Pehli Si Mohabbat was engaging throughout and the emotional element of every episode of this drama surpasses everything else. All the actors deserve due credit for breathing life into their respective characters. Even though some of the scenes tonight had a few flaws, overall the great script and the phenomenal performances make up for these minor directorial errors. Tonight, once again, watching all these elders dedicating their energies towards ensuring that their children do not get what they want was unfortunate as well as ironic! I have finally warmed up to Akram's character and actually find it quite interesting now. The way Aslam's extended family forgot all their differences and helped his mother out was the most endearing part of this episode. Pehli Si Mohabbat has all the familiar characters; mohallay ka larka who falls hopelessly in love, a girl who cannot stand for herself, a father whose actions are dictated by his ego, a brother trying hard but failing, a sister who loves her brother unconditionally, a mother who will do anything to make sure that things don't get worse, a loving nani, a mamoo who loves his sister and is standing by her. Aslam and Zainab's love continues to be the most refreshing part of the drama. Sheheryar Munawar and Uzma Hassan's on-screen chemistry makes this relationship truly come alive on screen.
Aslam Is Forced To Leave
History is definitely repeating itself because this time around it was Aslam who had to temporarily move away so that his family could save its honor! Sikandar's family had to do the same when he was beaten up on the day Zainab got married. Even though Aslam's mother was more than willing to beg Faiz Ullah for him but Akram's rage turned out to be the final nail in the coffin. It is difficult to tell whether the mother has actually learned from her mistakes or she is being more flexible now because this time around it's her son who is in love. I am sure we will get the answers in the upcoming episodes. I am glad the viewers got to see Akram's perspective in this episode. He loves Aslam but more than that he feels obligated to protect him as well. He has always been a father figure for Akram therefore his feelings make perfect sense. Apart from that, his 'reputation' has always been a priority for him therefore he cannot even think about taking the route which his mother was willing to take even now. He is looking at things from a completely different perspective therefore protecting Aslam only means making sure that he is not in touch with Rakhshi and away from the neighborhood. Apart from that, taking revenge is an utmost priority for him since he has a bruised ego.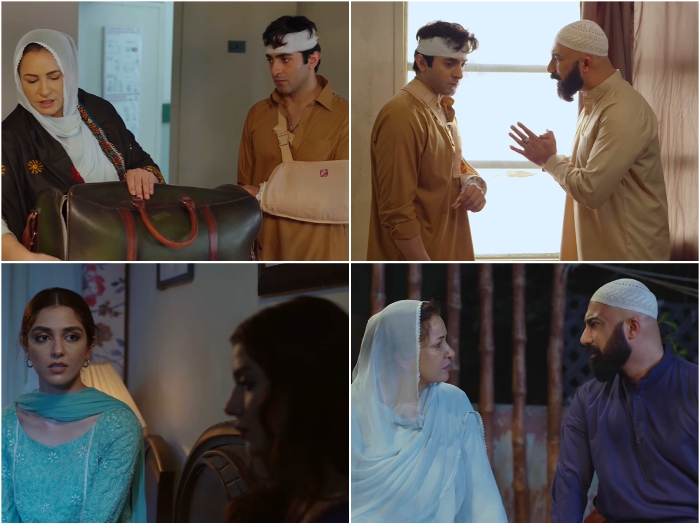 Aslam's scenes with his cousin were also interesting since he could not even feel her pain and wasn't even sensitive to her feelings. Even though Aslam knows the pain of loving someone and not being able to have them in his life, he does not feel an ounce of sympathy for someone he has rejected. Like all of Faiza Iftikhar's other heroes, Aslam is also careless at times and he can be quite selfish as well. I somehow find such characteristics of her leading men attractive since she is not scared to show the 'human' element of these characters. The welcome Aslam got from his nano and his mamo's practical advice were also few of the scenes which were really close to reality.
Zainab Finds Out The Truth
Zainab finally found out what happened to Aslam and the discovery rightly came as a complete shock to her. Zainab's scenes with Murad once again showed his insecurities and the reasons behind them. He feels unloved and even after all these years is scared of leaving his wife alone with her own family even! Zainab mentioned that Murad left her at her mother's house only for a day but it seemed as if she was there for a few days. Zainab ultimately met Aslam and her reaction suggested that she has a serious heart condition. Will she be out of the picture soon? Her dialogue about dying tonight suggested just that! She made a promise and we might see her keeping it.
It is heartwarming, the way Aslam opens up to Zainab. She is the only one he shares everything with. Zainab's initial reaction showed that even after everything that happened in the past and even present, her first thought was how all of this must have impacted her mother. This character has a definite screen presence and her relationship with Aslam makes their bond unforgettable.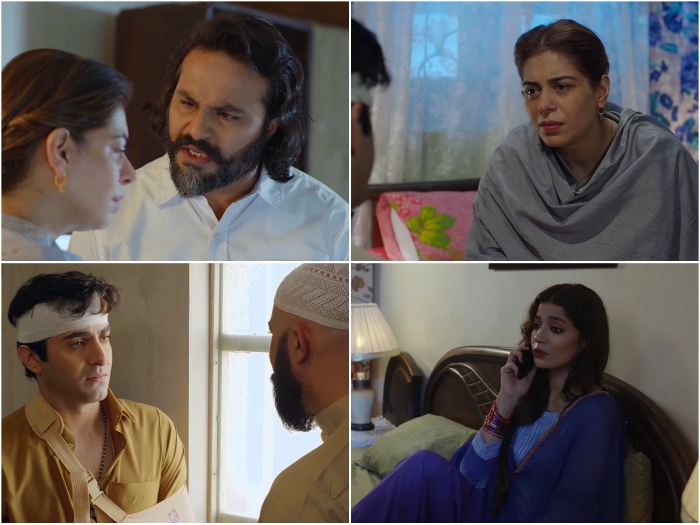 Rakhshi and Nargis
Rakhshi continued to cry and suffer because there isn't much she can do right now! Nargis also wants her to accept everything so that she can do what is expected from her. Tonight, Rakhshi overheard Nargis talking to Farooq and it seems as if she will find out about him soon. Nargis is now talking to Farooq on a regular basis even though she told him that she was not going to stay in touch with him. Nargis' connection with Farooq makes sense and I am pretty sure there is a reason why he is still in the picture. I am waiting to find out where this track is headed.
Final Remarks
Pehli Si Mohabbat's solid script and brilliant performances are its main attractions. The characterizations are on point and everything is being taken forward logically! This latest episode wasn't perfect in terms of execution but the characters and their journeys always have my undivided attention.
Did you watch this latest episode? Do share your thoughts about it.