Pehli Si Mohabbat is much more than just another love story which is why I chose to review this particular drama. Faiza Iftikhar always makes sure that even the simplest of stories written by her highlight one of those social issues which are usually accepted as 'normal'. Apart from this, I have particularly enjoyed watching some of the 'every day' scenes shown in the drama. The fact that there are no extraordinary characters in the drama but the story revolves around people we see around us on daily basis makes it more relatable. The credit for that goes to the writer as well for telling stories of people who are so common that hardly anyone chooses to narrate their stories. Bhola was one such character and now I feel Rakhshi and Aslam are such leading characters as well. In these 6 weeks, I have warmed up to all the main characters, and a new episode every week feels as if I am getting to look into the lives of these ordinary people who tell a story which might be ghar ghar ki kahani.
Some Random Thoughts
Arranged marriages are a reality in Pakistan, they are also glorified extensively since most often the loyalty of a child towards their parents is gauged based on how quickly they accept the suitor chosen for them by their parents. Many of these marriages are successful but there are also those loveless forced marriages that wouldn't have taken place if someone like Akram was willing to respect the feelings and choices of the person who was being married. We have watched many such love stories where parents become the samaj ki deewar but I do feel that Pehli Si Mohabbat highlights the way such decisions affect people more than any other drama has. It makes you reflect upon the family system and the authority which the head of the family enjoys and very often exploits in our society.
The writer has also aptly highlighted the double standards that exist in our society. In the previous episode, Rakhshi's dialogues pointed out these double standards with the utmost clarity when she told Aslam that his friend would be delighted to know that he was having an affair but will never allow his sister to continue being friends with the girl he was having an affair with. It is true that in our society women bear the brunt more than the man even when both of them are doing something which is considered 'immoral' or unacceptable. Nargis' character and her track have also been the highlight of every single episode. The pressure of society sometimes makes it difficult for someone like her to settle down because of the judgmental nature of people in general. I can easily relate everything that is being shown to the criticism some of the actresses get even when they decide to leave showbiz and cover their heads! It is a fact that people in our society judge others as a pastime without thinking about the consequences of their actions and they never hold themselves accountable in the same manner.
I am not particularly happy with Akram's character but then I do feel that he is a true representative of all those heads of family who do not let people they are responsible for live their lives freely. The first two episodes, however, showed a different side of him, therefore, I found his character slightly confusing in the beginning; however, it is pretty clear that he is a rigid and stubborn man who does not care about anyone's feelings.
Zainab's track adds depth to Aslam and Rakhshi's track. It also gives Akram and Rakhshi's track a backstory since they were both influenced by Zainab's past. Even Ishrat's scenes add to the overall feel of how a day in Aslam's house is like. Watching her get in his way while she is wiping the floor clean while he rushes to see Rakhshi was one of my favorite scenes. Some of the scenes have been repetitive and at times watching Aslam and Rakhshi's lack of communication can be frustrating as well. Maya Ali and Shehryar Munawar are more convincing in these roles and in this drama than they were in Parey Hut Love.
These were some random thoughts about the drama in general since I have only started reviewing it this week, I wanted to discuss everything I have observed so far before I review tonight's episode.
Tonight's Episode
Aslam's situation in this episode was a lot like many such youngsters who are forced into getting married to their cousins because someone like Akram deems it fit! Aslam's choice and his feelings were not taken into consideration at all but on the contrary, the whole process was speeded up after finding out that he did not want to get married to Bushra. I couldn't help thinking how such simple situations are made complicated because of someone's rigidity and controlling nature. Aslam's haan or naa makes absolutely no difference; I have always felt that this particular aspect has been covered so well. The same is the case with Rakhshi, her father does not even once sit down with her to talk about her marriage because most of the fathers do not talk to their daughters about these things!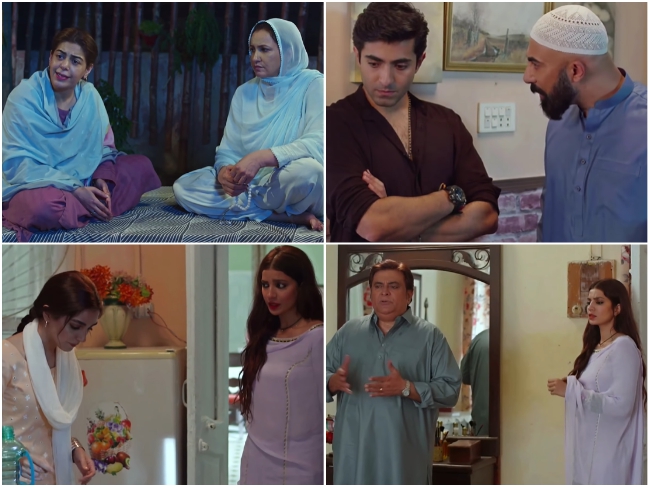 The scene covering Aslam's conversation with his friend was also quite interesting since it went to show how Aslam had once helped Zainab. This went to show that he was always poles apart from his brother. The clash in their personalities has always been obvious but with time it is getting even more intense since Akram feels that he is losing control. He forced Zainab into getting married to someone she did not want to marry and now he is doing the same with Aslam as well. Their mother does not have much of authority which is why she was unable to change Aslam's decision even though she had been presented with the perfect opportunity to do so.
The way Aslam has very often attempted to get in touch with Rakhshi and the excitement with which he chases her every time he gets the opportunity to do so is a true reflection of the old school romance. Maya Ali and Shehryar Munawar have translated the desperation and longing for each other superbly on screen. The director Anjum Shehzad has also breathed life into these scenes by paying great attention to minute details. The scene covering Aslam's concern for Zainab and the way she told him that she was alright when clearly she is really unhappy with her life was one of the best scenes tonight.
Nargis and Rakhshi's scenes tonight were a lot like the ones we have seen earlier too. The only new information we learned was the reason why Nargis keeps on giving Rakhshi these reminders. Although she is her well-wisher she has her own ulterior motives as well which makes her character more human. Nargis' reminders are also the main reason for the change in the way Rakhshi operates. She stopped communicating with Aslam altogether after Nargis gave her a warning last time and this time around too she will meet Aslam so that she can ask him to do something tangible. In many ways, Nargis has been central to Aslam and Rakhshi's story. The fact that all the supporting characters influence this main track in some way or the other makes the story more interesting. They have their own stories and personalities as well but everything they have done, still do or say, in some way changes the course of Aslam and Rakhshi's story.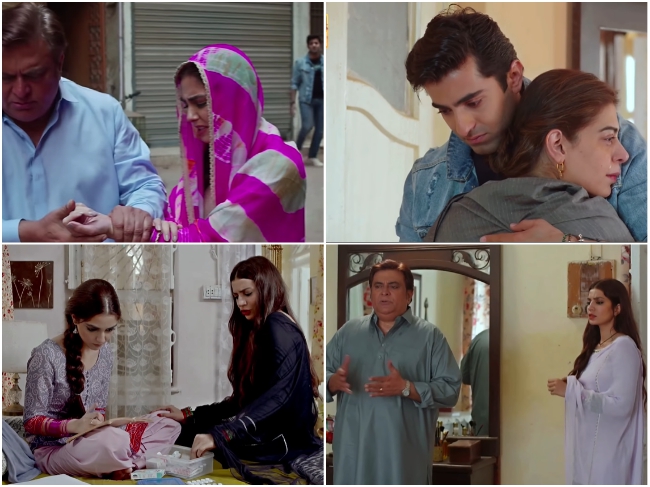 Final Remarks
Pehli Si Mohabbat is a simple but impactful story told with the utmost clarity so far. The writer has managed to highlight certain weaknesses in the family system and the lack of empathy in people in general aptly. Even though I watched most of these episodes for entertainment purposes only, when I sat down to write this review tonight, I realized just how much I had gathered from everything I had watched in the past 5 weeks. The director Anjum Shehzad has definitely worked hard to make sure that all the scenes are translated on-screen realistically. Most of the performances have been convincing and there are some which have stood out more than others. Apart from Aslam and Rakhshi's very filmy first scene together, all the scenes have been realistic. Pehli Si Mohabbat has a great deal going for it and I really hope it continues to be engaging and meaningful. This drama has intelligently shown how lightly someone's happiness is taken in our social setup and how seriously other people's approval is considered. The romance has been electrifying and the reality checks have been equally intense.
Did you watch tonight's episode of Pehli Si Mohabbat? Do share your thoughts about it.