Although Valentine's Day is not even remotely linked with our Culture, beliefs or religion but for some strange reason every year this day is celebrated with unprecedented zeal and zest in all the developed cities of Pakistan. Even people who are not literate and do not live in posh areas know the spirit behind the day and celebrate it. Pakistani channels go an extra mile to add to this trend by dedicating their morning shows to Valentine's Day and coming up with special plays and telelfilms for the occasion. We see many photo shoots of artists which are designed especially for this day and special ad campaigns are also very common. The shops and markets are filled with Valentine's Day special promotions; gifts, flowers, cards, discounts, you name it. When one steps into the market you are instantly reminded of the day whether you want to celebrate it or not. PEMRA has taken a very bold step by ordering all satellite television channels; entertainment or News/ FM stations to not to air any special programs that promote Valentine's Day in any way. The main reason for this action is that most of the people feel that Valentine's Day is not our social or cultural festival but is in fact against our culture and tradition which is based on conservatism.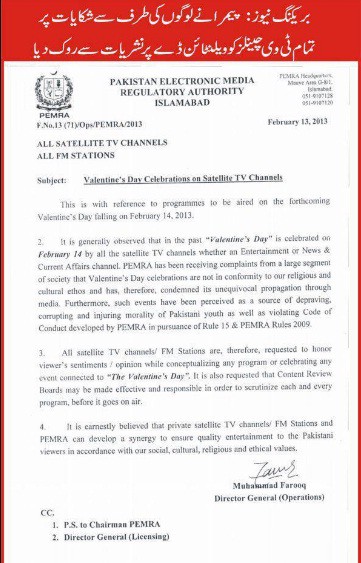 Openly accepting a tradition like Valentine's Day is like flouting our own values and mocking our traditions. What example are we setting for the future generation? And to say that Valentine's Day can also be celebrated by showing love to one's spouse, parents, sibling, grandparents etc is a very lame explanation because if we must follow the day we should also know that the spirit behind the day is not this. In our society people respect their families and also give them sufficient time in normal days too in order to show their affection so why blindly follow a rat race?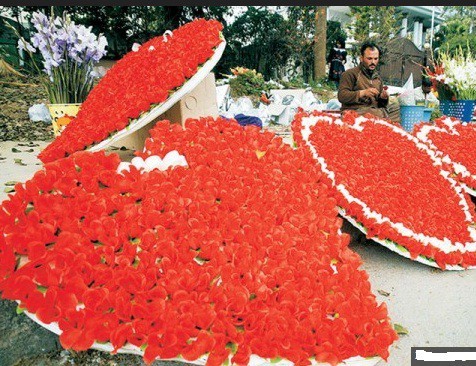 Today thousands of protesters gathered in Peshawar in order to show their discontent with the freedom and opportunities that were openly being provided to the youth in order to celebrate Valentine's Day. They suggested that since we are Muslims and belong to a society that normally follows basic principles of Islam then why can't we celebrate a "Day of Modesty'? A very valid point indeed.
In the past few years in particular the Valentine's Day celebrations have been done more openly and enthusiastically on television. One of the reasons for this also is that media has been liberalized and there are no strict checks and balances on what the television channels were showing like they were before. But I have to say that media should exercise and enjoy this freedom with great responsibility and take into consideration the feelings and sentiments of the masses. The Pakistani media should represent the Pakistani people.
I support the action taken by PEMRA and also think that there should be further check on the activities of Valentine's Day. The way our shops promote the day and the price hike that suddenly occurs one day before the day is ridiculous. The flower prices go up to 40 percent and more on 14th February. We as a nation have our family values intact and would want that our social values should stay intact too. I think PEMRA's action should be the first step towards the right direction but a lot more needs to be done in order to put a stop to the craze with which people celebrate this day.
Saud.