It is a well known fact that our eastern culture is renowned for its delicious spicy food. Pakistan is a country where each province has its own unique food dishes. Lassi-Paratha, Brain Masala, Mutton Roast, Fried fish etc are some of the mouth watering food dishes popular in our country. We can not only enjoy these food dishes in the restaurants but now MASALA TV has made us capable to cook these scrumptious food dishes at homes. It became the first 24 hours cooking channel for Pakistan that was broadcasted in Urdu. In November 2006 people of Pakistan experienced the launching of Masala TV and from then onwards it has become an integral part of every household. Masala TV has introduces many different recipes, cooking experts, professional chefs, health consultants and informative shows that made the channel a favorite of millions. Masala TV is a part of Eye Television Network and is not just popular in Pakistan but is broadcasted worldwide and appreciated by many Pakistanis living abroad.
The slogan of Masala TV "add some masala to your life" became a very popular line and turned out to be very catchy. The marketing of the channel was very strong and soon it became a hit. Masala TV has become a cooking teacher for thousands of viewers who watch their favorite cooking shows daily on it. This first step towards a cooking channel changed the entire cooking show market in Pakistan.
Most popular shows:
1. Live@9 by Chef Gulzar
About the Chef Gulzar: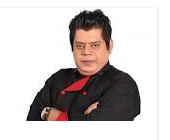 Chef Gulzar Hussain is a significant food personality and professional chef who certainly knows how to deal with herb and spice to bring out the best flavors in authentic Pakistani, Continental and Japanese cuisines.
As a professional and genuine Chef he acquired training in Japan and worked 12 years on learning and getting acquainted to Japanese culture and food style. Chef Gulzar has been associated with leading Pakistani channels like TV 1, ARY, Indus, Masala and Hum TV for number of cooking shows.A chef who himself is a food enthusiastic and has a passion to cook and serve the best to people of diverse culture. He understands the distinction and characteristics of various food tastes of people belonging to their culture. Chef Gulzar enjoys preparing juicy grill Bar B Q's and rich in proteins Sea food dishes and is food maniac itself. He usually prepare plenty of Bar B Q's and Sea food dishes in his cooking shows which are packed with advices for new comers in cooking profession as well as for girls willing to learn at their home. Currently he is doing "Live@9" on Masala TV
2. Food Diaries by Zarnak Sidhwa
About Chef Zarnak Sidhwa:

Zarnak Sidhwa is a cooking expert who started off with her cooking passion at a very early age. She was one of the few lucky people who not just realize what their passion is but also get a chance to make it a way to earn their living. Zarnak took her cooking training from the popular chefs and experts in the cooking industry. Zarnak Sidhwa's recipes became popular not just in her Parsi community but amongst many food lovers.
Zarnak started her catering business from her home about 8 years back and her popularity slowly reached many people and she was able to develop a niche market for herself. Belonging to a Parsi community her interest is in revising and refreshing the original Parsi recipes and reviving them not just amongst his friends and family but amongst all the foodies. Zarnak Sidhwa's delicious desserts and cakes are famous. Her Christmas cakes and Weddings cakes are claimed to be innovative and scrumptious. Currently she is doing "FOOD DIARIES" on Masala TV.
3. Tarka by Rida Aftab
About Chef Rida:

Chef Rida Aftab entered the world of media in 2005 with a show named "Pak Raha Hai Kya" and people wholeheartedly accepted her as a new talent of the cooking shows. Her early success was a resultant of Chef Rida's interactive behavior and irresistible dishes she prepared.
She entered the Television industry with a lot of experience in her work. Chef Rida Aftab's recipes are simple to make and take less time in preparation. The well known and easy to find ingredients used in the recipe have become the attractive point for the people. She has worked with many TV channels till now and all her shows have received great appreciation. Rida Aftab is a creative person who has the art of transforming a complicated recipe into a simple dish. Currently she is doing "TARKA" on Masala TV.
4. Handi with Zubaida Tariq
About Zubaida Apa:

Zubaida Apa versatility was new to Pakistan and she had a lot to prove when she was recognized firstly by few of her Husband's colleague for the delicious lunch she used to give to her husband for office. With uniqueness in hand and natural instinct to produce the tastiest cuisine either for family or afterwards in a cooking shows. The 68 years old Zubaida Apa started creating thrill in cooking world.
Worked for numerous famous TV channels like ARY, Geo TV, Masala TV and has done quite a lot of cooking show. Cooking for Zubaida apa comes naturally by a will to learn and she has proved it by her massive range in Pakistani cuisine which can surely make taste buds alive. Hard work, Determination to be a best cook has made her do about 1000 cooking shows. Currently she is doing "HANDI" on Masala TV.
5. Daawat by Chef Zakir:
About Chef Zakir :

The man generally knows how to mix up the ingredients to give it a mouth watering aroma in the entire kitchen with great tasting cuisines. His cuisines are not limited till 5 star hotels and cooking shows and he has also worked for Pakistan International Airlines (PIA). The 46 year old veteran chef has innovated tones of recipes like Chicken Ginger Vietnamese Style, Marzipan cookies, Southern Fried rice, Juicy BAR B Q's in his own distinctive. Expertise in Pakistani and Asian cuisines he produce enticing meals by mixing up the best of the ingredients and furnishing them pleasingly to bring water in mouth.
People in each house hold of Pakistan are following him for years what he is defining and portraying. Not only in Pakistan his recipes have crossed the border, and now is trending overseas countries as well. Chef Zakir currently works and hosts his own cooking show for Masala TV. Currently he is doing "Dawaat" on Masala TV.
6. Masala Morning with Chef Shireen Anwar
About Chef Shireen:

Cooking expert Shireen Anwer was brought up in an environment where cooks prepared the food and for this reason she was unable to fry an egg even when she got married. She claims to hold interest in cooking from an early age but never got a chance to do so until she got married. She then took proper classes to learn how to cook from cooking experts in Pakistan, UK, USA, India and other parts of the world where she got a chance to visit.
Shireen Anwer started her own cooking classes and till date thousands of ladies have benefited from her teachings and Shireen Anwer's recipes. She started with her own cooking show on a Masala TV and became popular amongst the masses very soon. Shireen Anwer says that she is inspired by Zubaida Aapa and Chef Mehboob. Her passion and love for cooking has also inspired her to become a favorite of her fans and she is admired by thousands of cooking show lovers. Currently she is doing "Masala Morning" on Masala TV.
After reading this article you must be thinking to watch atleast one of these Chefs on MASALA TV and trying one of the many recipes. Do share your comment which chef is your best or which chef inspired you the most.
Cheers
S. Rasool