Ohkay so, written by Faiza Iftikhar, directed by Qasim Ali Mureed & produced by Six Sigma Plus; Prem Gali is a romantic comedy that is going to air on Mondays on ARY Digital. It started airing last night & the first episode introduced a whole lot of characters that the story is going to revolve around. It is mostly going to be about the dynamics of Prem Gali where all the families reside. The first episode was quite refreshing because when it comes to Faiza Iftikhar, she most certainly knows how to write romantic comedies. It was evident throughout the episode & the first episode was happening enough to get the viewers excited for the rest of the drama.
Cast & Characters
Prem Gali is an enclosed neighborhood where each and every family is acquainted with one another. In the very first episode, 3 families were introduced. Rahat (Shamim Halali), a widow who resides with her two divorced daughters Shireen (Saba Hameed) & Musarrat (Uzma Hassan). Shireen has a daughter Joya (Sohai Ali Abro) & she happens to be the in-charge of the family. Shireen runs a grocery store, Musarrat is a teacher & Joya is a college student. Rahat is a TV buff who takes her TV programs & dramas quite seriously! Also, I couldn't help but notice the humor in their names – Shireen is so not Shireen in behavior & Musarrat is so not a Musarrat soul. I saw what Faiza Iftikhar did there!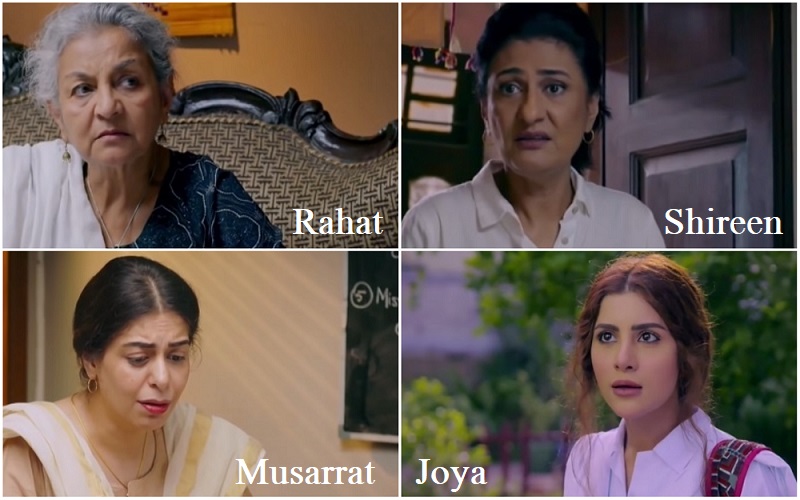 Haseena (Farah Shah) is another widow, who is also a matchmaker & a landlady. Haseena's daughter Fari (Anoushay Abbasi) runs a beauty parlor & her son Salman is into bodybuilding & also quite inspired by Salman Khan it seems. He has yet to make an entry but he did get a decent introduction because I am kind of intrigued to find out who he actually is!
Haseena has appointed new tenants & they're a family of 4 men. Dada Jaan (Qavi Khan), along with his two sons Hatim Chaudhry (Waseem Abbas), Luqman (Farhat Abdullah) & grandson Hamza (Farhaan Saeed) has just moved to Prem Gali & are now getting used to how things roll in this neighborhood. Because they're a family of 4 men, people already have some inhibitions, especially Shireen's family. Hatim is very much into astrology & he makes his moves based on what his horoscopes say. Luqman is an introvert & is a fan of sad songs. Hamza is your typical guy-next-door who is smitten by Joya. It is a perfect case of love-at-first-sight & it seems Joya too has started noticing his presence.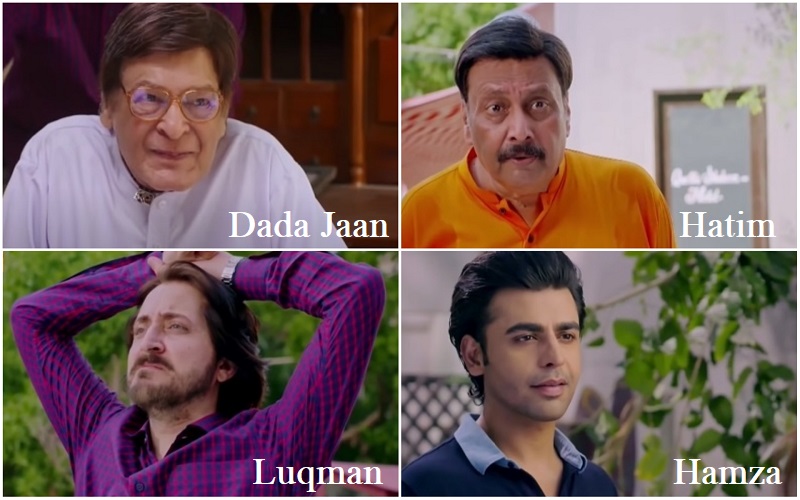 The other three independent characters who also made an appearance were Sanata, a boy who assists Shireen at her grocery shop. Nargis (Uzma Gillani) who also happens to be a teacher & Nusrat's colleague at school, is rich when it comes to facial hair & that's what surprises Fari too. Tau Hidayat (Ashraf Khan) is a practicing Muslim & takes his job of giving 'Hidayat' to the younger generation very seriously.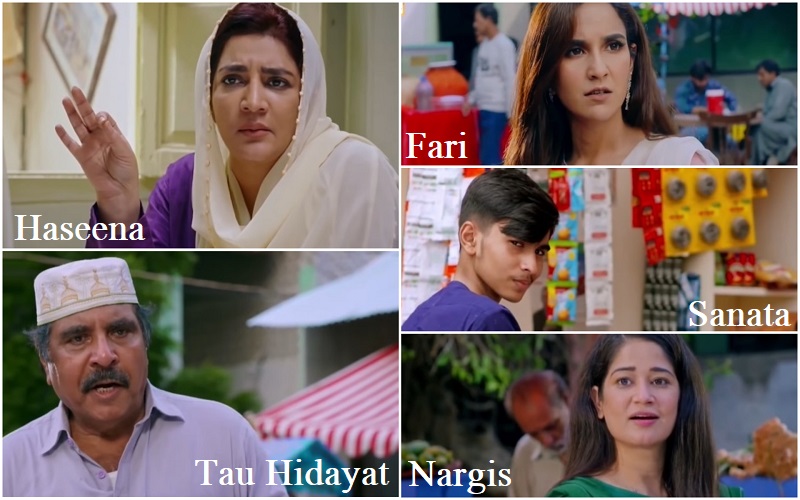 Dynamics & Setting
The first episode of Prem Gali was fun to watch & quite refreshing. The dialogues were humorous & conveyed a great deal about the kind of mindset all the characters have. It was also noticeable that despite being neighbors for so long, each one of them had one thing or the other to say about one another. Haseena has strong opinions about Rahat's family, similarly, Rahat's family also doesn't shy away from sharing what they feel about Haseena & her decisions. At the moment, Haseena is in the limelight & the entire responsibility lies on her because she is the landlady & she has brought the 4 men in the neighborhood as her tenants.
The thing that stood out the most for me was how they had shown all the women doing one thing or the other to run their families. It is safe today that Prem Gali is a female-dominated society & no one dares say a word against them, especially Shireen & her family because of the kind of personality she has. Shireen is blunt & straightforward, she doesn't believe in beating around the bush because she already has a lot on her plate. Shireen & Musarrat both have experienced divorce but it was interesting to note that the divorce & the responsibility of being a single-parent made Shireen stronger. Where when it comes to Musarrat, her divorce has had a completely different impact on her & she has turned into a tragedy-queen. I mean who doesn't feel for Musarrat even at the initial stages of the drama because she is so ridden by misfortune that she doesn't even get alu in her samosa! Sigh!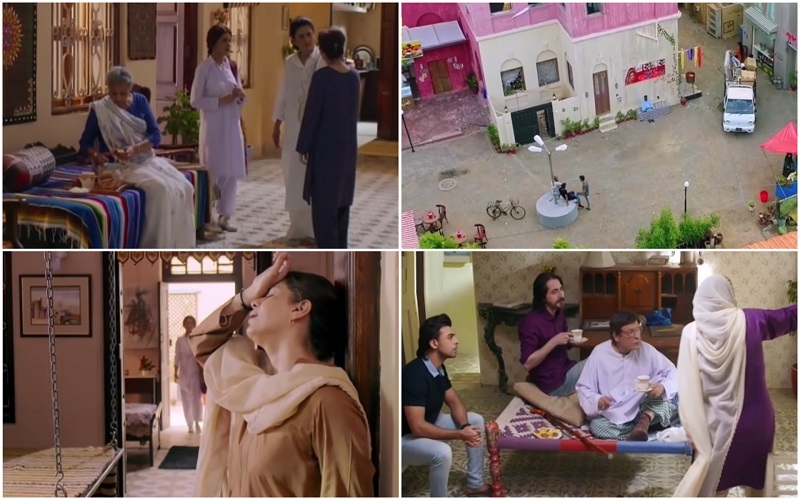 Fari is running her parlor but she too wants to get settled. It seems she has been rejecting quite a few proposals because she too is waiting for her Mr. Right. Joya & Fari are friends & they both share the same mental wavelength. There was frankness between them but there was also empathy & certain lines that they know shouldn't be crossed. Joya comes from a broken family, therefore she is a little sensitive, however, she too takes after Shireen because there were a lot of instances where she was blunt as well. The bickering, the arguments & one-liners immediately set the mood & was enough to show the kind of humor I as a viewer can expect from Prem Gali.
Hamza & Joya's beginning was typical in a sense of how it always usually happens. The prettiest girl in the neighborhood gets the attention of the boy who has moved in recently. They have a couple of interactions & that sets the tone for them to notice each other. Their scenes were cute & the characters were even better. Although the neighborhood dynamics have been seen before, what sets Prem Gali apart for me is that for a change, we'll be getting to see males residing in a female-dominated vicinity & obviously, that is going to be quite interesting.
A Refreshing Beginning
The very first episode of Prem Gali had a lot to offer. The way the characters were introduced & the dynamics were explained was quite interesting & to the point. I must commend the set-designers especially for bringing so much character in all the houses that were seen in the first episode. I couldn't help but notice all the spaces & really liked all the aesthetics of each home. If this is the beginning, I can't even begin to imagine what's more in store for us.
I really liked Tau Hidayat & his dialogues. This is what you call making an impact in such a limited screen-time. I am also looking forward to Dada Jaan's character. Waseem Abbas as Hatim was as usual impressive. Sohai Ali Abro & Farhaan Saeed were at their usual best. In the initial few scenes, I did feel everything was a little exaggerated but as the episode progressed, that feeling went away. The star of the episode for me definitely was Saba Hameed. I can't wait to see Shireen's story & her entire track. Saba Hameed also does justice to such substantial characters, therefore this performance was exactly what's expected from an actor of her caliber. I thoroughly enjoyed watching her play Shireen's character. Her styling, hair, makeup, body language & dialogue delivery, each & everything was spot on. Uzma Hassan was so much fun as Musarrat, although she is playing a tragedy-queen, only Uzma Hassan can make it look this cute! I felt the ending of the episode was abrupt but it obviously keeps you looking forward to more. The usage of OST was just right. The direction was perfect. Really liked the initial aerial shots as well as the focus on how the day to day life in Prem Gali unfolded. Let's see what comes next. Please share your thoughts about the very first episode of Prem Gali, which of the dialogues were your favorite that made you laugh? Share it all.
Keep Supporting,
Cheers,
Zahra Mirza.
ps: Apologies for late review, severe headache & all that jazz! :/