It was earlier in October when Hamza Ali Abbasi shared a tweet stating he would make an announcement at the end of the month. The tweet, rather mysterious in nature, said that a journey of a decade had come to an end and that Hamza would make an announcement by October end.

The tweet gave rise to so many speculations and now that October has ended and November on its way, the public is waiting, and anxiously waiting for Hamza Ali Abbasi to speak. Although the actor made no such revelations, Hamza's fans and the Twitterati has been expecting the Alif actor to announce that he, too, like his wife, would be quitting showbiz and joining politics for good.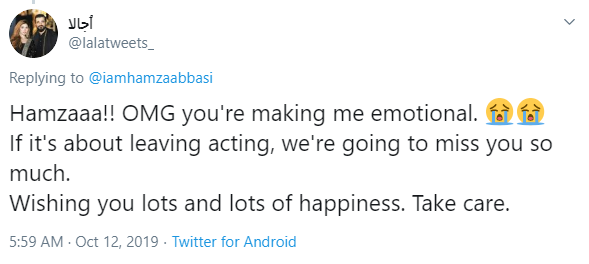 Hamza Ali Abbasi is currently appearing in Alif on Geo Entertainment. Apart from Alif, Hamza hasn't really announced any new project and if speculations are to be believed, the actor might be just leaving showbiz for good. Until then, we wait and we wait anxiously to find out what is that Hamza wanted to announce.