Tonight's episode of Pyar Ke Sadqay had the most heart-warming scenes. While watching the episode, my faith in the writer was restored. However, the preview of the next episode showed just how desperate Shanzay was to get married to Abdullah. Shanzay's character has stopped making sense altogether. Abdullah and Mahjabeen's characters continue to be the best aspect of the drama. The writer is focusing on the love triangle at the moment but that does not explain why Mansoora and Washma are out of the picture all of a sudden. Mansoora got offended by Mahjabeen's remarks in the previous episode but why is Washma no longer interested in 'grooming' her? Abdullah and Mahjabeen's scenes were the highlight of this episode as usual. Yumna Zaidi and Bilal Abbas Khan have truly outdone themselves in this drama. They have done complete justice to their unconventional characters. The situations however remain quite clichéd!
Abdullah Makes Up His Mind
Although the previous 2 episodes were not great in terms of story development in general, Abdullah's confusion and his actions always made sense to me. The portrayal was perfect throughout which definitely helped understand what Abdullah was going through. Shanzay's situation coupled with the brainwashing done by Sarwar led Abdullah to spend more time with Shanzay because he felt that she needed her. He was never comfortable with the idea of getting married to Shanzay. One aspect of Abdullah's personality that has stood out more than any other in the past few weeks is that he is a soft-hearted individual. He is always considerate of other people's feelings because he is a sensitive individual. He is also someone who has never been loved unconditionally by anyone. This is the main reason why he fell in love with Mahjabeen too.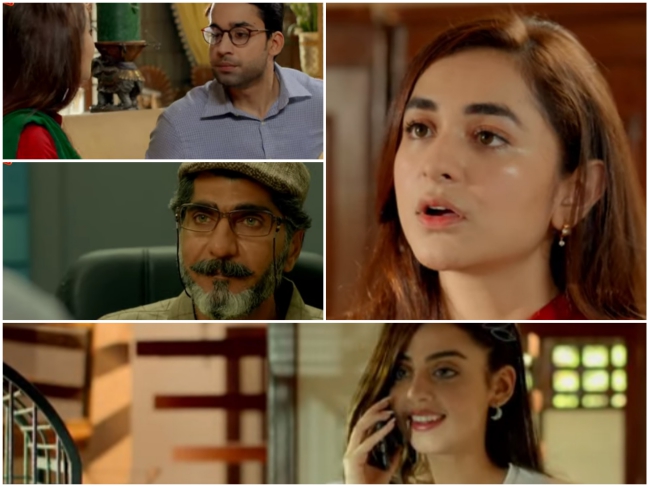 Mahjabeen of course played a major role in helping Abdullah make up his mind. While Shanzay was losing her patience and pushing him, Mahjabeen was being loving and extremely patient. Although Mahjabeen is simple otherwise, when she wants to get something done, she knows how to go about it. The fact that she is in love with Abdullah made it easier for her to fight for him. I absolutely loved the scene covering Abdullah's 'break-up' with Shanzay. This was probably the first time that he did something which took so much courage. Even though he could not look Shanzay in the eyes but he was not afraid of letting her go. Abdullah made a wise decision and Shanzay pride was clearly hurt.
The scene at the restaurant was also well-written and acted-out especially by Bilal Abbas Khan. His expressions when Shanzay was talking about marriage were on point.
Abdullah and Mahjabeen
Abdullah and Mahjabeen's scenes tonight were so cute that I couldn't help but wonder how amazing this story could have been if Shanzay was not in the picture. If this fight was between Sarwar, Mahjabeen and Abdullah, it would have been so much more interesting. Mahjabeen is turning out to be the wiser one at the moment and Abdullah also finally came through when he made the right decision. The 'mehbooba' scene was one of the best tonight!
Mahjabeen's father with Abdullah was meaningful but I am glad that the writer did not show that Abdullah felt for Mahjabeen. His feelings were shown exceptionally well given the circumstances. Abdullah was completely dedicated to making Shanzay 'feel better' until she proposed him. The idea of leaving Mahjabeen probably helped him understand his feelings better. Both these characters have certain strengths which I hope will ultimately lead to a happy ending. The Shanzay track is extremely forced and with dramas like Thora Sa Haq forcing such situations, a drama like Pyar Ke Sadqay shouldn't even go down that road.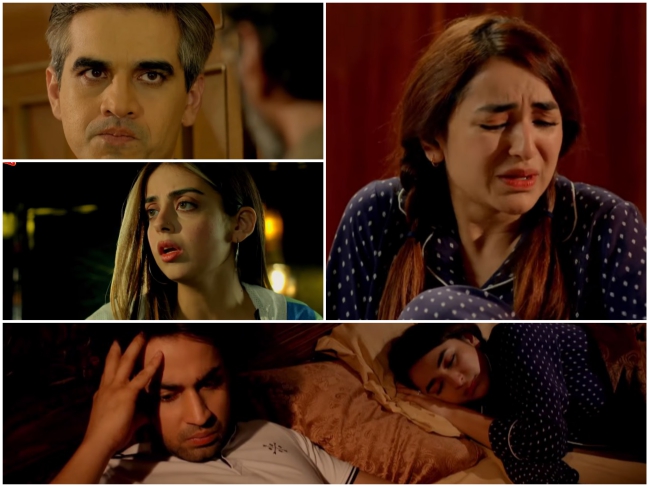 What Is Wrong With Shanzay?
Seriously!!! There is absolutely no explanation for the not-so-desirable changes in Shanzay's character. We are not even sure if she is divorced yet she is planning her next wedding. Not only did she propose Abdullah but she also looked forward to meeting him like she was actually in love with him! When, why, and how did this happen – only the writer knows! This is the biggest flaw in the drama right now. Considering that Shanzay will be around, more desperate than ever in the upcoming weeks, the writer really should have helped the viewers understand why is Shanzay doing all this. Yashma Gill's performance also leaves a lot to be desired!
The Other Characters
Sarwar's conversation with his mother was actually amusing! While his motives are clear, I am wondering how he intends to keep the lifestyle he is so used to after he manages to somehow get married to Mahjabeen. Mansoora was completely absent from tonight's episode. It happens so often in our dramas that the writers conveniently sideline a character because it is easier to take the story forward in a certain direction if that character is less active. I still remember the conversation Mansoora had with Pho, if her character was going to be taken forward in such a manner then that conversation shouldn't have been shown. I am also wondering where Washma is! These two characters, in my opinion, should be in the picture at all times.
Final Remarks
Mahjabeen and Abdullah make Pyar Ke Sadqay worth watching. The characters, their tracks, and the performances never disappoint. Even though Mahjabeen's 'zindagi ke mazboon mei pass' dialogue was not really in line with her character, for the most part, her scenes reflected her true personality. Abdullah's decision tonight was refreshing but the preview of the next episode promised more of the same! Shanzay is really annoying and because of her Sarwar's character is gradually losing the impact it had. Overall, however, I really enjoyed watching Abdullah and Mahjabeen's scenes.
Did you watch this latest episode of Pyar Ke Sadqay? Do share your thoughts about it.