This episode was about answers; Answers, that we anticipated since the beginning of the show; Answers to the chain of mysteries that were built with the passage of every single episode. The fact that I liked about tonight's episode is that they are planning to unveil everything gradually and not abruptly ,thus, maintaining the charm of all the mysteries and questions that were unanswered earlier. Despite of the fact that the story of this show is progressing with a very slow pace still every single artist compels us to ponder that the particular character is purely made for him/her and for that I would like to congratulate entire team of Pyarai Afzal for coming up with such a convincing script and above all, stupendous artists.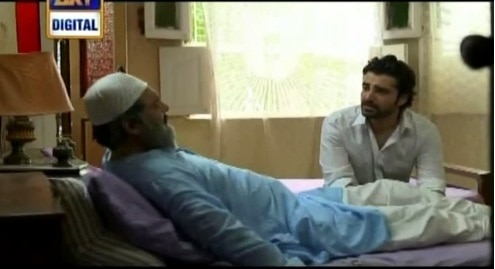 2 minute hain tumharay paas.. or inn 2 mintoun k doraan zaraa dore rehna mujh se..
Maulvi Sahab knew that as soon as his son will come near him , he won't be able to resist staying away from him and for that he warned him to stay away during those two minutes of mercy. But Afzal was Afzal, how would he be able to stay away from his father after everything that happened to him lately. He craved to meet his father every moment that he spent in Karachi and now that , he is infront of him, he was unable to keep distance from Maulvi Sahib.
Maulvi Saheb made it clear to Afzal that he never wanted his son to be named as Afzal. Mera naam badal di jye abba .. Mujhe nahi pata chalta k yahan Afzal kaun hai… jo baygunaahi mai mar jaatay hain ya jin ko maine maara hai.. Afzal did what they asked them to do. Moreover, he never meant to kill innocent; he murdered only those who deserved to die.
Bohat dinu se ammi k haathoun ka thappar nahi khaya, pehlay woh khaoun ga.. His father made him realize that he is not actually forgiven by his mother and for that he asked for forgiveness again. Rukayya was heart-broken already and she don't want to live with high expectations from Afzal  now so she was ready to gulp in the fact that Afzal will leave them . . Maaf Nahi karain gey mujhe ? .. Poor Afzal was so desperate for forgiveness from Rukayya. Maulvi Saheb knew that Rukayya wants to forgive him, but for the sake of her husband ,she was holding her emotions back and as soon as Maulvi Saheb asked her to do so , she did that happily.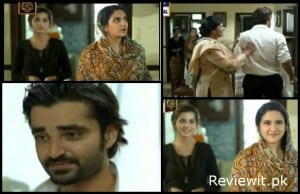 I really loved how casually Rukayya asked Afzal to open the door as if nothing happened and everything seemed just perfectly fine. Love was in the air ; Talking about love and forgetting to mention Afzal and Farah will do unjust to the perfect scene and to add blaze to the moment, Farah was there. They showed peak of every emotion in those few minutes of reconciliation and Farah-Afzal sequence,indeed.

Farah was curious to know how Afzal and Yasmeen met and during their discussion, Yasmeen came to know that "khatoun wali Farah" and Farah Ibrahim's engagemen day was same as that of Yasmeen's. Luckily, Yasmeen wasnot dumb as Farah and she initiated connecting the dots immediately after that. Farah's expressions were priceless while looking at Afzal when Arfa announced about her wedding. She was telling him that this is the answer to your engagement and now it's your turn to play the cards. Afzal was shocked, numb and what not. Meawhile, Yasmeen tried to guess the truth behind Afzal and Farah's priceless expressions.

Yasmeen read those letters with the help of Arfa and figured out that "Miss Marie" was the only person who was mentioned in those letters and to figure out more from letters, she decided to take that letter alongwith her. Wesai , all I think of Miss Marie is that it was an imaginary character created by Afzal, woh jo buchpan ke poems mai Miss Marie thein, he referred to her. It might be a poor guess,but still thats what came in my mind immediately after hearing her name.After seeing Afzal playing cricket, there was a spark in Farah's eyes as if she was content and satisfied that Afzal is here to stay and won't be leaving now.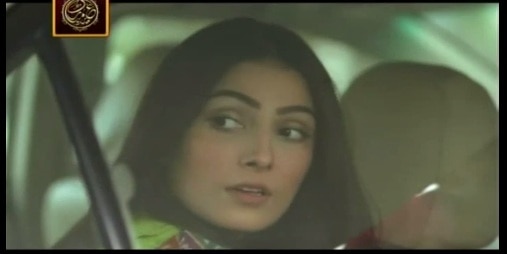 Sabtain and Lubna's discussion revealed that Farah's engagement with Sabtain was merely a plan and now that this game is turning out to be fierce, he can't take it anymore. Waisai, I am guessing a developing chemistry between Lubna and Sabtain too- A wild guess maybe..
Maulvi Saheb actually wanted his son to be his reflection and for that Rukayya asked Afzal to keep a safe distance from Yasmeen till they get married.  Now that Afzal is going to stop Yasmeen from reading his letters, what will be Yasmeen's next step ?  I am anxiously waiting for next episode
Share your views on this episode.
Rabia Basharat.
P.S. Belated Eid Mubarik to all my lovely readers.. :)