Pakistani movie Waar has broken all the records been set by all the previous movies which were applauded by the global audience. Apart from generating a rich revenue in first few days of its  grand release, the movie has developed a new feel of patriotism within every Pakistani who is now associating himself with a nation that has an ability to make a film something like-the great WAAR.
Bilal Lashari, the young and the prominent filmmaker has now turned into a real hero overnight with his three years effort that he has put in the movie. As per the latest news, it is Bollywood director Ram Gopal Verma who has tweeted about the movie showing his appreciation. He said that he is astonished to see this level of action and crisp in a movie and feel like leaving the Bollywood industry and assist Bilal Lashari for his next movie.
Here is the tweet, Have a look!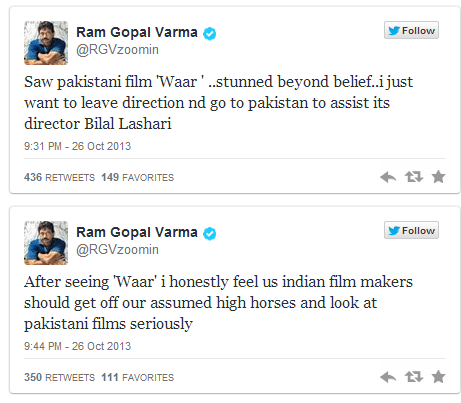 At one end where the real talented Indian people are appreciating this Pakistani attempt to make the world realize about the potential they have,  there are some odd souls who can simply not take this success. It was just yesterday that we shared the news about Indian media attacking Bilal Lashari and Waar together.
No matter what different people have to say about the movie, Waar is a true hit by all means,
The nation is proud of the team of Waar,
More Power,
Nida Zaidi