Detailed, convincing, realistic, and unpredictable – this was yet another engaging episode of Ranjha Ranjha Kardi which covered all the tracks perfectly. All the characters except for Bhola and Komal are now completely involved in achieving their own ends. Their fight for survival and success was covered interestingly in this episode. Ranjha Ranjha Kardi's beautiful, complex and relatable characters have come far and they have most certainly taken their viewers on an unforgettable journey. This journey is headed towards an ending which I am pretty sure will be just as surprising as all the twists and turns in this drama so far.
The Journeys
Tonight's episode covered Noori's futile efforts to hide her past and her growing annoyance with Bhola. Noori is enjoying and loves the 'respect' she is getting but there are times when she forgets that she only has this status because she is Bhola's wife. Fehmida's conversation with Noori in this episode served as a reality check and clearly indicated that if Noori continued to deny Bhola the 'husband status' Fehmida will take away the 'beti' status from Noori. For Fehmida naturally her son's happiness comes before everything else. This was one of the many realistic conversations tonight which were so easy to connect to.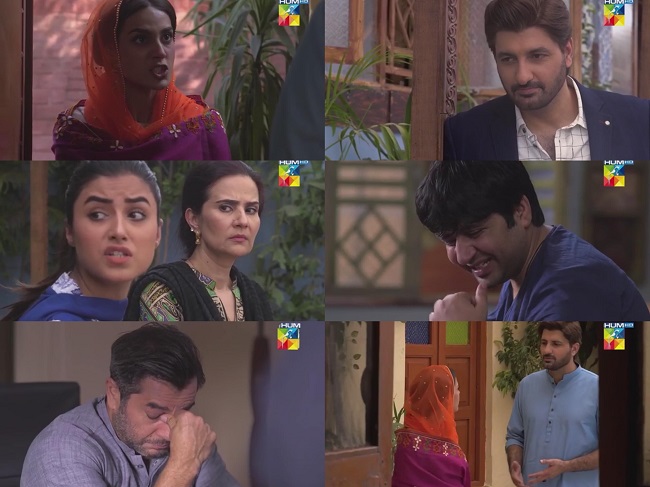 Bhola and Noori's scenes tonight were a lot like the scenes which covered the initial few weeks of their marriage. There was a time when Noori had started to feel comfortable around Bhola, she even started comparing Bhola with Sahir and thought that Bhola was better than Sahir but now that Bhola wants more from this relationship than Noori is willing to give, Noori's attitude once again has changed. Noori distancing herself from Bhola is understandable since she does not love him but then she enjoys all the 'perks' like she deserves it. Noori and Sahir's scene clearly suggested that Noori was only there to make sure that Sahir leaves her alone. The apology and Sahir's insistence that he wanted Noori back in his life 'distracted' her more than anything else. So far, it does not seem like Noori wants Sahir back or that she is happy that he wants her back. She is more focused on convincing Sahir to leave her alone.
Noori is once again disgusted by Bhola but she also likes the fact that she has everything she dreamed of once. Noori is just as selfish as everyone else in this play and the fact that she isn't holier-than-thou makes her character even more appealing. Bhola and Komal are the two people who are the real victims right now. Komal has no idea what is going on and no matter how hard Bhola tries he cannot win his dulhan over. It was heart-wrenching watching Bhola stay up all night crying while Noori couldn't care less but it was good to see that he shared every minute detail with his mother. Nusrat's character has been etched-out perfectly too. He is shrewd and every single step he took tonight showed that he really was a 'player'.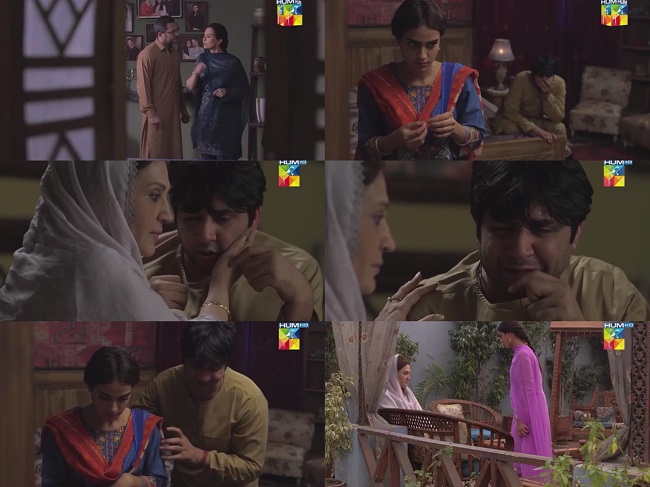 Sahir's desperation tonight suggested that he was after the status and money alone. On the one hand he begged Noori to take him back and on the other he used the information his friend gave him to his advantage. The preview of the next episode suggested that he will give Nusrat medicines for Bhola probably to make his condition worse since he told Noori that he cannot bear to see her with anyone else. None of these people are thinking about Bhola but all of them want to use him in some way or the other. The scene covering Chachi's visit to Noori's village was one of the best scenes tonight. The way she found out about Noori was interesting.
Overall Impression
The story, the performances and the execution continue to be spell-binding. After watching this episode I feel for Bhola more than anyone else. While everyone else can fight for what they want, Bhola is completely helpless. He is clearly in love with his 'dulhan' but Noori cannot stand to be around him anymore. Noori's approach has been extremely practical and she is only looking out for her own self right now. While one cannot blame Noori for not wanting to be around Bhola after what happened, you also cannot help feeling for Bhola who has been tied down in a relationship which has only increased his anxiety and troubles. The top-notch performances by Imran Ashraf, Iqra Aziz, Asma Abbas and Syed Jibran in particular make this drama a treat to watch.
Do share your thoughts about this episode of Ranjha Ranjha Kardi.