Tonight's episode of Ranjha Ranjha Kardi covered how the relationship dynamics changed after Noori found out that Nusrat knew her background. It was difficult for Noori to comply yet she had no choice. Noori's puzzled frame of mind, the affects the medicines had on Bhola and Sahir's new role in this entire situation was covered convincingly. This episode laid the foundations for more important future developments. Imran Ashraf continues to impress, his performance has been faultless. Iqra Aziz makes her presence felt in every single scene even though there are times when you want to know more about what is going on in Noori's mind.
New Developments
The tables turned today when Chacha told Noori that he knew everything about her background. Nusrat used this information to stop Noori from 'interfering' and from asking questions, Noori didn't have a choice and had to conform. All these scenes covering how Nusrat made sure Noori knew who was in control and Noori's helplessness were brilliantly executed. The outcome of Bhola's visit to the doctor was quite similar to the last visit. Noori's reaction when she looked at his medicines clearly suggested that these were the same medicines Bhola was given previously. Bhola's innocence once again reflected from the scene when he teased Noori before going to the hospital. This was surely not the first time that Chacha took him for an 'unpleasant' outing yet he was thrilled. In one of the previous episodes when Bhola was uncontrollable, Nusrat gave him medicine and pretended to be really concerned about him, he has executed his plan very intelligently by making Bhola trust him just as much as his mother does.
Tonight, Nusrat's behavior should have made Noori question what he was hiding, why he felt so insecure and why did these medicines have this affect on Bhola. Is Noori thinking on these lines or not? I am waiting to find out. Right now, the only thing on Noori's mind is her survival. She cannot stand to have the husband-wife relationship with Bhola but after everything Fehmida said to her in the previous episode, she knows she cannot say no to Bhola. At the same time Noori wants to continue living in this house which basically means that she is willing to pay the 'price' for it even though it is killing her inside! The preview of the next episode suggested just that.
Quite tactfully, Sahir let Nusrat know that he was on his side and willing to help. Even now, one can't be sure what Sahir's real intentions are. Is he really so greedy that he will help Nusrat give Bhola the wrong medicine or he just wants to gain Nusrat's trust and know exactly what he has been doing all these years? The medicines he gave Nusrat were probably the ones which were prescribed in the prescription he had with him earlier therefore he did not add anything new there. Shakooran's questions tonight and what Fehmida said about a 'bud dua' in one of the previous episodes suggested that there is still something we don't know about Bhola's background perhaps.
Noori decided to meet Sahir and the preview of the next episode suggested that she went there to share her fears and troubles with Sahir. Why did Noori choose to lean over Sahir and did not turn to Ama Janate for help and advice? Was this her way of retaliating? Noori could call Ama Janate just as easily without getting into trouble but she decided to meet Sahir. I am waiting for Ama Janate to be back in the picture since she is the only one Fehmida will ever listen to.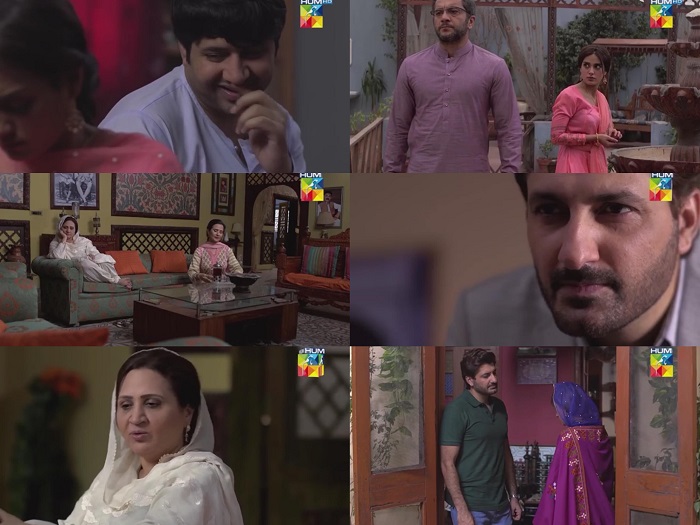 Overall Impression
This episode of Ranjha Ranjha Kardi was disturbing and relatively slow-paced. I have been missing Komal and Noori's conversations in particular. The focus right now is on Noori and her decision ultimately will determine what turn Bhola's life takes. Sahir's character keeps you wondering still because he is the only one whose intentions are not clear even now. Like every other episode of this drama, this one too had some brilliant performances to its credit. Waiting to find out what happens next.
Do share your thoughts about this episode of Ranjha Ranjha Kardi.