Confrontations, promises, superstition and fears – this was yet another episode of Ranjha Ranjha Kardi which was filled with overpowering emotions. After the previous two episodes which focused entirely on different realizations, this one covered the decisions that the main characters made after the recent changes in their thinking. Tonight's episode covered Noori's confidence and the direction she had set for herself. The dialogues tonight were elaborate therefore understanding Noori's frame of mind was easy. Fehmida is more fearful than ever and she has finally made a decision which will create another conflicting situation for Noori in particular. How will she get out of this one? Sahir is more desperate than ever and wants whatever he can get his hands on now. Just like every other drama written by Faiza Iftikhar, this one too has kept the suspense alive right till the end. There are still so many secrets which have yet to be revealed – Sahir and Noori's relationship, Sahir's background and Chacha's evil planning. Noori still doesn't know about the mannat. One of these secrets will be revealed in the next episode which is going to be the last episode of a drama which kept the viewers looking forward to more every single week.
Latest Developments
Tonight's episode opened with an emotional scene which showed how Fehmida feared for Bhola's life. While Bhola is happier than ever now but Fehmida is afraid that the fact that she did not fulfill the mannat might put his life and happiness at risk too. Asma Abbas and Imran Ashraf's performances have been phenomenal throughout but they truly are at their best when they share these emotional moments. Later on, the accident Bhola had convinced Fehmida more than ever that she needed to make a decision soon. This accident was shown in the most misleading manner in the promo (which is always good) and I am actually glad that Nusrat was not the one who had an accident. The conversation between Fehmida and Noori suggested that Fehmida is planning to give Noori's child to the peer as a compensation for breaking her promise. Every single incident tonight added something substantial to the story. Nusrat realized that he could easily convince Fehmida to give her grandchild away and he did just that. The fact that Nusrat always knew about this mannat and never tried to exploit Fehmida's weakness was difficult to relate to especially because Fehmida has been sharing her fears with Rizwana for the past few weeks.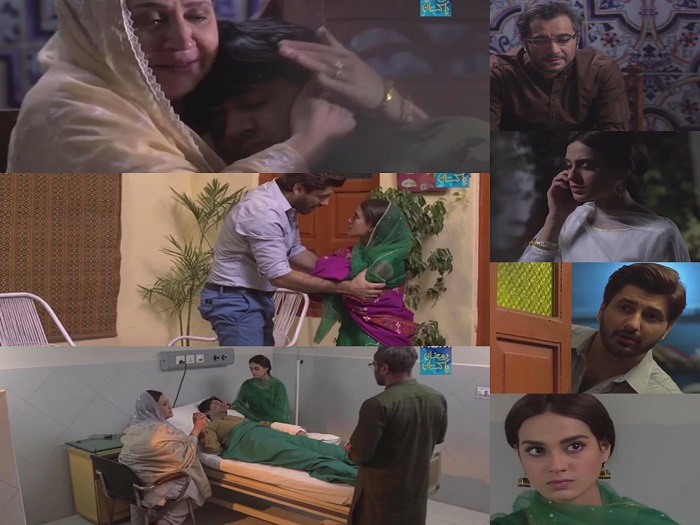 Bhola's faith and love for his dulhan was also show through different scenes which were wonderfully acted-out and written. Iqra Aziz translated Noori's confidence in the most apt manner, she looked like a different person altogether. Her body language has been beyond amazing in this drama. I especially liked the way Noori told Sahir off. Now that she has seen his real face, she cannot stand him and for the first time she truly appreciates the kind of love Bhola and Fehmida gave her. There was a time when Noori saw Bhola's love as an inconvenience but now she sees it as a blessing. The change in Noori's character has been the turning point we had all been waiting for and even though the odds are clearly against her, it is highly likely that Noori will come out as the winner in the end.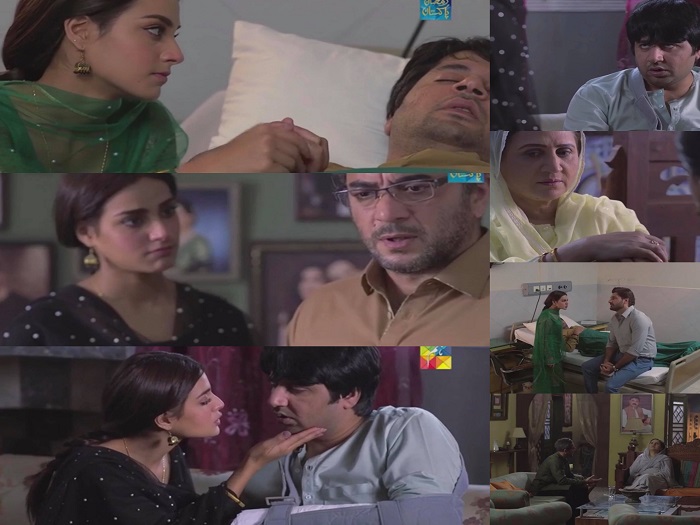 Komal and Rizwana were completely missing from this episode. Komal's bond with Bhola has been one of the best things about this drama therefore it would have been great watching them together in these last few episodes. Ammara Butt has truly been a breath of fresh air as Komal, I am sure viewers would have liked to see more of her.
Final Remarks
The stage is set for the final confrontations and revelations. The performances, the screenplay and the treatment given to Ranjha Ranjha Kardi has been absolutely superb throughout. I am really looking forward to watching an ending which will be just as convincing, gripping and gratifying as this drama as a whole. Loved the dialogues tonight – deep, meaningful and heartwarming. Noori is turning out to be another one of Faiza Iftikhar's unforgettable heroines and Bhola is most certainly one-of-a-kind, together they make the most unusual and lovable on-screen couple.
Do share your thoughts about this episode of Ranjha Ranjha Kardi.