Woe as such a great and a brilliant drama came to an end, truly a sensational play by A&B Productions. Literally I am speechless and cannot describe my feeling how much I loved this play from the first episode to the last, I just want to give a standing ovation to the whole crew of RHS team and specially to writer Maha Malick for writing such a lovely and interesting script and director Nadeem Siddique for his splendid direction. There are only four plays that are closed my heart Dastaan, Humsafar, Daam, Aunn Zara and now this play is an addition there by making it five now. Honestly this play has touched the core of my heart and I am really going to miss this play.
Our directors love to take the play to 25 episodes and even more than that but Ranjish Hi Sahi is the first play that got finished in 25 episodes without a single bit of dragging instead there were many new twists and developments in each and every episode even in the last episode we are encountered with so many twists. This drama contains a very different story from the usual typical drama stories, this drama is more than the story of 2 sisters there are many hidden answers of real life. This drama is one of the very few plays which contains no negative characters and story is not based on conspiracies, marriages and evil plans, there is no saas-bahu stuff neither there is any sisters' rivalry nor any Mazloom Larki bearing attrocities. This play is based on sufferings and actual happenings through which one person go in his/her life.
The greatness of writer Maha Malick
Our big writers are now losing charm and their current plays have been a complete disappointment. Actually we are so obsessed of big writers that we forgot to locate a gems in our industry and maha malick is the one. In my point of view where every big writer is making a blunder in their stories maha malick deserves the award for writing this play in such a beautiful way that every string of the story was well attached to each other and there are no blunders in the story and the ending is the most wonderful ending I have ever seen. The most perfect ending. All my praises to maha malick for staying extremely focused on the storyline and providing a very strong plot.
Maha Malick has ensured that play should not be predictable where everyone can form a judgment that the story from this stage will now progress in this manner so she had written this play with such twists and turns that you will feel like going through difficult terrains. Every episode contains a new twist hence making every prediction as a failure.
She has not only kept her focus on storyline but it seems like she had also given special attention towards the designing of characters. Each and every character is well etched out and was made for a purpose unlike the stories of current typical drama where side characters receive more importance than lead characters. The extensive use of urdu in dialogues is another credit that we should give to Maha Malick
All I can say that if the same story was written by Umera Ahmed people will not stop praising her. So why are we not recognising talents like maha malick?
The Exceptional Talent of Director Nadeem Siddique
I think when Nadeem had been given a responsibility to direct this play, he had himself clear that he will not direct the play in a manner which will destroy the interest and curiosity of the story. He had taken a very strong grip on the story and each and every scene is directed in a chronological order and there is no revelation of twists in an easy way. It seems like Nadeem Siddique had calculated how to end this drama within 25 episodes without dragging the story. Tremendous direction with very less flaws.
One thing that is very catchy to me is the use of bright colours, those who have also watched this drama might have also noticed. Nadeem had given us a visual treat by adding dashing colours which looks so beautiful on screen specially the Sana Javed's wardrobe, she had brightened the screen through her wardrobe. No doubt the picture quality deserves praises as it had made the screen alluring with lovely colour combinations.
The Wonderful Cast
All the cast that was included in the play had done absolute justice to their respective roles. They have fulfilled the purpose for what actually they are assigned for. Although the story started from the meeting of Yumna Hashmi (Samiya Mumtaz) and Kamal Hassan (Faisal Rehman) but I would like to give special credit and my gratitude to Sana Javed and Maya Ali for doing a fabulous job by maintaining the interest in this drama after the demise of character Yumna Hashmi. The way they had carried the drama towards the end is indeed appreciable. The story is actually based on Hiba (Maya) and Tooba (Sana) and their lives filled with sufferings, difficulties and pain but the bond of their love had kept them united and fearless so that they can fight together with the pain and hardships of their lives, at some point they were quarrelling with each other because of their professionalism but still they have proved they cannot live without each other. I was really impressed with the character of Tooba who was a coward girl at the beginning of the drama but she transforms herself into courageous, confident and responsible girl after the death of her mother in order to give protection to hiba. Despite having different temperaments I really admired the connection of love between these two sisters and how they protect each other on different occasions. The character of Hiba fits extremely well to Maya as a silly and emotional girl who takes every decisions without giving a second thought. I thought Maya was great in "Aunn Zara" but she was awesome in Ranjish Hi Sahi. Sana Javed had proven that she is the most talented new comer in the field, she cannot only do comic roles but she can perform serious roles extremely well. Her expressions and dialogue delivery was pitch perfect with no flaws. The character of Hiba and Tooba was very difficult to be played as it requires to conform according to the changing situations in the play and Maya and Sana had done an impeccable work.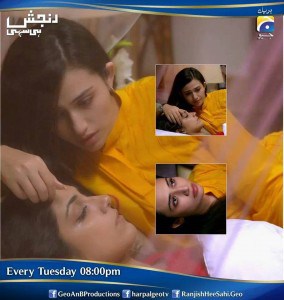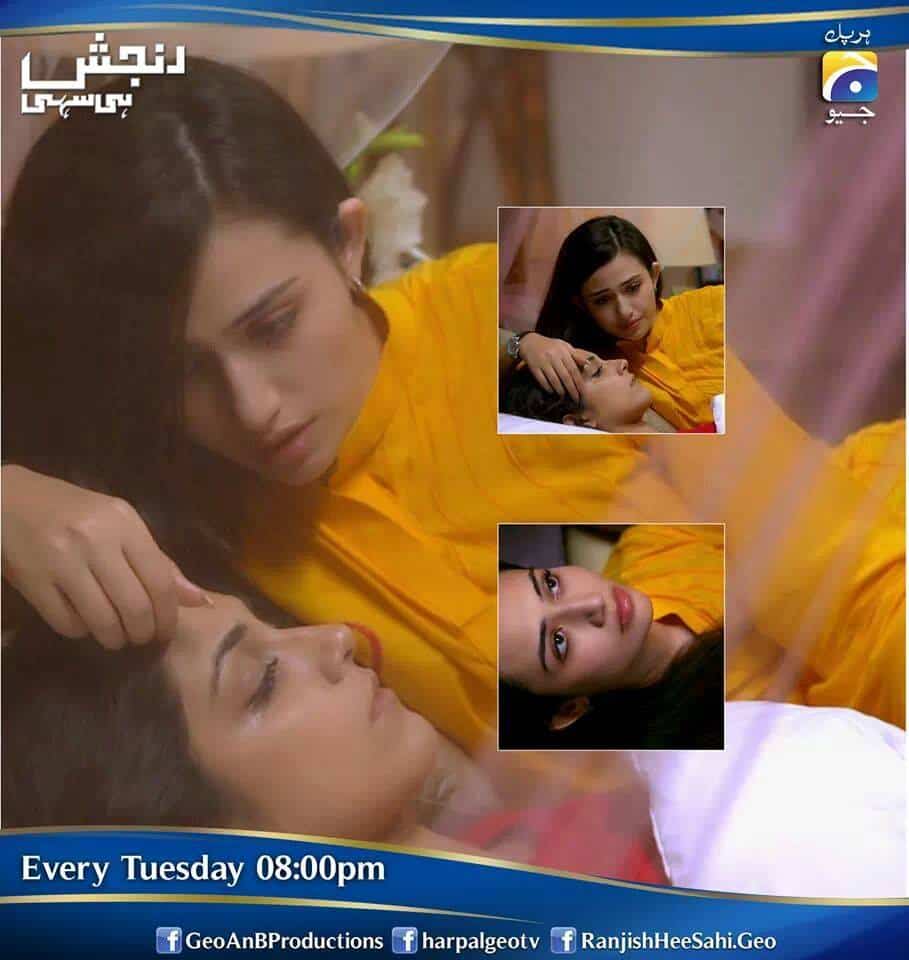 Emmad Erfani had done a great job as Rohail Hassan his character is indeed an important one in the drama but his expressions at some scenes are missing nevertheless overall he was good. Muhammad Ali had done a slight mediocre acting his character as arsal was also an important character in the play but he could have done a little bit better, Hina Sultan was good in her role and obviously no need to introduce Saba Hameed (played the character of Bilquees), Faisal Rehman and Samiya Mumtaz they are veteran actors.
Viewer's Attention
Sadly this play never got the attention what it actually deserves and probably because the Pyaray Afzal was in the same time slot so yes it is hard to achieve that viewership when the current most popular drama was running in parallel. Another thing is that if suppose Pyaray Afzal was not in the same slot still this drama might have less viewership because at one point we say we want change but on the other hand we love to watch roti dhoti mazloom aurtein.
In terms of promotion Geo Entertainment channel also failed to promote this drama as they have promoted their other plays which are mostly rubbish instead they have ruined the twists by stating the twists in jung newspaper. They should have promoted the drama in different way and not by telling viewers what will happen because the backbone of this drama were the unexpected twists happening in each episode.
I wish this drama was not underrated anyways give your feedback how do you like this play if you have watched and for those who have not watched or dropped in between then my suggestion is to watch.
In the end I just like to say thank you RHS Team for providing a quality entertainment throughout six months with a perfect and beautiful ending, finally this was something new and fresh. A very thought provoking story indeed a salute again to Maha Malick.