Mera Naseeb, a writing of Samira Fazal, direction of Adnan Ahmed & production of Momina Duraid for Hum Tv. Aired in the year 2011 with a total of 21 episodes.
If we put it in simple words Mera Naseeb was a story of imperfect but strong headed females who met the weakest men in their lives but just because they had so much conviction, the ladies compelled those weak men to rectify their mistakes & reflect on where they were wrong. I liked this drama a lot because of those few strong female characters which reflected the light on the women power. By far, Mera Naseeb has been the only women-centric drama that has done justice to the courage women carry within themselves & a special mention goes to the writer for etching out all these relate-able yet imperfect characters to perfection.
Mera Naseeb was a star-studded drama & the list of the actors & characters is as follows:
Syra Yousuf as Nazia
Sanam Saeed as Shazia
Imran Abbas as Moeez
Adeel Hussain as Shehbaz
Imran Aslam as Fahad
Ayesha Gul as Rafia & Shehbaz's sister
Rubina Ashraf as Sajida & Shazia's mother
Samina Peerzada as Salima & Nazia's mother
Sakina Samo as Habiba
Bushra Ansari as Saba & Fahad's mother
Sajjid Hassan as Moeez's father
Sabahat Bukhari as Zahida & Moeez's mother
Rehan Sheikh as Azeem
Ali Afzal as Firasat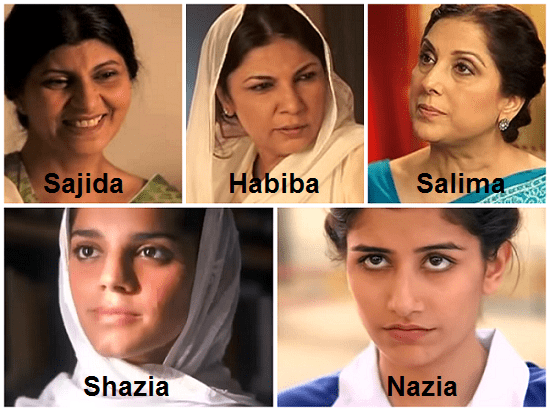 Mera Naseeb:
Story of two sisters Shazia & Nazia who were born at the same day but remain oblivious to the fact that they are actually biological sisters. The moment they were born a fortune teller predicts that Nazia will always have a negative effect on Shazia's life. Being brought up in a strict orthodox family where they were allowed to attend the college clad in a Naqaab & Abaya, Nazia accepts this way of living but Shazia always retaliates. One fine day on their adventure spree they come across Shehbaz who falls in love with Nazia. Somehow both Nazia & Shazia get exposed & Nazia is forced into marrying Fahad straight away. At first Nazia does plan to elope with Shehbaz but when her Pupho Habiba tells her the reality of her mother's relation to Shazia's father, she changes her mind & also she takes it as her responsibility to pay back what Sajida & Shazia have done for them all their life. At that particular moment Nazia decides she can't think selfishly & can not become the reason for her family's embarrassment.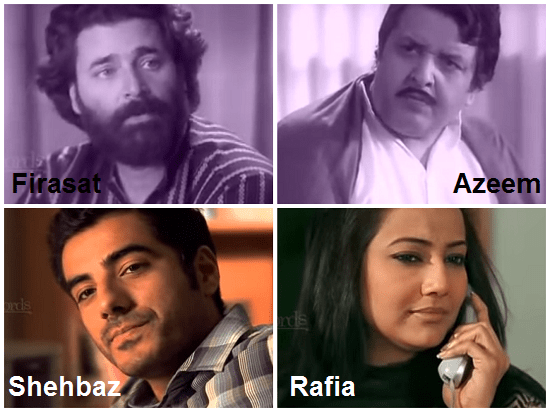 Their real ordeal begins when they step in their practical lives where Nazia meets a very strict mother in law & a mama's boy as her husband who does fall in love with his wife & proves to be a very understanding partner but is always keen about his mother's wishes to a blinding point. Shazia on the other hand gets married to a seemingly perfect guy to later find out that he has lead a disturbed life because of his parent's abusive relationship. At first Moeez promises Shazia all the happiness but later when things begin to go wrong he unconsciously becomes a replica of his father where he hits his wife & loses a track of his life like falling for Nazia, blackmailing her, drinking & ignoring all his responsibilities forcing Shazia to become the bread winner for herself & her husband.
Nazia's marital life hits a rocky track when she finds out she is expecting a baby girl where her mother in law demands a baby boy. Unable to cope up with the pressure, Fahad commits suicide & Shehbaz who never had let Nazia slide off his mind proposes her straight away. Alongside, Shazia's life starts shaping up where Moeez realizes his mistakes & takes control of his life especially after he finds out that they are expecting their first child. In the end they all meet happy times after coming out of the miseries of life with their heads held high.
Brilliance of Mera Naseeb:
First of all I commend the director for such a flawless direction where he not only did justice to the script but brought out the best in all the actors. It was the first time when I saw the performances of Syra Yousaf, Sanam Saeed, Adeel Hussain & Imran Aslam & I was amazed at their acting skills. I must say this has to be one of the best performances of their respective careers till date.
Even though the story revolved around the domestic issues, the execution made it worth a watch. They touched all the issues that women may face in their lives but that too very tactfully without making it boring for even a second & without overdoing any bit. I liked Mera Naseeb for a lot of things like how women on their own can lead a life with each other's support. How a girl like Shazia who always got scolded for her impatience understood the delicacy of her difficult life & concealed it gracefully. Just because Shazia had faith in herself, she chose to get married to the person she knew didn't love her. She tolerated everything with the hope that everything will turn out to be in her favor & the faith that she had in her husband more than he had in himself was absolutely brilliant. Shazia's character as a wife showed how much patience, compromise & sacrifice it takes to make a marriage work. Those were some really nice moments when Sajida after finding out about the abuse Shazia has to go through asks her about Moeez but she chooses not to complain about her private life even to her mother.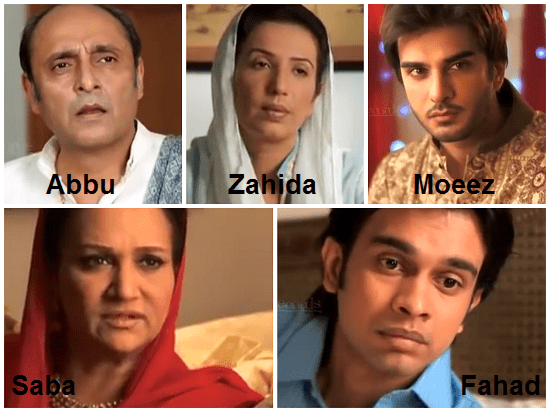 I also liked the emotions of trust they showed in Nazia & Fahad's relation where girls may easily forget everything that may have happened in the past but Nazia's dialogue while showing Shehbaz's letter to Fahad saying 'mai appse chuppa nahi saki' went to show the level of love & respect she had for her husband & backed it by literal honesty where she didn't believe in keeping secrets. Plus the way Fahad accepts her past & just asks her to assure him of never leaving his side was heart-warming.
Another very important aspect that they touched subtly in this drama was about the outer appearance. Nazia who always got praised for her beauty had a pretty hard luck whereas Shazia despite having average looks & a turbulent beginning of her marriage didn't go through the level of pain that Nazia had to face in her life. The belief in the predictions was crushed very decently that no one is capable to run or ruin anyone else's life. Everything happens the way it is meant to be & everyone meets the destiny that's destined for them to be. The arrogance of Moeez's father & Fahad's mother was put forth brilliantly because later they realize their mistakes & it went to show that no matter if you end up realizing how wrong you were, in the end you're left with nothing but regrets because then it's too late.
I must say the relationship, ladies of the house shared with each-other & with the daughters was just amazing. They realized their daughters needed everything but sympathy therefore the way they encouraged them was a perfect lesson to teach. Nazia's conversations with her MIL & then her mother by the end of the drama were very truthful where she is convinced to move on in her life & snap out of the misery of her husband's death. Nazia's final decision of leaving behind her past & joining a college again for her own sake was another one of those commendable moves which showed that how important it is for a girl to get hold of her life & how easy it becomes when she has a strong support system.
Adeel Hussain as Shehbaz, Imran Aslam as Fahad, Imran Abbas as Moeez were brilliant & I loved their acting. Syra Yousaf as Nazia & Sanam Saeed as Shazia must take a bow for their perfect performances. Even though Sakina Samo as Habiba did have a side role to play but she was that important link that bind the whole family together. The drama did get a little slow after the 16th episode but nevermind. For the first time I also focused on the OST & it was amazingly sung by Komal Rizvi. I loved the ending of the drama where they showed some shots of the life Shehbaz & Nazia were living together. That particular bit made the drama a wholesome gift wrapped with a ribbon with a perfect bow on top because they didn't let the viewers imaginations roll & gave them something to smile upon.
No wonder why Mera Naseeb got the appreciation because they changed a lot of perspectives about a lot of things through this drama. Share your views about Mera Naseeb.
Keep Supporting,
Cheers,
Zahra Mirza.