After a long time, I was genuinely excited to watch the opening episode of a drama and unlike Dunk, Raqs-e-Bismil's first episode was faultless. From the first scene to the last one, every scene was well-put-together and meaningful. Some of the issues highlighted in this first episode have been addressed in other dramas as well but overall the theme of the drama seems to be all-encompassing and not one which would be focusing on specific issues. The romantic element of the theme stood out more than any other which was pleasing. Other than that, the suffocating environment, rigid rules, and double standards were apparent from all the situations shown in this first episode. There were no 'desperate' attempts to get the viewers' attention and most importantly it was a well-written and brilliantly executed first episode with mind-blowing performances. This first episode was also fast-paced which added to its entertainment value. Imran Ashraf and Mehmood Aslam's performances stood out more than any other, Momin Saqib was truly impressive especially considering the fact that he has just started performing.
The Main Characters
It rarely ever happens that you warm up to all the characters introduced in the first episode instantly; I felt an instant connection to all these characters and had no trouble understanding them while I watched this opening episode. Not only were these characters written with the utmost clarity but the casting is perfect as well. Some of these characters are not new but this first episode promised that none of these characters are going to be black and white. Also, for a change, all the women shown in this first episode were supportive of each other in some way or the other. In this first episode, the viewers were introduced to Peer Qudrat Ullah Shah's (Mehmood Aslam) household. He runs an astana, is the head of a Syed family, and has some set strict rules. Even family members who broke these rules in the past were killed. His older son Moosa (Imran Ashraf) takes his duty as the 'janasheen' really seriously and has beliefs perhaps more rigid than his father.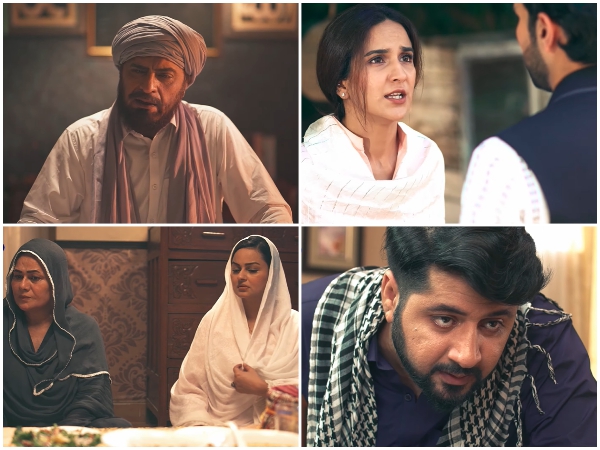 Moosa's character already has my undivided attention because even with all his rage and the reputation he has, he is capable of loving others. He released Sakina (Anoushay Abbasi) after he was reminded of everything her mother had done for him. The conversation he had with Sakina before her nikkah was one of the best since it revealed how he had protected her over the years and there were times when she was actually proud of the fact that he was her brother. He went too far in protecting her this time around and ended up making even those decisions for her which she would have happily taken for herself. Moosa also has double standards since he wants to choose his wife himself but will never give Sakina the right to do the same. His definition of the perfect woman also said a great deal about his expectations from women. There are certain set rules in the family regarding matrimony therefore marrying out of the cast is out of the question.
Moosa's younger brother Isa (Momin Saqib) however seemed to have a completely different perspective. Although he was the one who informed Moosa about the nikkah and supported him wholeheartedly, he was more than willing to marry Sakina. Isa seems like a more open-minded individual since instead of thinking that his father was marrying him off to someone who had eloped with her boyfriend; he was actually questioning his own credibility as a suitable life partner for Sakina. Isa is clearly head over heels in love with Sakina but she has no feelings for him at all. Sakina is a confident and educated young girl who had the guts to speak up even though she knew she would have to pay a big price for it. Even though she has been living in such a suffocating environment, she refuses to abide by the rules but at the same time is aware of the dangers associated with breaking the norms.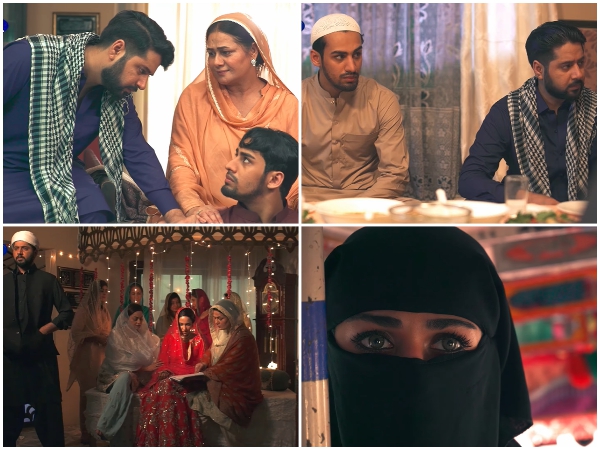 Sakina's track was taken forward quickly with the nikkah taking place towards the end of this episode. She gave Moosa a 'baddua' that might haunt him in the future. Sakina and Isa are really interesting characters therefore I am looking forward to their track. It seems like Isa will be the one making the compromises and Sakina might fall in love with this 'jahil' eventually! I liked the mother's (Nida Mumtaz) role since her loving and soft nature balanced out the rigid attitude of her older son and husband. Sakina's mother also did whatever she could to save her daughter and there was no bitterness and resentment in her attitude even later on. The women have accepted the norms in the family but it seems like their experiences have not made them bitter. They have a bond with their children which enables them to have them do certain things the way they want. They obviously have little control over most of the situations.
Must-Watch
This first episode is a must-watch since it had everything it takes to grab the viewer's attention. The overall feel of this episode was superb; the locations, camerawork, picture quality, and even the looks sported by all the actors. What I liked the most about this first episode was that it focused on the main characters, it wasn't 'over-crowded' and the entire cast is well-suited for the roles they have been assigned. The way Imran Ashraf translated his character on screen was especially impressive; I liked how he intentionally kept his posture rather stiff while sitting down and when he was 'on guard' during the nikkah! Anoushay Abbasi nailed all the scenes; she has always been such a brilliant performer, I am so glad to see her playing such a character. Hashim Nadeem's writing and Wajahat Rauf's direction both were on point. I am eagerly looking forward to more!
Did you watch tonight's episode of Raqs-e-Bismil? Do share your thoughts about it.