Tonight's episode of Raqs-e-Bismil ended too soon and it is going to be really difficult waiting an entire week to find out how the latest developments in the story affect all the leading characters. The story is getting more interesting and intense with every passing episode. There was a great deal of progress in the story tonight with Zohra asking Moosa to make an impossible sacrifice and Sakina rushing things in order to prove a point! Malik Shehryar wants Zohra in his life at all costs and it seems as if she might have to get married to him after all. This particular track has been unpredictable and powerful throughout. Esa and Sakina got more screen time tonight, which was definitely another aspect of this episode that made it wholesome. The fact that their track is just as significant as that of Moosa and Zohra's makes the story even more interesting. The impressive performances by all the actors continue to be one of the most appealing factors of this drama. Imran Ashraf is at the top of his game at the moment since he has managed to impress as Moosa after leaving a lasting impression as Adam in Mushk.
Moosa, Zohra and Shehryar
Tonight's episode of Raqs-e-Bismil opened with the most emotional and beautifully scripted scene covering Zohra asking for a final sacrifice from Moosa. All of their scenes together so far have been so intense and every mulaqat is supposed to be the last one! This time around Zohra showed just how intelligent she was by asking Moosa to leave him in a way that he could not refuse. She kept her promise and did exactly what Moosa's mother wanted her to. Even though Moosa knows that he cannot live without Zohra, he gave her a promise which would be really difficult to keep. Once again Moosa's mad love for Zohra was the highlight of this episode. There were also instances when it seemed as if Zohra was fascinated by the intensity of Moosa's love for her but she still chooses not to be with him because she feels that if she marries him everyone will always look down upon her. Zohra's character keeps me guessing because it has always been so difficult to gauge her actual feelings for Moosa. Sometimes it seems as if she makes a conscious effort not to be drawn towards him and at other times it is as if she really does not even care how he feels about her. Imran Ashraf and Sarah Khan performed exceptionally well tonight. Their on-screen chemistry and the intensity of their scenes together make their track the most powerful element of this drama.
Malik Shehryar made an offer that Ana Ji wanted to consider but she let Zohra make the final decision. Since Malik Shehryar wants Zohra in his life at any cost at all he is now going to create problems for Ana Ji so that she doesn't have a choice and ends up pressurizing Zohra. I am waiting to watch what turn this track takes next since Moosa does not have the finances to help Ana Ji out of this situation.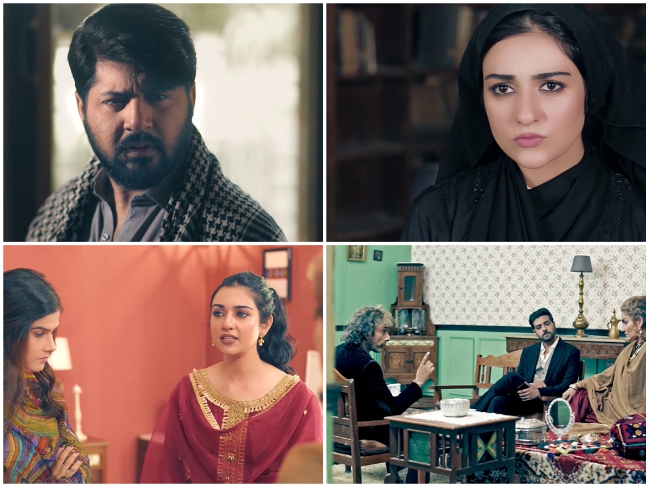 Sakina, Esa and Kamran
The latest turn in Sakina and Kamran's track was one that I already predicted in one of my previous reviews. It was well-executed and presented convincingly since these latest developments revealed a great deal about the characters involved. Sakina might be fierce but she is not too intelligent. Even though Kamran was hesitant to go forward with the plan, she was too eager to prove to Esa that she could depend on Kamran. Sakina is more stubborn and full of hate now than anything else. She was so confident about her decision that she did not even pause for a second to think that Kamran might let her down once again. Had she thought this plan through and wasn't so eager to run away from the 'hell' she keeps on saying she is living in, she wouldn't have taken such an extreme step. This turn in the story also showed that Kamran was not reliable at all and he wasn't dependable enough to take anyone's responsibility. The fact that he did not even try to get in touch with Sakina and left her at his friends' mercy, who were clearly not reliable showed that Sakina did not choose the best life partner for herself. Apart from that, she also took her jewelry with her and thought nothing of it. The first time Sakina got caught it seemed as if her family members were the only ones who were unreasonable but tonight it was quite clear that Sakina is also equally irrational when it comes to having her own way.
Esa and Sakina's interactions tonight showed that despite everything, Esa still loves Sakina and even trusts her. Tonight, the viewers have more reasons than ever to root for Esa since he isn't just a thorough gentleman but he also has a big heart. Even after everything Sakina did to his brother whom he loves so much, he has forgiven Sakina because he loves her too much to hold a grudge. Now, Moosa will also redeem himself by not only rescuing Sakina but perhaps also taking the blame for whatever happens after he beats up these men. This time around Moosa will not judge Sakina but possibly understand why she is being so unreasonable. Most importantly, Sakina will have a reason to value Esa now, since he would never put her in the kind of situation she was in today because she trusted Kamran. I am looking forward to seeing a change in Sakina's character in particular.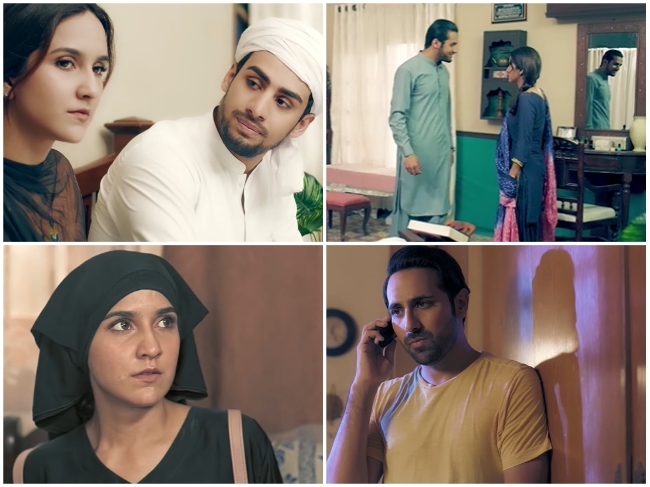 Final Remarks
Tonight's episode of Raqs-e-Bismil was entertaining and exciting. These 10 weeks have been pure entertainment and the brilliant performances have definitely set the bar really high! The story flows smoothly, apart from a few glitches here and there which can easily be ignored, Raqs-e-Bismil continues to impress. The best aspect of this drama is that it always gives you something to look forward to. The characters are easy to connect to and the pace has been steady too.
I can't wait to watch what happens next! Did you watch tonight's episode of Raqs-e-Bismil? Do share your thoughts about it.