"Asli kahani tu ab shru hui hei, Shah Ji aur Zohra ki kahani!" perfectly summed up what is coming ahead! Tonight's episode of Raqs-e-Bismil was one which most of us were looking forward to eagerly, for obvious reasons. More than anything else, I wanted to see Moosa's reaction after finding out the truth and I must say that it was totally worth the wait! After watching this episode, I am not too happy with Zohra's character because I was expecting her to be slightly more 'hard-to-get' but it seems as if she is already 'fascinated' by Moosa, if nothing else. Except for one of the scenes tonight, everything else made perfect sense. Imran Ashraf's performance was undoubtedly the best part of this episode; he has translated Moosa's helplessness impeccably well on screen. Momin Saqib is another actor who makes his presence felt in every single scene, I would love to see him play more diverse roles in other dramas.
The family's double standards were more apparent tonight since when Sakina was caught, the reactions were much more extreme. The peer sahib shouted at the top of his lungs after telling his wife to make sure that no one knew what was being discussed in the room. Also, the fact that Moosa's father went to get him released himself did not sit well with me since someone like him could get his son released by making a phone call. I love the apt use of OST in the drama and the overall feel of every episode. As far as the story is concerned, this drama reminds me of Mera Naam Yousuf Hei although the premise of that story was completely different, it was also one of those love stories that highlighted the double standards of society. The director and editor deserve credit for ending all the episodes so far at such a point that you truly look forward to what is coming ahead.
Declaration of Love
In the previous episode, Moosa repeatedly refused to acknowledge his love for Zohra. In the powerful opening scene of this episode, however, he unknowingly and spontaneously declared his love for her. Sarah Khan's performance in this opening scene wasn't too impressive and it seemed like her dialogues were dubbed. The push she gave Moosa wasn't powerful enough and her rage wasn't translated on screen convincingly. Her dialogues were not too impressive either especially the logic she gave for covering herself. That was perhaps the moment when Moosa realized that he was indeed in love since even after knowing who Zohra actually was; he couldn't move on and forget about her. Since Moosa never believed in love and identified love with a person's outer appearance more than anything else, for him this is a completely new experience. He obviously thought he was incapable of falling in love or even liking someone who was slightly different from the woman he had imagined he would spend the rest of his life with. Even in this episode, he was struggling to understand what he was going through.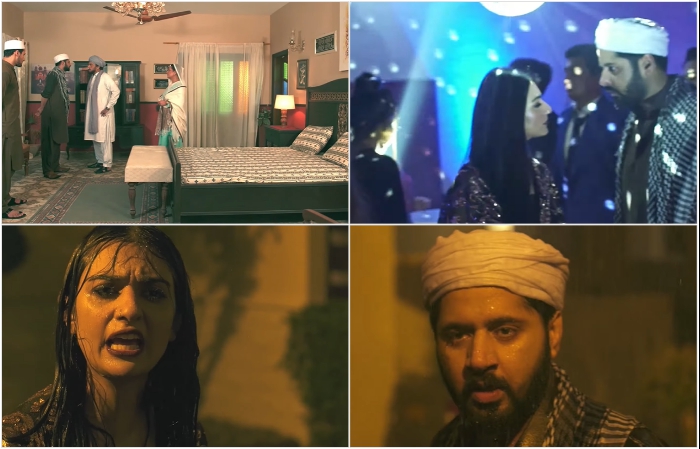 The fact that Moosa was completely helpless and at the mercy of his heart was shown through different scenes. He went as far as acknowledging his bebasi in front of his father and confessed his love for Zohra when he had the conversation with his mother. This was such a powerful scene, especially when Moosa says 'chup', Imran Ashraf truly outdid himself in this scene. The fact that Moosa gave his turban to Murad before leaving for Zohra's house and went as far as paying for the meeting, goes to show that he will do whatever it takes to find the answers to his question and clarify the confusion he still has in his mind. Ana Ji is a clever woman who immediately gauged that Moosa was extremely desperate, it remains to be seen what deal she strikes with him.
Sakina's Plan
Sakina is turning out to be a smarter person than I anticipated and this part of her personality definitely makes her character more interesting. The way she tried to talk Esa into telling her what was going on showed that she was quite capable of manipulating people when needed! She cannot stand Esa otherwise but all of a sudden she wanted him to confide in her! Right after putting him in a tough spot, she reminded him that he had to drop her at her friend's house. I thought this scene was quite interesting just like most of Esa and Sakina's interactions. Esa does not doubt Sakina's intentions at all even though she made it quite clear that she has no feelings for him. As expected, Sakina asked her friend to get in touch with Kamran because somehow she still has hope that he will not let her down this time around. I have a feeling that Kamran's rejection might give her a reality check and Esa's love for her will eventually win her over.
Esa is turning out to be the most likable character in the drama since he is a gentle and loving person who is looking out for the people he holds dear. Tonight, when his father told him that he had to keep an eye on Moosa, his expressions said a great deal about how he felt about this new duty assigned to him. He has a lot of love and respect for Moosa therefore he is finding it really hard to accept this lost and helpless version of his older brother who was always so responsible.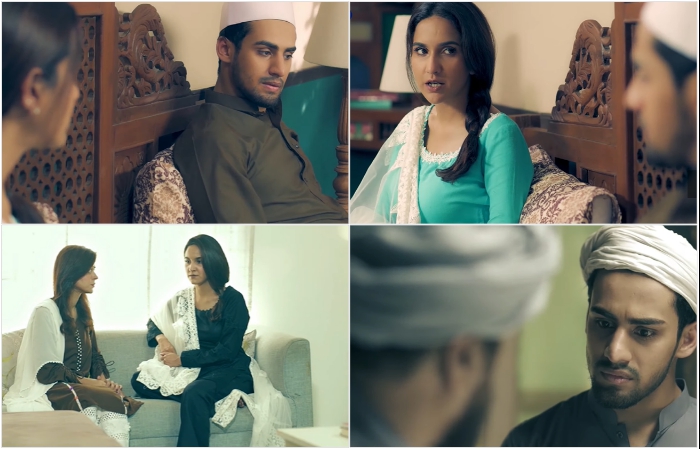 Final Remarks
Moosa's internal struggle and his outward nervousness, restlessness, and confusion were the highlights of this episode. On the one hand, he was not the least bit in control of his feelings or even actions, and on the other, he was equally conscious about the gravity of the situation given his family status and reputation. Zohra's character did not appeal to me much in tonight's episode; I was hoping that she would be fiercer. Sakina is definitely a more appealing female character so far. The preview of the next episode showed that Moosa will somehow go ahead with the engagement; this scene reminded me of Sakina's forced nikkah and her buddua! Furqan Qureshi's character will also make an appearance in the upcoming episode.
Did you watch tonight's episode of Raqs-e-Bismil? Do share your thoughts about it.